How to Calculate Social Media ROI
Social media is a growing field that helps a business in creating a strong online presence, connecting with people and taking the business to a new height. But you can't take your business to a new height on social media without investing time, money and efforts. I know you would put these three things into your social media strategy to make it successful, but the question is how you would know whether your campaign has good ROI. Understanding and calculating social media ROI can certainly help you to have a clear insight of how much money did you spent and how much you are getting in return.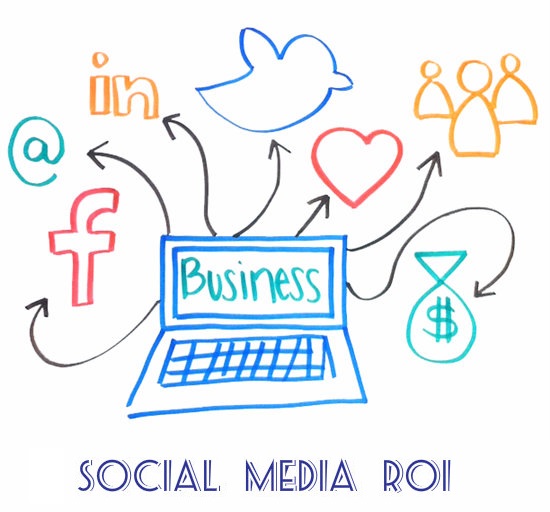 However, people often struggle to calculate the return on investment of their social media spending. Only 8% of companies say that they can measure the social media ROI from their social media investments. Agencies have found it so difficult to accomplish this task and so they tend to ignore it.
But this approach is not going to help because they would never know whether they have achieved their social media goals or not.
Indeed, measuring the ROI of social media is a big challenge, but once you learn doing it you can efficiently determine how your social media plan has performed.  To do so, you need to follow these effective methods of calculating social media ROI:
Create Conversion Goals
When you create a social media strategy for your business, you set some goals that you want to achieve, similarly you have to set some clear conversion goals. You should ask yourself what your customer will get when they arrive at your social media profiles. What services do you want to provide through social media, according to that you can set conversion goals such as filling out a contact form, liking your Facebook page, Following your profile on Twitter, sharing a post, downloading a file, Retweeting, signup for a newsletter etc.
This way you can emphasize more on significant social media objectives and increase the outcome of your social media campaigns.
Keep a Track of Social Media Conversions
Now you have created conversion goals, but that's not enough, you also need to keep a track of conversions. Regular auditing of conversions will help you to measure the correct social media ROI as well as the loopholes in your social media campaign.
You should keep checking the amount of the traffic on your social networking channels and how many of them are converting into potential buying customers. You can also compare the conversions of different social media platforms like LinkedIn, Facebook, Twitter, Pinterest etc.


The major social media channels have their own analytics, which you can use to track conversions, but you can't find what customers did on your website after reaching through social media. For that you need to use the Google Analytics tool to get a full insight of social conversions.
For accurate measurement of ROI you can use these following metrics:
Social Media Reach: Your web content will reach to a vast range of people if you have more followers, fans and members on your social media profiles. If you continue to expand the reach of your social profiles or pages by connecting with more people, then you could get a higher ROI. You can easily examine the social media reach through your social media accounts.
Social Media Traffic: This is an important metric to measure the success of a social media campaign. You can check your Google Analytics account to determine how much traffic you got from social media channels.
Social Media inquiries: The more quality inquiries you get, the more successful your social media campaign become. So you must perform a detailed analysis of social media leads and then you can measure the conversion percentage and return on investment. 
Allocate Cash Values to Every Type of Conversion
Before assigning cash values to every kind of conversion it is essential to know the aggregate lifetime value (LTV) of your customers. You can get the LTV by company's previous historical data and current experience.
After assigning the average lifetime value you can measure the worth of every conversion by using this formula:
Cash Value = (LTV/U) x C
C = Customers who bought
U = Total users
LTV = Average lifetime value
Suppose you have an average lifetime value of $200 and 40 users filled out the signup form and 2 became your customer then:
Cash Value = $200/40 x 2 = $10
It means that each signup form was worth $10. Similarly, you can calculate the monetary value of all the conversions.
Analyze Total Money You Earned from Each Network
Now you need to measure the total money that you earned from each of your social media networks to determine the ROI.  By using Google analytics tool you can find out the total number of traffic and conversion numbers of each channel. You can then calculate the total money by this formula:
Total Money Earned from Each Network = Conversion Value x Total Number of conversions
For instance, you got 2500 signups on all social media channels, now multiply it by conversion value $10,
$10 x 2500 = $25,000
That means you earned $25,000 from all social media channels.
Calculate the Total Money You Invested
Now this is the time when you should calculate the total money you invested into every social media channels. You can do it by adding all the costs like different type of paid advertisement fee, labor costs etc. For example, if you paid $1000 for paid promotional ad and $17000 to your social media manager, then the total cost would be $18000.
Conclude Your ROI Results in the End
In this final step you need to collect the data from last two steps and determine your precise ROI on social media channels. You can do this by using this formula:
ROI % = (Money Earned – Investment Costs) x 100 / Investment Costs
Your company gained a profit of $25,000 from all channels and spent $18000 in expenses.
ROI % = ($25000 – $18000) x 100/$18000
By following this simple formula, you will find out that your company has a 38.8% ROI from all social media networks.
The Bottom Line
It is very essential that you create a strong online presence to build a large audience base, but that requires a lot of things to be invested in a social media plan. After the investment you need to calculate the social media ROI in order to find out the monetary outcome of your social media campaigns. Although, the process of measuring the ROI is difficult, but it is worth doing it as you discover the real value of your social media efforts.