The Inception – Ranking my webpage on a debut and getting confident for SEO journey
How difficult can be ranking my webpage on number one spot for desired keywords? All digital marketing aspirants who are going to make a debut,  ask this question a number of times in their lifetime, so did I. Having written more than 500 SERP friendly articles for different publishers, ranking my webpage was not going to be the only priority. I knew I wanted to build a career out of it (Digital Marketing). I had always been the SMM guy (Connect with me), be it in my college or at work. So, it was time for a new beginning or more like an inception of planned thoughts
The major point of concern happens to be the beginning of efforts and the direction towards which they need to be directed. Talking about directions, I was quite perplexed and little disoriented as I had just left my marketing job at Ziffi after much convincing to my parents.
So let's get in ranking my webpage in details
Dogged down by such concerns I decided to do something about it –
Enter Comic Con
Being active on social media has its perks, as every day after going through different blogs and posts I inferred that event blogging is a double-edged sword undoubtedly. One day I came across the schedule for Comic Con event which is the Mecca of social influencers, comic lovers, entrepreneurs and learners.
I decided to attend the event and post about it on my blog Neil's Phrontistery which I had recently started.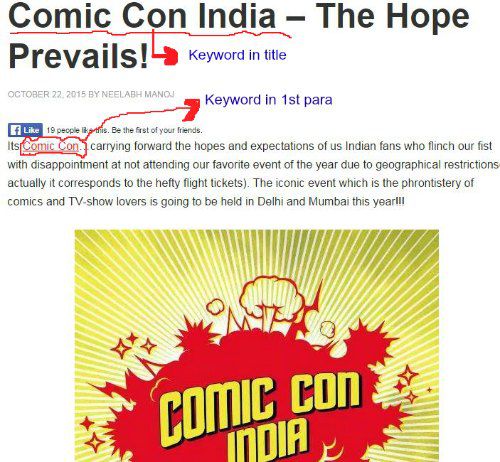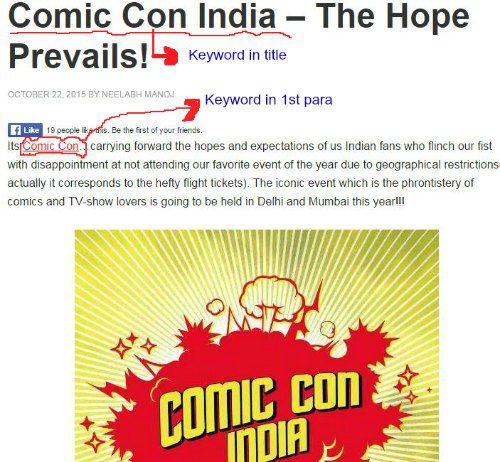 Using keywords and Hyperlinks to my advantage
I had a fair understanding of on-page SEO techniques which I imbibed during my internship days at Talking Trendo. On the basis of my past reminiscences I had a fair idea about ranking my webpage and hence, I wrote total three posts on Comic-Con, two directly related to the keyword Comic Con and one indirectly related to the topic.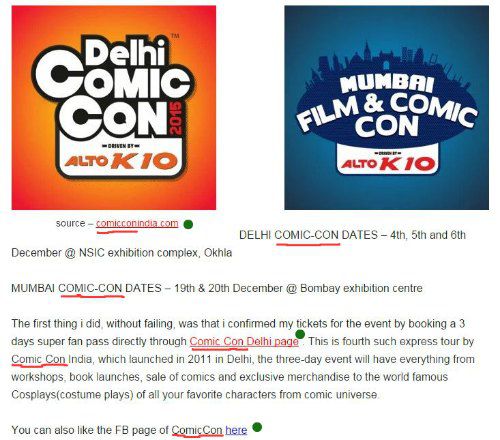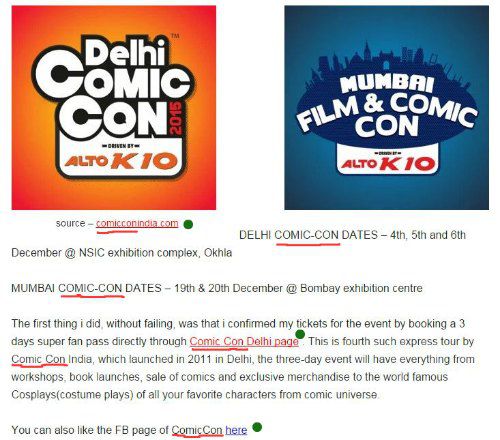 As you can see in the above pictures that I have put the keyword in the title and also maintained the minimum keyword density (see the underlined texts) which is somewhat 1% of the total number of words used in the post.
Another important aspect that helped me in ranking my webpage is the hyperlinks. It is of great significance when you are writing about something authoritative and so it helps in drawing out some juice for your blog. The green dots that you are seeing are all hyperlinks which I have connected with respective sites and pages. This step should be done cautiously as too many hyperlinks in your post and you may end up being misunderstood as a spammer!(which BTW no blogger wants)
Post number 2 (the indirect relevance counts too)
As soon as I read about Neil Nitin Mukesh joining the Game of Thrones bandwagon, I grabbed this opportunity with both hands. I was also aware that Kristian Nairn of GoT fame was going to visit the Comic Con Delhi so I created an intermediary post amalgamating this information without wasting any time.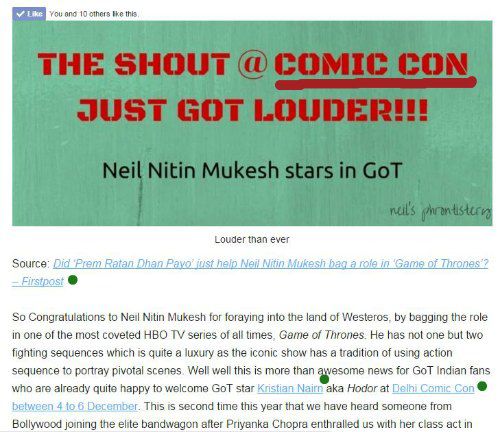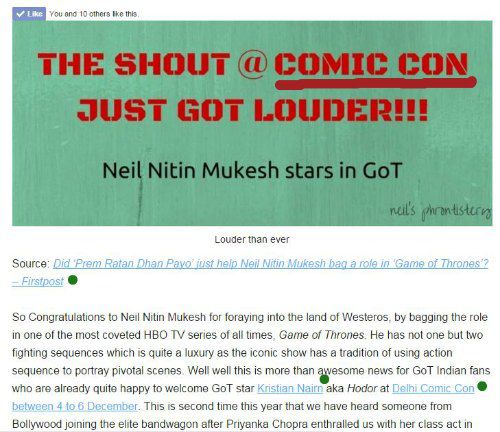 I repeated the same set of trusted protocols(keywords and hyperlinks) and reblogged the  Firstpost article, adding some value to it (as you can see in the above picture) related to Comic Con.
Optimizing the images to the fullest
You simply can't ignore the images as they play a pivotal role in making your post easily accessible to the Google crawlers. All you have to do is write the image description and alternate text section according to the keywords.


And yes, this has a huge impact when you are sharing the post on Google plus because then Google identifies your site at the drop of a hat (preferably the black one) and can easily rush to your site for the content respectively.
PS –  try uploading image files after reducing their size so much that the gist remains intact, hence no chance of any collateral damage(if you know what I mean).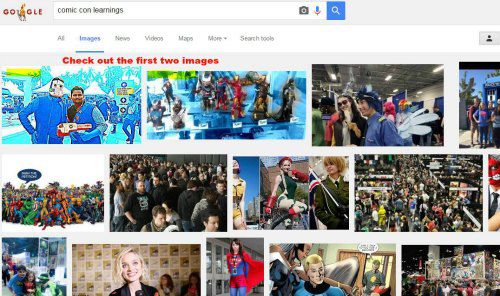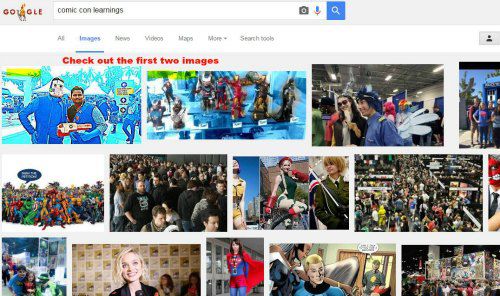 See how I am ranking at number one for images solely on the basis of basic image optimization skills.
Post number 3 (widening the horizons)
This one proved to be the final nail in the coffin of my competitors as after I attended the event, without wasting any time, I jot down my learning and experience at Comic Con. I had to prepare a little more for this as I had so much content to deliver as in the amazing entrepreneurs I came across and the awesome costume role plays of course, which were the icing on the cake. I was partly nervous and pumped up at the same time as this was going to be my debut as in my first toddling steps into the digital marketing arena.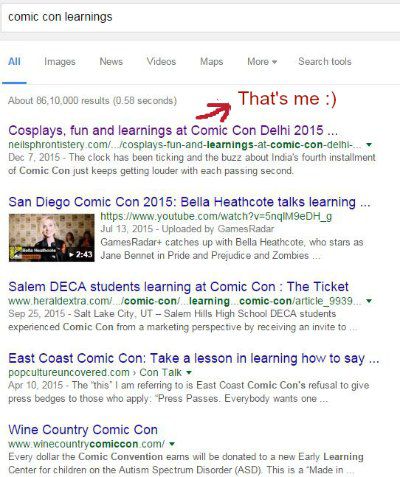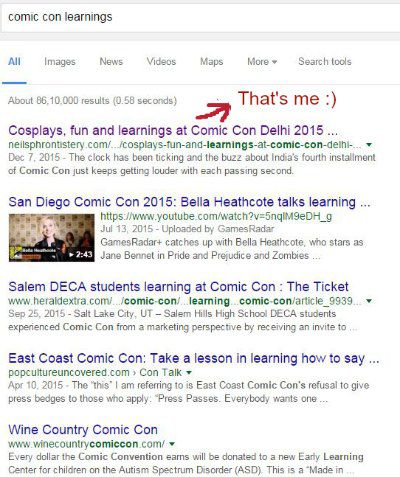 But wait… there was a catch, after the first day I finished writing the third post, my position tanked to 2nd page as many news blogs pushed content simultaneously. But again Google took note of the fact that there were indeed noteworthy hyperlinks and back links on the site with adequate details of the event and so…
I did rank my webpage in 2015
Boom!!! as you can see that I am ranking my webpage ahead the authoritative players when searching for the keywords – Comic con learnings, Comic Con Delhi 2015 learnings 🙂
I was totally flabbergasted by the results as this was quite a booster for a guy who had started focusing on the blog barely a month ago. This advancement instilled a much needed boost to my trying self and I felt that I am on the right track.
 When we are throwing punches, we tend to lose patience for the outcomes. My advice is just don't do that and think about the impact every effort is going to catapult and then you will realize your doubts melting away!