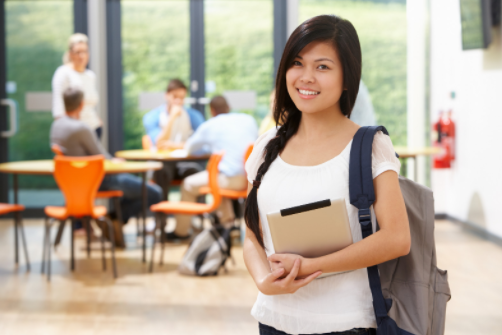 5 Effective Strategies For Marketing Your Tutoring Business
As a tutor, the biggest challenge that you face may not be teaching itself, but rather reaching out to your target audience and marketing your services. It is essential to become a good marketer to drive more traffic and attract more customers to your tuition business.
With parents and students often looking towards the internet or social media for finding the right tutor, your online presence plays a critical role in attracting students that are looking for exactly the same services that you offer.
In this blog post, we will discuss 5 effective strategies that will help you in marketing your tutoring business and putting your best foot forward.
Join Relevant Communities
Before jumping right in and marketing your tuition business on social media, you should carefully choose where you want to build your presence. This means that you need to look for communities and groups where your target audience is typically found.
Become a part of relevant communities:
Each social network is different so you need to do your research here. For example, on Twitter, you can find trends and handles that are linked with tutoring/education/teaching while on Facebook, you can join groups and pages that people follow or join to find tutors such as this group below:

Most people in such communities are parents or students who are looking for good tutors. Therefore, joining such groups and following trends in this niche will help you identify opportunities for selling your tutoring services.
Participate in conversations:
Engaging in conversions is a great way of building repute. Provide your expertise wherever you see a need and to anyone who asks for it This does not mean that you need to directly market your services with generic messages or posts.
Instead, you can share an informational post in your subject area or share knowledge and tips with people seeking assistance. Do little things that help people remember you and when they visit your profile or website, that is the place to market yourself.
A great example of how to engage with the community is this post from DataCamp – it has zero marketing jargon and focuses entirely on sharing knowledge: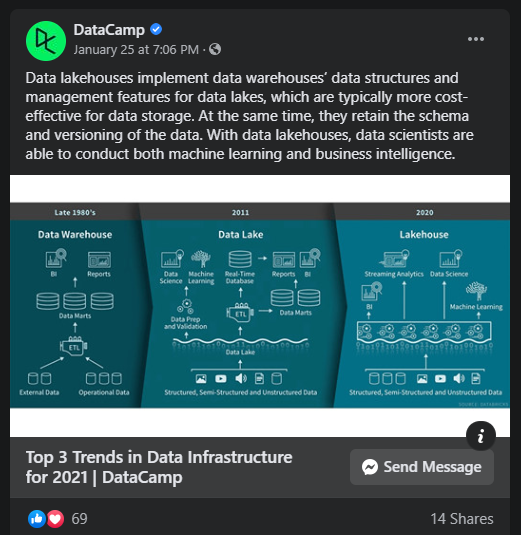 Being an active participant in conversations will make sure that more and more people tag you in posts relevant to your niche and consider your tuition business as an option when searching for such services.
Create YouTube Videos
Back in the day, YouTube was used mostly for entertaining content, but that is no longer the case. It is now the third-most popular platform used by marketers with 48% of them using it as part of their marketing plan.
With an audience of more than 1 billion users, YouTube is a great place to start marketing your tutoring services.
How do you do that? Here are some effective tips on how you can achieve this:
Create original, engaging videos and share them with your target audience. Record a video teaching a popular topic in your niche. For example, if you provide Mathematics tuitions, you can start by putting up videos teaching a topic like algebra on YouTube.
Add an engaging description with each video that explains what the audience can learn from your videos. Also remember to add a link to your website or social accounts so that the audience can reach out to you. For example, a good description for a video on basic algebra could be: 'This video shows how you can solve simple equations in algebra with the use of basic mathematical operations. Subscribe to my channel or visit my website at your-website.com for more content like this.'
Organize videos into playlists around a subject area to make it easier for learners to find related videos. Continuing with our example, you could create a playlist on algebra, starting with the basic algebra video and moving on to advanced algebra lessons.
Share videos with your audience via social networks and add them to your website. Ask people to subscribe so they can keep up to date with your videos and content.
To illustrate how well YouTube works, here is how a single YouTube video from The Organic Chemistry Tutor has millions of views on it. Out of these, anyone could be a potential student or parent looking for tutoring services that might convert. The same can be the case for you.

Social Media Posts
Being an active part of social media is important in this digital age. 90% of marketers state that their business has had increased exposure by being active on social platforms.
As a tutoring business, one of the best ways of remaining active on social networks is by posting informational and engaging content. Don't just market yourself, but instead market what you know. You can add study tips, lesson videos, course outlines, and loads of other content on your social profiles to show people that you are a tutor worth hiring. Not just this, but you can also share interesting videos, and relevant news and research on social networks to increase engagement.
But when you do want to market yourself, it is always good to use eye-catching visuals in your posts so they are not just plain, boring text. 91% of people like visual and interactive content over plain text so it's always a good idea to add those. For instance, you can spice up your social media posts with tutoring flyers that have an aesthetic design.
Once you have a flyer ready, you can share it both online on your website or social network as well as offline by printing and distributing them. But the question here is: how do you design those awesome-looking flyers and ads that you often see such as the ones below?
The answer is: you don't have to! This is what services like PosterMyWall help out with since they have ready-made templates that you can use for all kinds of content you want to post online. Using an online editor will help make day-to-day social media marketing easy and give you more time for your main job – teaching.
Collecting Email Addresses
You'll find countless marketing platforms online and figuring them all out can be confusing. But the secret is to keep it simple and do the basics right. What are the basics? Collect information about your target audience. Learn and understand who they are and how you can communicate with them.
The first step towards this is to collect email addresses that you can market to. While it might seem old-fashioned, email is still used by billions of people across the globe and is still considered to be one of the most effective methods for communicating.
When you have a mailing list, you can let potential customers know about new courses, discounts, and share other promotional content with them.
Email marketing will help you reach out directly to customers and build long-term relationships with them. But what do you need for this? A list of email addresses, of course!
Here are three proven methods of collecting emails from target audiences: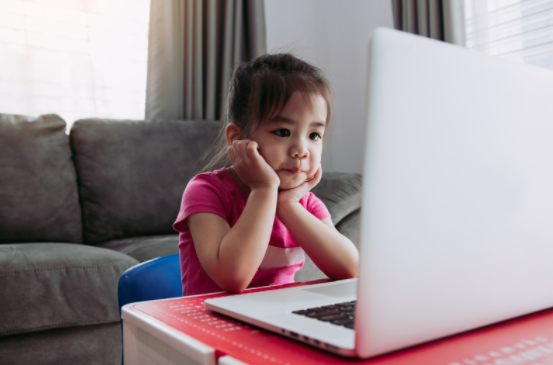 Add an email field on your website:
If you have a website, it is usually the first link between you and your customer. But since users visit and bounce off from websites quite often, it is important to capture their email at least so you can sell your services to them later.
To achieve this, add a mandatory field for an email address of your website's registration form and behind any content that you post publicly (such as research, lessons, free quizzes, etc.).
If you are using an email marketing tool such as MailChimp, you will find instructions on how to add email forms to your website in their help menu.
But if you don't have such a tool in place, you can look towards services such as 123 Form Builder that enable you to design and add forms to your website in simple steps.
Google forms and other form builders:
Don't have a website? No worries. You can use form builders such as Google Forms to collect emails from potential leads. Create the form with a mandatory email field, share it strategically in content that you post with a clear call to action such as: 'Want more study tips like this? Fill out this simple form'.
Use social platforms:
Social platforms such as Facebook now allow you to capture user emails in a variety of ways. One approach can be to share links to your website's registration or Google forms in pinned posts and your page's description.
Alternatively, you can now make use of Facebook Ads or tools such as ActiveCampaign to add forms directly to the social platform as shown below. With this, whenever someone visits your social profile, you can ask them to subscribe for email updates and promotions.
Segment Your Emails
You don't want people moving your emails to the trash folder. Most people do this if they think that the email is not relevant to them. How do you avoid this? Email segmentation.
To explain it simply, email segmentation is when you divide your mailing list into smaller chunks based on some criteria. This can be anything from previous interests, geographic location, or even gender and age.
What you need to figure out though is how to segment your emails. For a tutoring business, it might make sense, for instance, to classify leads by interest. You don't want to be sending emails for a Physics crash course to an Arts student (they will mark it as junk but might also unsubscribe or avoid your emails in the future, too!).
After segmenting your mailing list, the next step is to have different emailing content for each segment. For instance, a simple promotional email might be interesting for a Physics crash course, but for an Arts course, you might want to include a breathtaking tutoring flyer that really grabs the customer's attention.
Takeaway
From the face of it, all of this looks like a lot of effort on marketing your tutoring business. And it is. But it is nothing compared to how good the returns are at the end.
A word of caution here though is that you don't need to jump directly into all marketing channels or follow all 5 strategies we've listed above. Keep moving at a pace that you can keep up with and adopt only channels that fit well within your budget and time constraints.
Author Profile
Blogger by Passion | Contributor to many Business Blogs in the United Kingdom | Fascinated to Write Blogs in Business & Startup Niches |