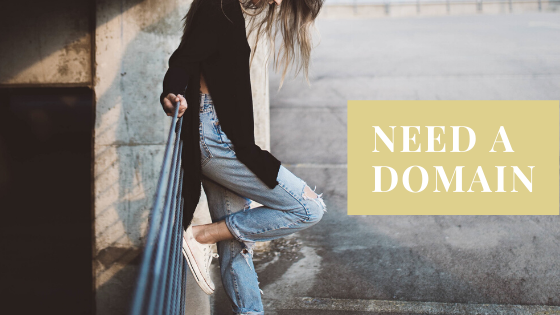 Why your retail trade business needs a domain name
What, Why and How of domain name
India is ranked as the second fastest-growing market in the eCommerce sector. According to the CAGR (Compound Annual Growth Rate) stats, an increase of 23% in retail trade, is expected in the near future. Apparently, this rapid growth in the retail trade business is powerfully backed up by the online market, where India stands as the second largest.
All you retail traders who want to be an integral part of this rapidly multiplying market, come out of the world of your physical store and start creating your online presence, as this is the need of the hour. So, how are we supposed to proceed?
The two-word solution being, get a domain name. I know this would have gone bouncer for you. Let's precisely give you the entire picture.
What, Why and How of domain name
What actually is a domain name?
For a layman, it's simply the name of your website which represents your business. As of now, consider it as your store or brand name.
Why you need a domain name?
It's like asking why you want people to know about your business. Now we don't need to teach this to a retail businessman. Your physical store has a limited reach. Its vicinity is just till a few kilometres of your local area. Building a website and getting a domain name for it will unimaginably expand your business to a great height. Your business will be actually known worldwide.
Following are some precise benefits of getting a domain name for your retail trade business
Spreads publicity
As mentioned earlier, once you go online, you'll be known globally over the Internet with just your domain name. Thanks to the social media channels which have millions of people connected to each other. Keep posting and let your audience know about your latest launch, great offers and discounts and any clearance sale. Even the kitchen recipes are doing a commendable job online, yours is still a full-fledged retail business. So go ahead and flaunt.
Ease of access
Even if your products and services are well appreciated by your customers, they are certain to ask you, are you available online? Browsing your website with just a finger touch over the phone and placing an order is much more convenient than actually visiting the store. Easy accessibility is one major armour of promoting your business.
Gaining credibility
Owning a domain name will establish trust among your customers and a robust stand in the retail trade market. Besides, you gain professionalism when interacting with other traders, suppliers and investors. A business email and a website speak a lot about your brand. More credibility will strengthen customer bond.
Get your online store
Your website need not be static that is just depicting business and contact details. You can derive much more with it. Ecommerce websites are extremely powerful in leveraging your physical store. With the effective domain name for your website, you can build your own online store and start trading without much hassle and manpower. You'll find almost all sorts of retailers online, be it for clothing, handcrafted products, footwear, beauty products and many more.
How to get a domain name?
You can register your store or brand name as the domain name (provided it's available). Moreover, there are online domain name generator tools which can help you with creative ideas. Alternatively, take help of some expert or good web hosting company to register your domain and build your website.