Press Release Services: Digital PR To Boost Your Brand Online & SEO Ranks
Are you trying to promote your brand online and make it more visible to potential customers?
Would you like to combine branding with SEO?
Then work with ClickDo where we offer SEO press release publications that give you both: PR & SEO advantages.
Learn more about how this works and how you can get one published with us here:
Now, here's the tricky part; how do you ensure your release stands out in such a crowded marketplace?
Of course, the trick lies in tailored SEO and content marketing – knowing how to write an effective press release that performs well on search engines while also engaging readers.
An SEO press release helps your brand get higher SEO rankings and thus increase your chances of getting more clicks.
It's worth clarifying that this entails interactive elements that readers can engage with such as images, videos or embedded social media posts and hyperlinks.
Our ClickDo experts will consult you on the best content to include in your SEO press release to get more clicks and followers while boosting your brand's visibility on search engines and other channels.
SEO Press Release Services: What are they and how to get involved?
Watch this explainer video from one of our partner platforms where SEO press releases are published to understand the difference and effectiveness better.
If you're new to the world of PR or press releases, fear not – we can write and publish SEO press releases for you that go beyond traditional press releases – simply shoot us an email with your requirements and we'll work on it ASAP!
PREMIUM PUBLICATIONS
Get your SEO press release published in relevant premium niche publications all around the world to reach the right audience. Guaranteed visibility for your PR plus SEO benefits.
EXTENDED AUDIENCE REACH
Your PR release will be tailored to the popular news platforms and magazine websites where it will be published to stand out and attract more clicks.
100% GENUINE PR
&nbsp
We will provide you with the complete report of the release submissions and live links of your publications so you can keep track of their performance.

What is the Purpose of a Press Release?
A press release is a brief, written communication sent to the press/media; it contains new information about a brand, business, or any organization.
A press release should be brief (around 500 words) and contain newsworthy information. Newsworthy information meaning something new, a latest event, development, announcement etc.
It could be about a new product that has just been released, a business opening a new branch, a new partnership or achievement and so on.
The media platforms are not obliged to broadcast or publish your press release and will only do so if it has some relevance or value to its community/audience.
Brands use a press release in the hope that reporters, journalists and editors will find it newsworthy and report about it further.
It can be published or broadcast on TV, in magazines, or on a national newspaper and many press releases are also published on relevant media websites.
Do Press Releases improve SEO & Branding?
Search engine optimization, commonly referred to as SEO, includes all efforts and tricks that can help a business website achieve higher rankings on search engines.
Higher rankings mean more traffic to your site; the more traffic, the higher your chances of clicks and conversions.
SEO consultants have been using tried and tested methods like SEO optimised content, guest posting, social media marketing and email marketing. But there's a new kid on the block; SEO press releases.
In a nutshell, here's what happens with an SEO press release: an announcement or newsworthy information is shared effectively through written content including related embedded graphics/images, videos, social media posts and hyperlinks. It is then distributed to selected publishers that cover related topics and who are most likely to then publish it. We suggest to tailor each release to the platform to make it more unique and rank on search engines as duplicate content usually doesn't.
Inevitably, this leads to greater exposure of your brand name and news, bringing more traffic to your site and brand channels, increasing your reach and followers/subscribers.
SEO Press Releases are more relevant for SEO than ever before for the following Reasons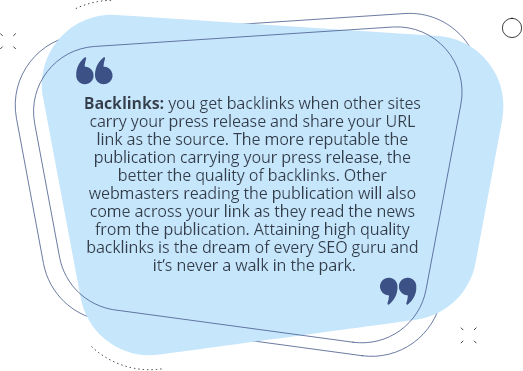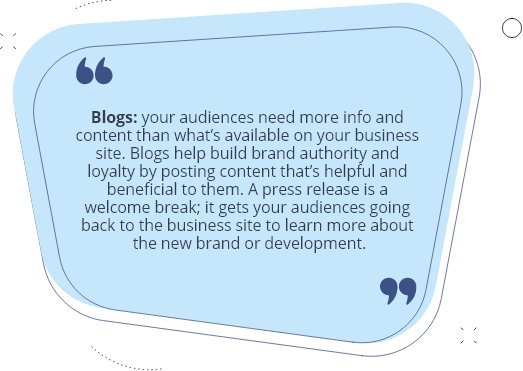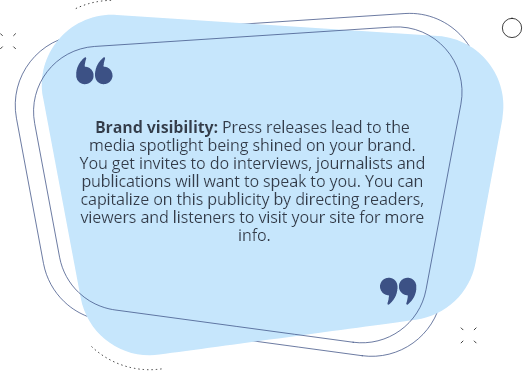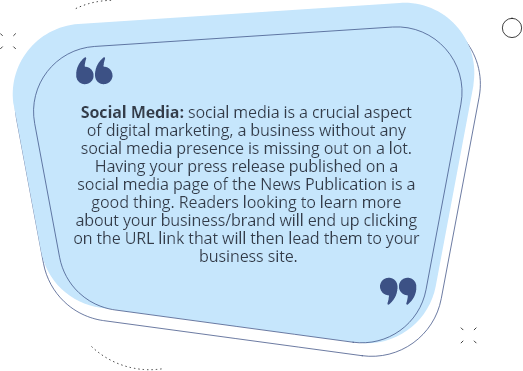 What to consider for an SEO Press Release Publication?
A good press release should be long enough to cover the fundamental news, short enough to arouse the attention and interest of the reader.
So, the title and media used matter hugely to attract more attention!
If you remember, we said it must be brief and to the point, right? Yet, it is easier said than done. How do you maintain brevity while also making the release newsworthy?
Here's where you should use the services of seasoned PR and SEO professional at ClickDo to help come up with the perfect SEO Press Release for your campaign.
The 6 Cardinal Rules to follow for an SEO Press Release
Rule 1
First and foremost, the title and intro paragraph must contain the essence of the whole news/announcement ideally with easy to rank keywords incorporated; the intro must capture the attention of the reader. To achieve this, ensure that your lead paragraph has a hook. In journalistic terms, a hook serves to answer; who, what, when, where, and how. Thus, which brand; a b c. What has it done; they've launched a new product? When did that happen; 2 days ago? Where did that happen; at the company's HQ in London. How did that happen; there was pomp and colour, the local mayor was present. You get the drift?
Rule 3
Ensure that your press release is original and unique; plagiarism and legal traps should be avoided at all costs. Do not defame a competitor or their brand; otherwise you could easily get sued.
Rule 5
Follow the basic rules of good writing; use a catchy title, proofread your work keenly for typos and grammatical errors. Nothing erodes confidence in your brand more than glaring grammatical and typo errors; no one takes you seriously if you can't express yourself well.
Rule 2
Secondly, embrace the inverted pyramid rule when writing the SEO press release. This is a journalistic principle whereby you start with the most important paragraph at the top; other less important paragraphs follow in that same order. As such, journalists and media editors can edit your press release with more ease when publishing it.
Rule 4
Always keep your sentences short and concise; long sentences will confuse the reader; they also sound grammatically awkward. Pictures often speak more than a thousand words so utilise suitable media.
Rule 6
When submitting, remember to include 'Media Release' at the top of the document. Include the date too. At the end of your press release, finish with a "For more information, kindly contact us via…" Considering that the editor/journalist may need to reach you urgently either to clarify some information or for an interview, it's important that you include your contact details and any additional information that might be useful.
Why get the SEO Press Release written by an SEO Expert?
For a press release to get published, it must adhere to all the rules and requirements that newspapers and media platforms adhere to. As a business owner, you may have the business acumen and instinct to help manage your businesses; but writing a press release is a different game all the same.
Defamation, libel, sedition, plagiarism, these are some of the major legal traps than one has to look out for when writing a press release.
Typos and grammatical errors can also erode the confidence that audiences and publications have for your brand. Professional SEO press release writers can proofread your document and polish it up to the best standards while optimising it for search engines.
You also need creativity when crafting a press release and the ability to write an effective, catchy title while including relevant media that will provide you with an SEO and branding advantage.
Most SEO experts also double up as digital marketing and PR agencies such as the ClickDo experts. They are best placed to incorporate your public and media relations into the overall marketing strategy for your SEO press release.
ClickDo SEO Press Release Services are your all-in-one solution for Branding & SEO Marketing  
If you're looking to increase the visibility of your brand, then the ClickDo Digital Marketing Agency is your go-to place. We offer press release writing and distribution services, among many other services. We use a multi faceted approach to boost your SEO and get you to the top of the major search engines.
SEO press releases are one example of how we help our clients increase their visibility and clicks; our company prides itself of having the best team when it comes to writing and publishing them.
What to expect when you get us to write and publish the SEO press release 
ClickDo has evolved with the digital trends over the years and continues to get better with each campaign. You can trust us to craft an SEO press release that captures the essential information while resonating perfectly with your target audiences and ranking on search engines.
We have an entire department that deals with content writing, PR and SEO. It comprises of the most experienced writers and marketers, who will create uniquely tailored SEO optimised content that will go further.
Now more than ever it is vital to stand out as a brand amongst all competitors. We therefore offer additional PR services such as professional videography services, podcasting services and more PR content services to cater to various online channels and platforms. We want to ensure that audiences want to visit your site and social media channels to engage further with your brand. Visual PR and marketing content are more effective and enjoyable for audiences to consume, compared to reading long text.
As a professional digital marketing agency, we're able to track the performance of your SEO press release and the engagement with your added media. When you hire one of our SEO consultants, they can provide you with quarterly reports showing your business growth in tandem with the marketing efforts being employed so get in touch today.