Mobile Car Wash Business Google SEO (Ranking on first page for money lead gen terms)
In early 2018 we met the owners of Woshline mobile car wash at our Canary Wharf office. After the first meeting with Fernando, they decided to hire us for organic SEO services and the complete digital marketing suite with branding activities. Here you can read the full story about the Woshline Digital Marketing work we did.
The website they had was new to the web then and the main goal was to rank terms like "mobile car wash", "mobile car wash london", "24 hour car wash", "mobile car valeting" and eventually for "car wash in london" and for sub areas like "Fulham car wash", "Canary Wharf car wash" with and without the "mobile" word in the search phrase.
And we succeeded in ranking for the targeted terms as you can see that Woshline is a leading mobile car wash brand in London now.
Before moving on, let us share a snapshot of their ranks: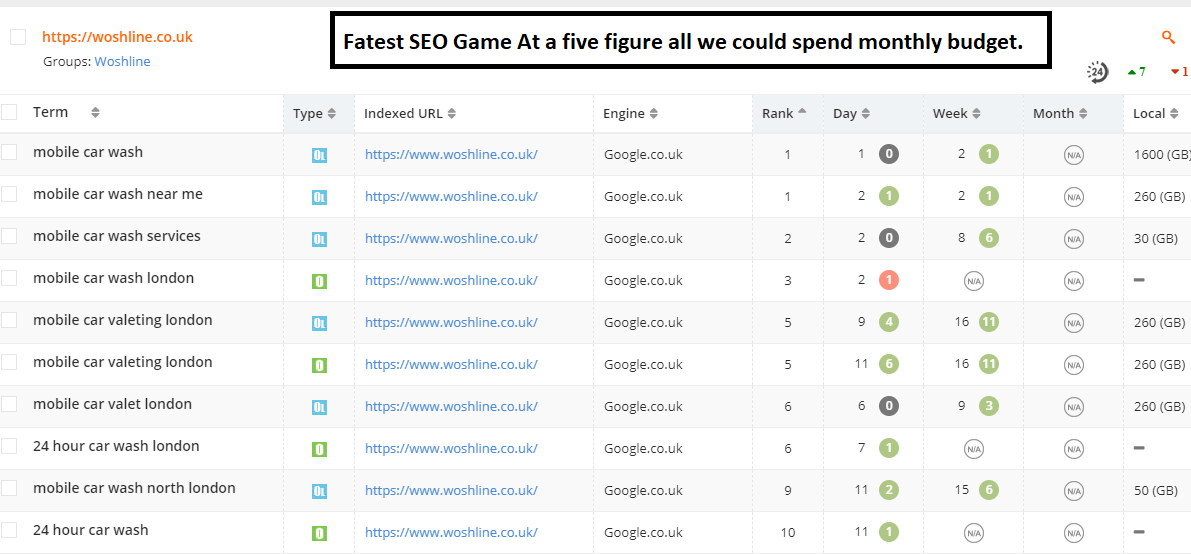 Keep in mind those keywords are tough and there were many companies that were ranking already at the top when we were starting these SEO services. The above ranks may have slightly changed by the time you are reading this article as Google started to be dynamic for keywords that do not have a city/location name at the end. But they should show on the top 3 ranks for sure when you are looking at this case study even after several months. Because at ClickDo we aim to gain sustainable ranks for all our clients.
How we achieved the high organic ranks for the mobile car wash company website?
First, we did the on-page SEO work, writing each and every page element. We tested the keyword density and then we made sure all follow Google guidelines. You can learn to do perfect on-page SEO and keyword density checking at our online SEO training course.
Then Nuwan, under Kasun's guidance, implemented the microdata and alt tags for the main images on the targeted web pages. This helps Google bots read all the information on the website better. It's important that you name images and add alt tags when creating web pages with images. That's a major factor to consider when doing on-page SEO!
We then focused on the citations building work and Dinesh did the authority website listings for https://www.woshline.co.uk/ on each and every local UK directories. You can read more about the citation building services by Dinesh on this page.
While working on the citations over a period of two weeks we also produced infographic submissions on infographics submission websites. You can see some samples on our UK infographic website. Those are for branded and naked URL backlinks and they also impact the budge. You can learn more about infographics submissions and how they support SEO on the local SEO blueprint.
To get a further SEO boost and budge the website, we did a lot of PR articles on authority websites. You can see an example at http://www.abcmoney.co.uk/2018/06/07/benefits-of-mobile-car-valeting-services/. This kind of PR articles boost websites even further.
Additionally, we did guest posting on relevant websites and this is part of our guest posting service pack. You can see that Dinesh manages hundreds of guest posting websites that business owners and the SEO community can utilize for brand building.
We encourage and focus on creating safe and long-term organic SEO. That's why we invest a lot of effort in building a brand with heavy content marketing. This includes blogging on the Woshline blog, which supported the root domain to increase its trust flow and the keywords to gain more references.
Now, you might be thinking how about the traffic to the website because after all, that's what you want to generate money.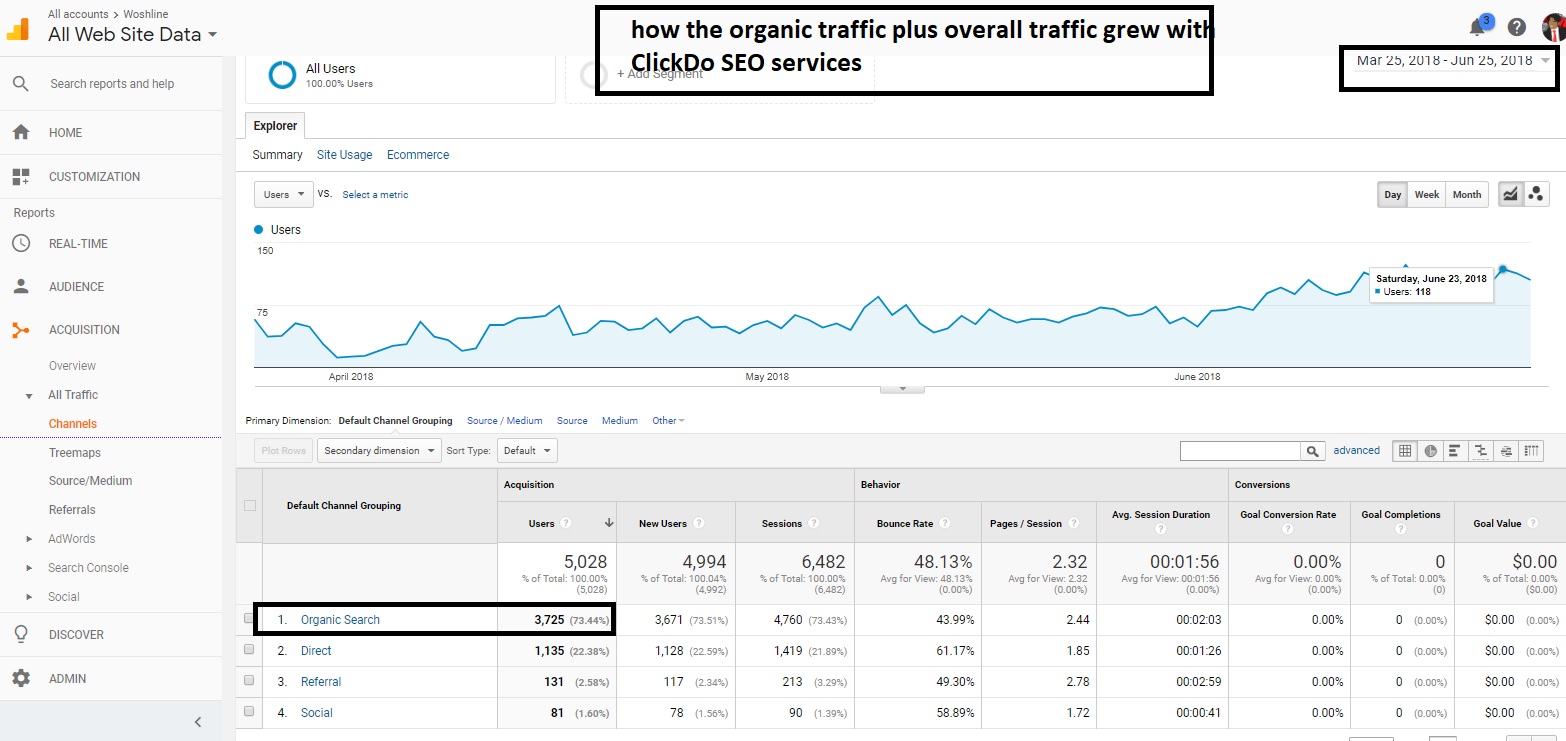 Below is a snapshot of the overall traffic growth from all the digital marketing activities. **This was a 3-month intensive digital marketing and SEO project, which we managed successfully and to the client's full satisfaction.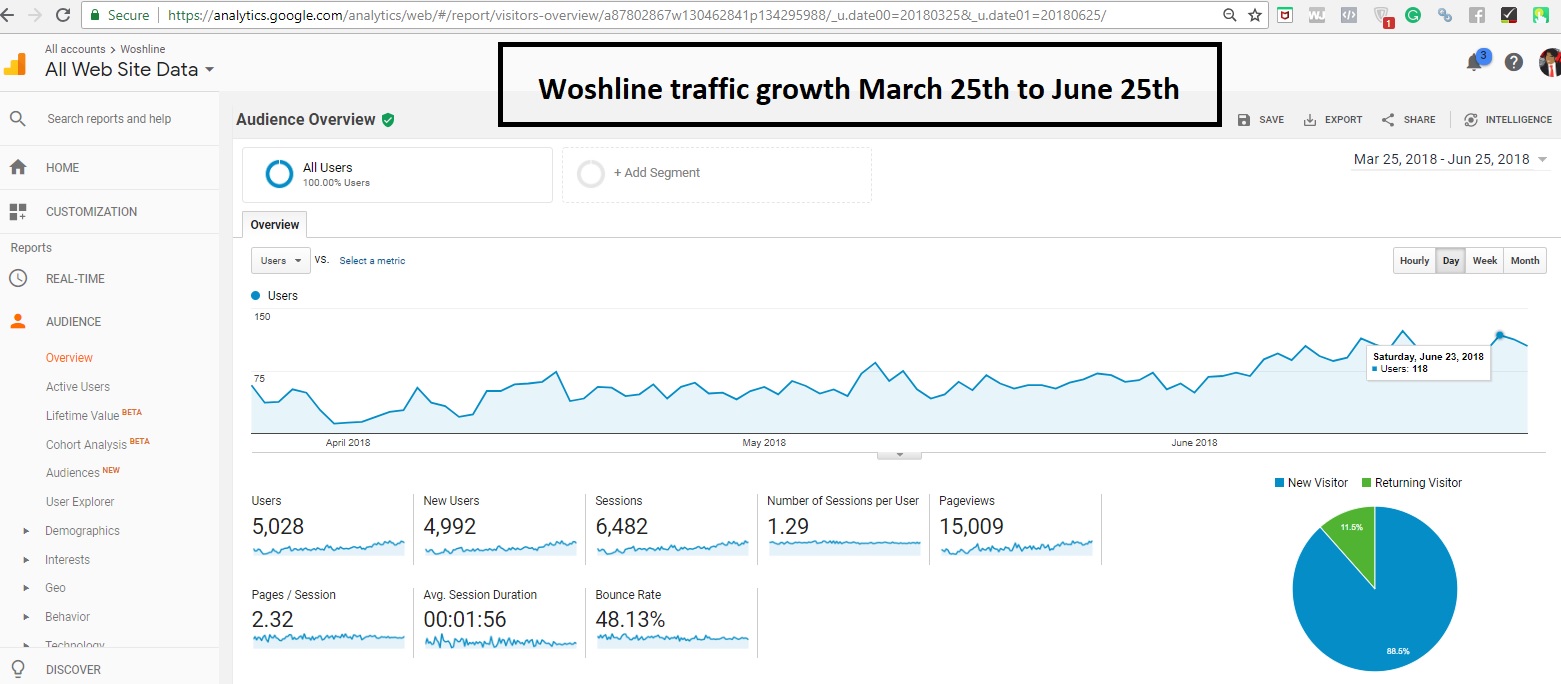 Hopefully, this SEO case study gives you some ideas about our organic SEO services! If you would like to know more, you may book an SEO audit to be done by one of our SEO experts. We can offer deeper and more individual support via Skype meetings, which we're happy to arrange with you.
With our expert services you can also build a thriving brand in London.