Quick Wasters: SEO Case Study – Building An Authentic Brand To Drive Organic Traffic From Search Engines
Quick Wasters is a London, UK bases rubbish removal company. We've first to meet the Quick Wasters owner back in 2014 January at a Mcdonald's restaurant after and introduction from a lawyer at VMD solicitors. SInce that meeting, we've worked with Quick Wasters till to date and helped them build an amazing brand in their industry in London.
You can see how the brand has been build in teh most authentic manner and that has helped their business website gain top ranks on www.google.co.uk that lasted for two plus year and now. You can see below how nicely teh brand appears on teh web. Just Google for "quick wasters" and you can see how ClickDo search engine optimization consultants helps local businesses build brands.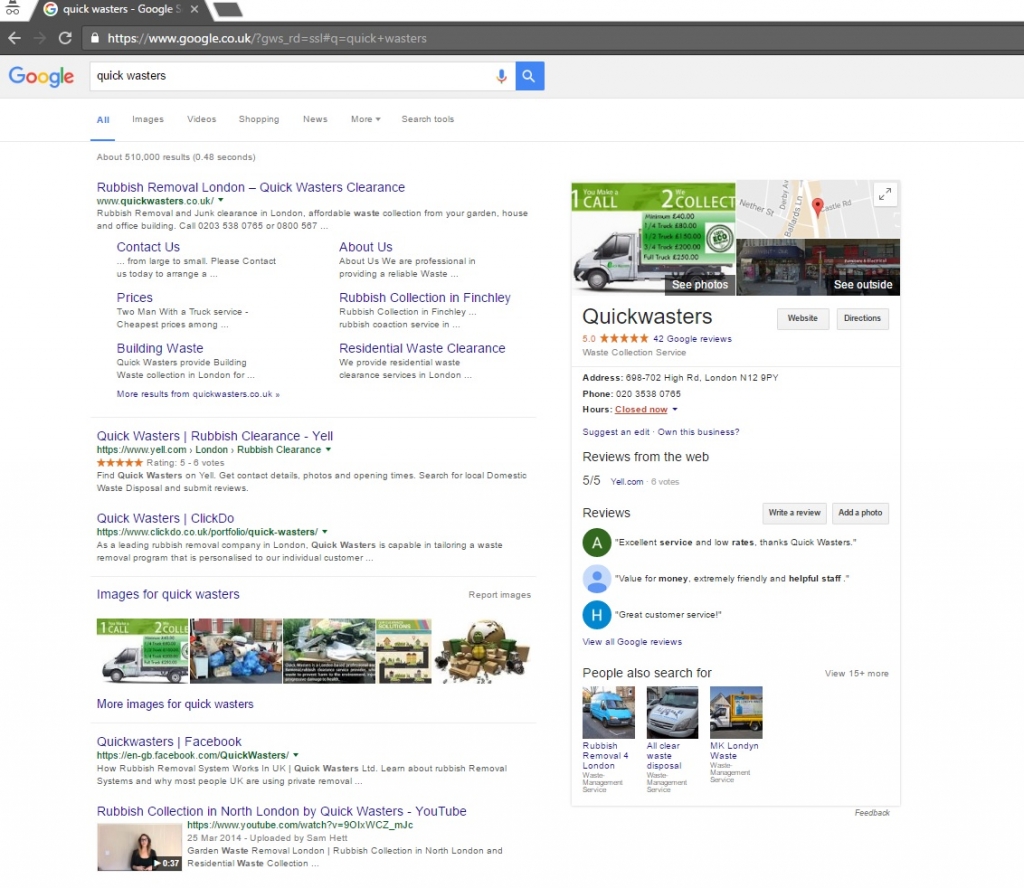 The journey was hard work at the beginning, however it all turned out to be good for the brand. The traffic went from less than a 10 visitors to teh website from organic search to pass over 100 per day during peak periods.
What Keywords did we optimized initially?
We've started with top keywords like "rubbish removal london", "rubbish clearance london", "rubbish collection london" and help them get more visibility for north London based people's searches. Then eventually we worked on the central London and focused on gaining the top ranks on entire London based terms. During the periods of 2014 – 2015 Quick Wasters topped the local map results, however in the 2016 since the Google local results started to fluctuate it gave prominence for people who searched from closer areas.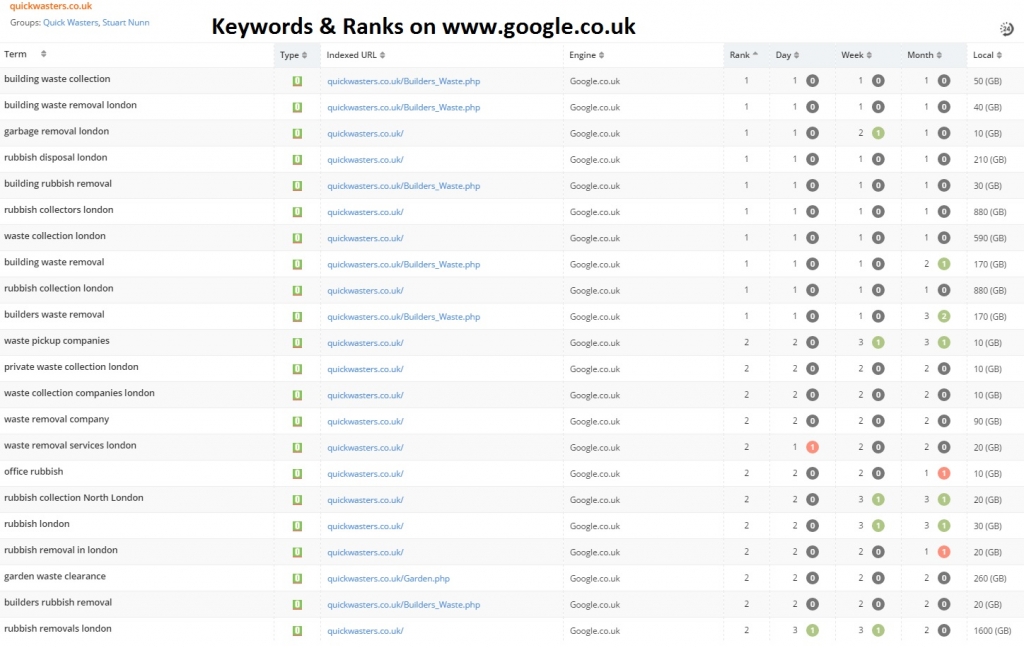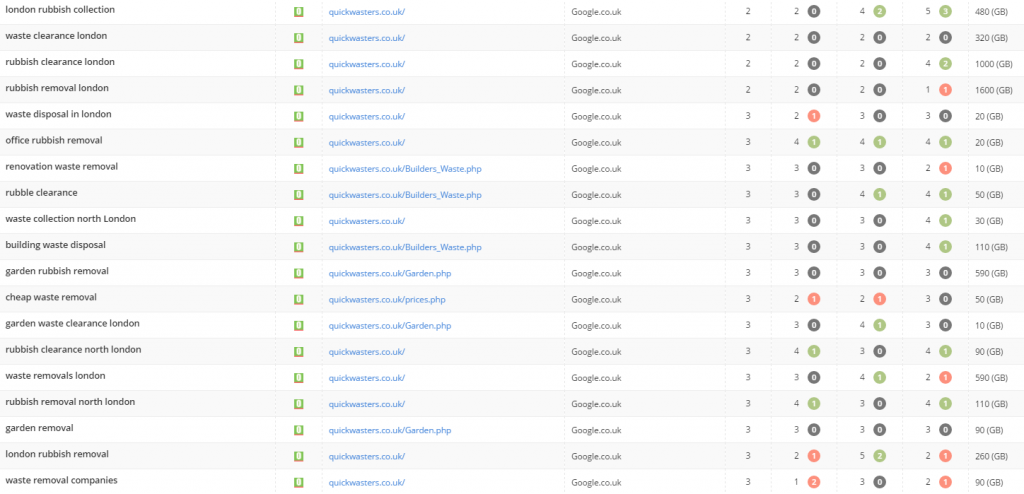 Above are the most toughest terms in the rubbish removal industry and which helps drives the most of the organic traffic to the website. Basically daily buyers terms that helps Quick Wasters get inquiries from the website. Mostly direct phone calls from people who wants to get their waste cleared in London, areas.
Now lets's look at teh traffic stats for 2014, 2015 and 2016 till now. Btw when we could work with a brand for 3 years, that means something. If you are a business owner in UK who is reading this, you can give us a call and Fernando or one of the SEO consultants at ClickDo can advice you in how and what to be done for your business.
Now let's go back and look at teh 2014 to 2015 full 12 months organic traffic to www.quickwasters.co.uk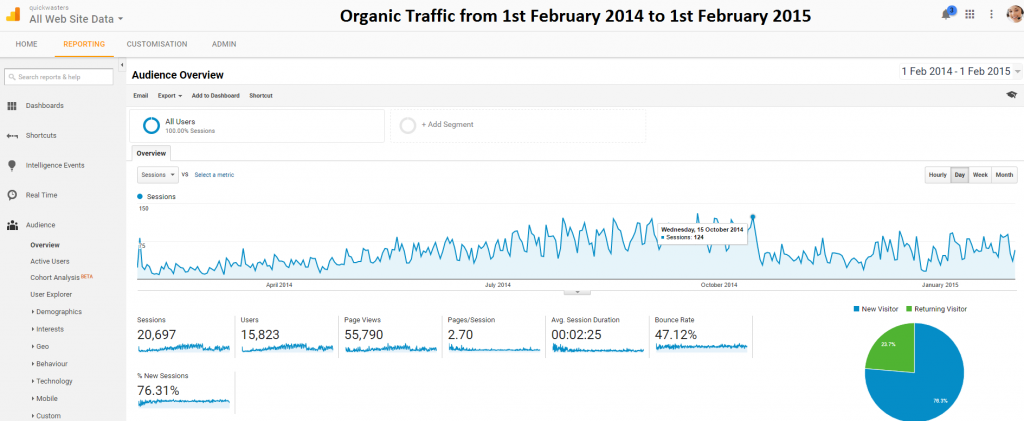 The reason for a higher bounce rate is, most people land on the home page and they call the company straightaway. So that wasn't any bad.
So let's look at the increase of Organic traffic.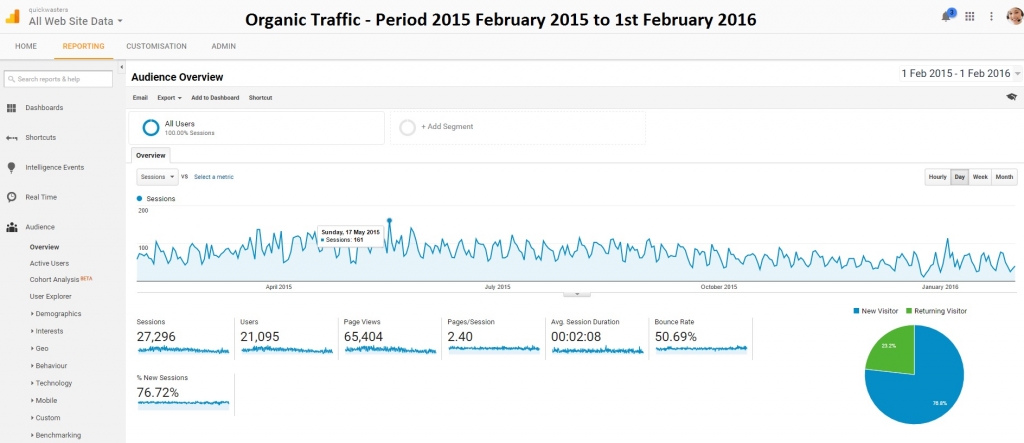 You see teh traffic has increased and there were times daily organic traffic was over 100 per day, which was called teh good times.
Now let's look at the 2015 to 2016 up to date organic traffic.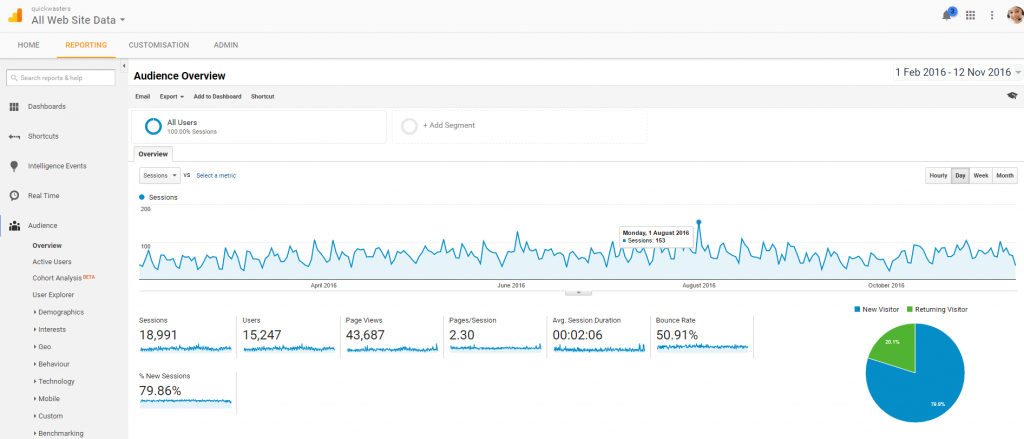 As of today in 2016 driving organic traffic has become a hard task, however by strategically ranking for keywords they people use on search engines, there is room to drive real buyer traffic to a commercial website. And that's what ClickDo is good at.
When looking back at teh Quick Wasters above stats we can see that on average over 15,000 unique visitors has been visiting the website each year. This is very competitive industry and a lot of clicks in this industry is going for PPC Google Adwords. So we've been very successful in driving real traffic to teh Quick Wasters website.
However we can see that the competition is getting tougher and the Google AdWords is something the Quick Wasters management should consider in staring soon. Because what happens is when a searcher sees #1 on Google AdWords and on organic results it triggers in clicking and buying from that website.
That's why at ClickDo we encourage business owners to get ranked organically and also get your website visible on top of the search engines by getting ranked with Google PPC.
Now to tell you little mote about this project, we've even ranked Quick Wasters on the Bing search engine in prominent manner.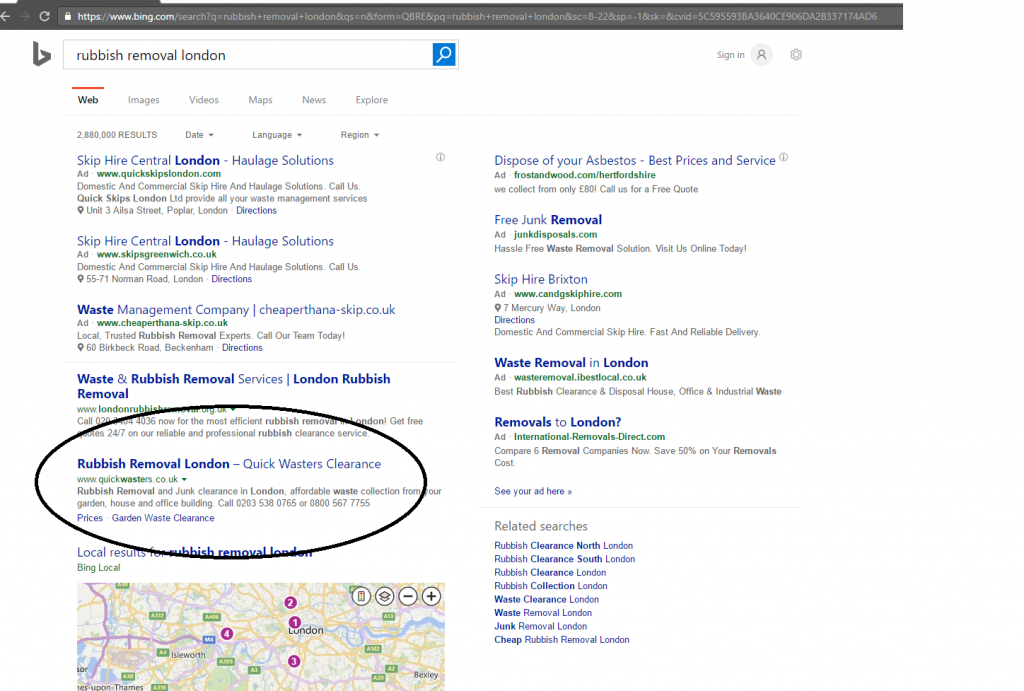 So now looks back at teh last 12 months organic traffic to Quick Wasters properties:
You can see how optimal search engine optimization can drive over 25,000 organic unique victors to a local business website in a 12 month period. So if the PPC ads up this industry has the potential to drive over 50,000 or even 100,000 unique visitors per year.
How did we build top rubbish removal company website for Quick Wasters?
We started with On Page SEO – Done by London's #1 SEO Consultant > Fernando
Content Marketing – producing amazing content and getting published on authority websites and getting a links back to Quick Waster website as reference.
Listing on top directories in UK – Those Naked URL links helps tremendously
Creating amazing videos and populating on the YouTube channel of Quick Wasters – See an example here.
And also story telling social media channels and getting social signals.
Also there are some more amazing work that we will not share here, due to privacy and competitors using them 🙂
With that being said, if you are local business owner in rubbish removal industry and willing get consultancy you may contact us today. **You should ideally be a outer London company so we can help your gain top 3 ranks on teh search engine. As of now we'be got top 3 ranks for our clients in this respective industry in London.