Google AdWords Case Study – Pay Per Click (PPC) for Photography Studio
Google Ads for Photography Studio
If you are owning a photography studio in London or anywhere in the UK, then you will be aware that most of the inquiries for your studio will be come from Google through your website. Nowadays, people starting using the Internet to find any services that they need. So if you would like to get more inquiries for your studio, then you should have good online presence either by ranking your website organically in Google with proper SEO strategy or with Google AdWords.
Organic SEO needs more time and once your website is ranking in top for the main keywords. Then you will start getting inquiries. If you are having a new website or if your website is not ranking in Google for main keywords, then you can use the Google AdWords paid campaigns to get more visitors for your business website from Google search. With respect to the Google Ads, the results are instant and you will start getting inquiries from the same day of starting the paid campaigns with Google.
Why you need Google Ads for your Photography Studio?
As you can see from the below image, 1400+ searches are from Google for the term "photography studio" alone. This means that every month more people are using Google search to find a proper photography studio.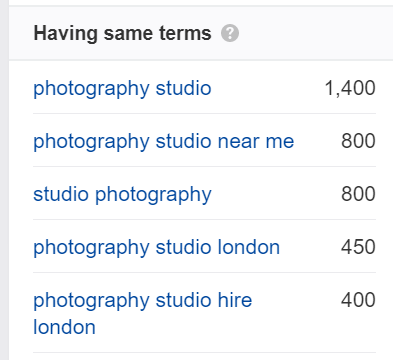 Hence if you are owning a photography studio and reading this blog, you should make sure that you get maximum percentage of the clicks from these searches to your website and later make them inquire you.
By using Google Ads campaign, our PPC experts at ClickDo can help you with proper keywords research, identify the potential users from Google and help them land on your website. At the end of the day, you will get more inquiries from this.
Photography Studio in London Google Ads – Case Study
Our PPC Consultants at ClickDo have worked with a photography studio in London and here we are sharing the performance of the AdWords campaigns for you.
From the below image, you can see they have spent around £2.5k+ in the 4 months' time and have received 900+ bookings through the website for the Photography Studio. Our PPC team have worked closely with the client and ensured that the maximum percentage of potential clicks from the Google Ads are covered and converted.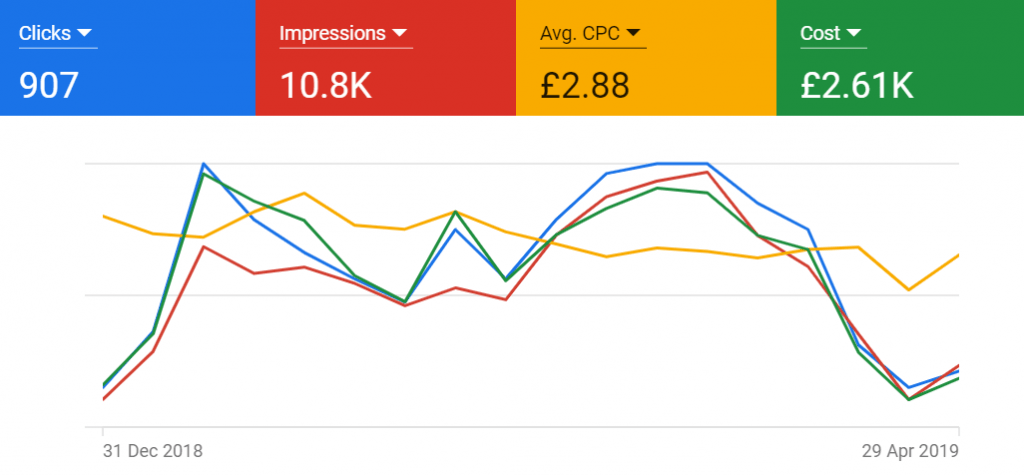 Below you can see some of the keywords which we have targeted and got clicks for.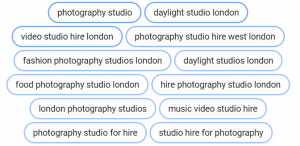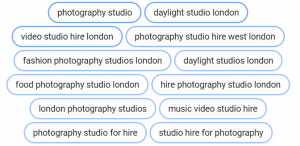 When it comes to Google Ads, our experts will do the proper background research of the niche and will filter out the best keywords which bring conversions. Our team will update the negative keywords list regularly to avoid the irrelevant clicks to the ads.
How we can help your Photography Studio in the UK to get more inquiries?
Our PPC Consultants at ClickDo will closely with you and help you in everything with respect to getting more leads from Google. We will help you from optimizing the landing page for conversions, filtering out the best keywords to focus on and all the guidance to ensure you get more leads from the Google Search.
If you would like to book a free consultation today, email digital@clickdo.co.uk or just give a call to 020 8638 5857.