Google AdWords Case Study – Pay Per Click (PPC) for E-Commerce Website
Google Ads for E-Commerce Website
When you hear the word E-Commerce, you can relate mainly with the online shopping, online sales and similar terms. Yes, E-Commerce websites main goal is to drive more traffic to their website and get more sales for their products that they are offering. E-Commerce website's sales fully dependent on online mediums like Google Search, Social media platforms like Facebook/Instagram to get the sales.
Driving traffic from Google search is possible through organic SEO or with Google Ads. With respect to social media, you can drive traffic to your E-Commerce site with targeted ads and remarketing. Google Ads remains to be the main source for the lead generation for most of the E-Commerce websites.
Why you need Google Ads for your E-Commerce Website?
As the usage of internet has increased among the people, Google is the main the place where the users normally search for the products/services which they are in need of. By using Google Ads, you can make sure that you get most of the visitors to your website who are searching for particular products that you are selling. With proper digital strategy, our PPC Consultants at ClickDo will make sure that you get more visitors for your E-Commerce website from Google Ads.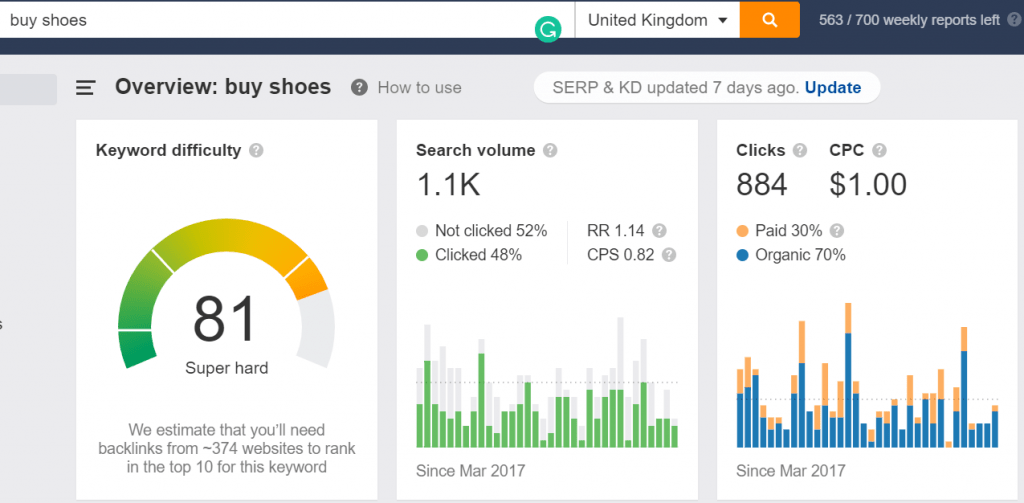 Above image is just an example. You can see around 1.1k users are searching for the term "buy shoes" in the UK alone. So if you are owning an E-Commerce site selling shoes, then obviously with the help of Google Ads, you can drive all these potential clicks to your website from the Google search.
This is just an example, similarly for other products/services, there is a huge demand in online that people are searching regularly to order them online. Hence as an E-Commerce site owner, you should plan Google Ad Campaigns to get more sales.
E-Commerce Website in UK Google Ads – Case Study
Our PPC Consultants at ClickDo have worked with one of the E-Commerce website in the UK who sell Work Wear related products. Below we have shown the performance of the Google Ads campaigns with the respect to the Work Wear E-Commerce website.
Our Work Wear client have just spent around £1k in three months' time and have received nearly 3k visitors from Google search to land on the E-Commerce site. Ideally, they have received more sales from this and below you can see the client's feedback stating that the "products are out of stock"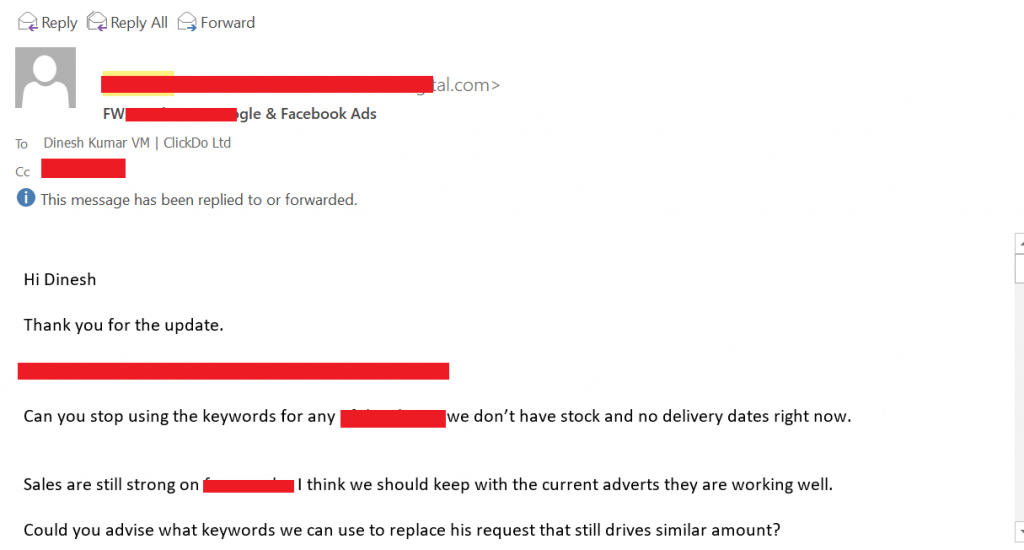 This is how our PPC experts closely monitor the campaigns of the E-Commerce website and make sure that everything is fine with respect to driving traffic and getting sales.
Below are the keywords which we have focused with respect to the Work Wear products.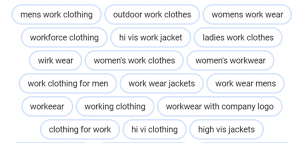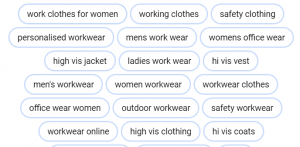 With respect to the E-Commerce website of Work Wear products, this is the short case study for you to get an idea about our PPC Consultants smart plan to drive sales with the help of Google Ads campaigns.
How we can help your E-Commerce site in UK to get more sales?
At ClickDo, we have dedicated team of experts in all the domains like Web Development, SEO, Web Hosting, Paid Advertising (Google & Facebook Ads). So as a business owner, you can find all the digital requirements under one roof at ClickDo. Our team will work with your business website right from the scratch like optimizing the landing pages for better conversions to getting more sales from the Google AdWords.
If you would like to book a free consultation today, email digital@clickdo.co.uk or just give a call to 020 8638 5857.