How to Write the Perfect Press Release with these 10 Smart Steps?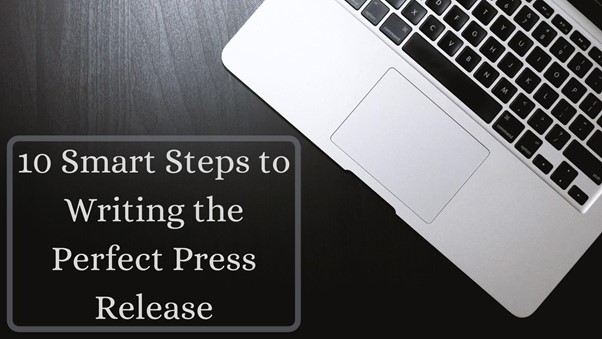 In today's era of rampant information sharing, most copywriters, businesses, and large corporations are often left wondering;
'How can I cut through the fuss by producing a structurally sound, informative, and streamlined press release that stands out from the copywriting crowd and caters to my intended audience?'
 Press releases of this day in age are more successful if they're constructed more uniquely as opposed to generically, of which you might question;
'Is there a formula to writing the perfect press release?'
With the endless creative possibilities of originality forming a solid foundation staged at the forefront of all newsworthy content, there may not be a stringently constricted or air-tight formula to writing the perfect press release.
However, if you get the press release right, your marketing campaign will reach a higher ROI.
If you're a writer on the rise, a PR practitioner, or a small business owner, you first need to understand what confounding elements make for writing the perfect press release.
What is a Press Release?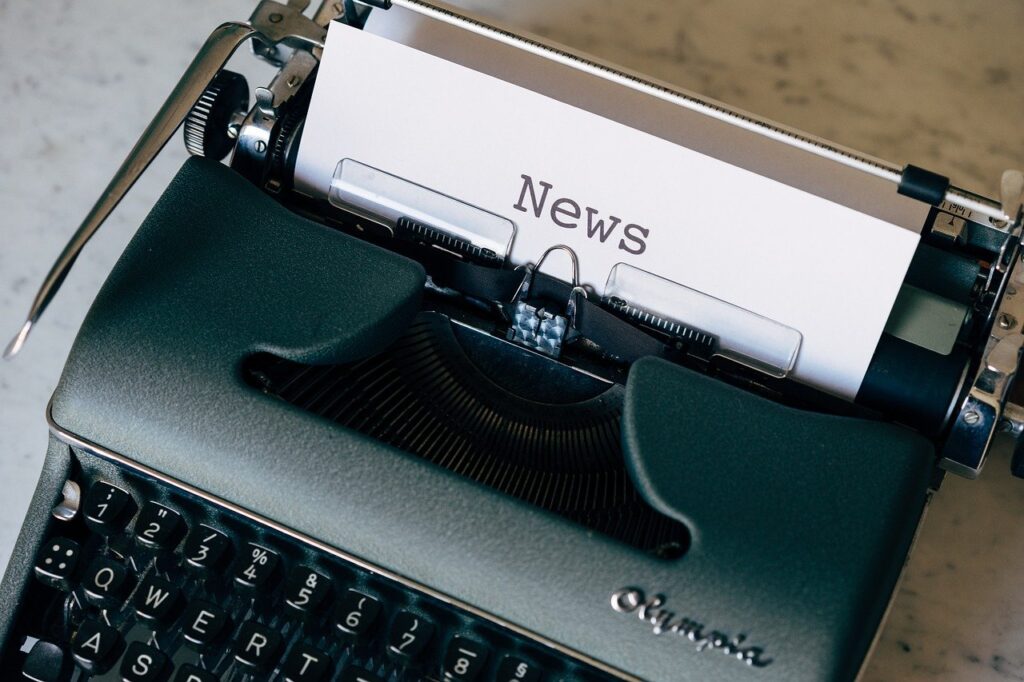 Also referred to as news releases, press releases are defined by The Small Business Encyclopedia as:
"Brief printed statements that outline the major facts of a news story in journalistic style."
Intending to pique the interests of journalists and publications, press/news releases are generally short, compelling news stories written by PR practitioners, marketers, business owners, and copywriters sent to targeted members of the media.
The Value of Understanding how to Write an Effective Press Release
Nestled at the epicentre of all successful PR campaigns and proving its irrefutable worth in the age of information, envision a press release as your 1-way ticket to gaining publicity and getting your news covered in a slew of publications (i.e. print/online) and broadcast media (i.e. television/radio).
Ultimately, the main purpose of all press releases is to promote significant newsworthy messaging in a clear and specific manner, creating a medium through which PR companies spearhead the various marketing and promotional purposes that press releases serve, including:
Notifying the media about an event, development, innovation, or finding with hopes that the word will spread like wildfire.
Sharing a business' corporate identity with the intent of capturing the interest of reporters who might be partial to writing an actual news article about the company.
With social media establishing a more direct line of communication to the delight of specific target audiences in contrast to traditional media outlets, there's also immense value in the formation of PR platforms promoting a business' appearance online via blogs, websites, and other social networks, further fuelling our obsessive appetites for consuming social media content online.
What A Press Release Should NOT include
With a firm understanding of all the things a press release is, it's equally important for you to note what a press release isn't:
A Press Release is NOT:
A sales pitch.

Unbearably technical and overly descriptive.

An extravagantly glorified business profile.

Mind-numbingly dull in its messaging.
Press releases also aren't a guaranteed marketing tool and, as such, PR practitioners are warned to temper their expectations when it comes to getting their releases published for effective reader consumption.
"If you send in a press release that's riddled with grammatical errors, buried in a convoluted e-mail, or completely irrelevant to the reporter's coverage area, you might as well be tossing your press release down a sewer drain." – Inc. Africa
With confounding spam-like, story-less, and advertorial-style factors leaving editors and reporters – who receive hundreds of press releases daily – drowning in a sea of information, many writers miss the point of producing the perfect press release by misusing the practice altogether and failing to accommodate one of its major components: relevance to the reader.
If you're wondering what measures you can take to achieve this and make your perfect press release stand out from the rest, you've come to the right place – our useful tips are just what you're looking for.
10 Smart Steps to Composing the Perfect Press Release
When composing your material, it's critical to understand that, for a journalist to easily produce a story using your news release, your submission needs to encompass the basic framework of a press release containing all the essential information.
Here are 10 smart steps you can follow to guide you in bringing this structural framework into fruition:
1. Authenticate a Creative and Catchy Headline
Given the limited timeframe an editor or journalist has to read your press release, the best way to sway their attention towards yours is through a powerful one-of-a-kind headline that's:
Specific and straight to the point.
Direct and easily understandable.
Written in the active voice.
SEO Optimised and applicable to social media platforms.
The release below would make for a good example of a 'headline fail':

Image Credit: Sharp Spring
If you can easily spot the errors from the example above, you're on the right track to press release perfection.
What makes the above a poor example of a press release headline is its highly generic and vaguely open-ended nature. It fails to provide any details on what is being announced.
Furthermore, what's up with the random capitalization there? BIG NO-NO!
To all writers, be warned that this elementary error is straight-up subpar and any editor or journalist receiving a submission fashioned after the above headline wouldn't take your press release seriously enough to give it a second look – that's if they decide to read it a first time.
In contrast, one of the best ways to stand out is to create a headline that instantly engages people, like the one below:
Image Credit: London Business News
Remember, the informative authentic flair you bring to your headline through its succinct subject matter will do the trick so avoid cutting any corners in this phase of your composition process.
With a punchy headline being one of the many ways that instantly engages the attention of readers, the 'meat' of the matter is still what keeps them invested.
2. Don't Tip-Toe Around the Details
Beneath your captivating headline lies the crux of your communication. This is where you get down to business by immediately enlightening your reader on what's happening, why they should care, and why there's value in expanding awareness on the information presented in your press release.
Given the limited timeframe reporters have to sift through the 'fluff', it's pivotal that you avoid dilly-dallying around the subject matter.
Straight off the bat, set out to accurately and adequately address these core questions in your press release:
What's happening?

Who's involved?

When's it happening?

Where's it happening?

Why does it matter?
Take the below example for instance: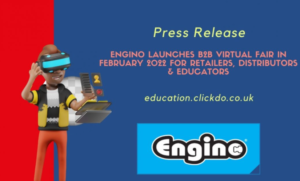 Image Credit: UK Education Blog
From the information presented above, the relevant reporter should be able to gather all the key information from solely reading the headline and beginning paragraph of the release.
3. Consistently Maintain Clarity and Relevance
Journalists are often frustrated by the number of vague press releases they receive – the types of news releases that are either irrelevant or make no sense to the reader whatsoever.
For instance:

Image Credit: PRLog
Huh? Need I say more?
When crafting your press release, ask yourself:
Am I being clear from the get-go?
Have I made who's involved clear to readers?
Will my press release capture the immediate attention of reporters and allow them to get the gist 30 seconds into reading it?
Have I included enough valuable information to make reporters genuinely care about the message I'm conveying?
If you check all of the boxes above, you're just a few steps closer to being a fully-fledged press release impresario that any reporter would gladly respond to.
4. Keep Your Word Count Less Wordy
 It's important to bear in mind that journalists aren't looking for an academic essay so be sure to limit your press release to two pages at the absolute most, with the press release body on one page and additional notes/contact details on the second page.
Ultimately, try and aim for the general word count standard of 400-600 words in total, making sure your press release is tightly worded, crisp, and concise.
Also, in this undertaking, avoid using dry rigid wording to prevent your reader from losing interest within seconds of reading your material.
5. Include Quotes and Credentials
As you lay out the critical details of your press release, be mindful of its journalistic style. Your press release should read like a news story, written in the third person, citing quotes and sources containing standard press release information.
Quotes give your press release context and shape its narrative, which in turn helps journalists understand the importance surrounding its subject matter. As such, it's essential to give reporters at least one strong quote to use, like this one:
Image Credit: Tech.ClickDo.co.uk
Used as a quick smart tool to reinforce the credibility of your overall messaging, your quotes should ideally come from credible high-level key figures (i.e. an executive, project lead, or spokesperson).
Here are a few examples of press release statements quoted by key figures from various organizations: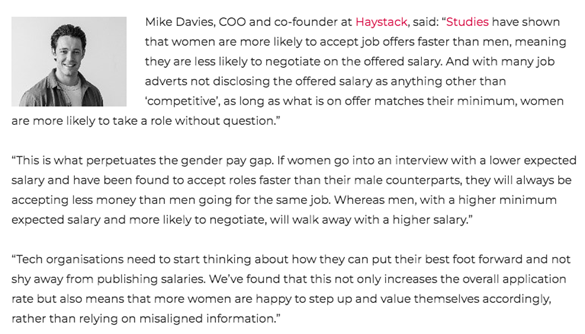 Image Credit: London Business News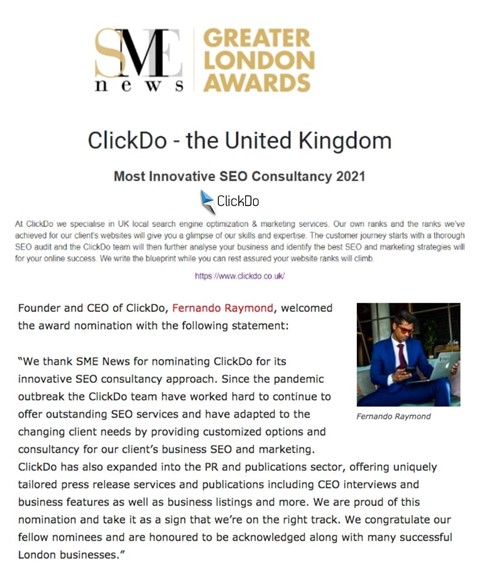 Image Credit: News.ClickDo.co.uk
6. Add Mixed Media / Visual Aids
In contrast to standard text releases, press releases containing various media types receive far more views so, where possible, include a variety of pictures, infographics, videos, graphics &/or charts) in your press release as accompaniments to your text.
In addition to quotes, including mixed media in your press release can make it more visually engaging and informative for reporters: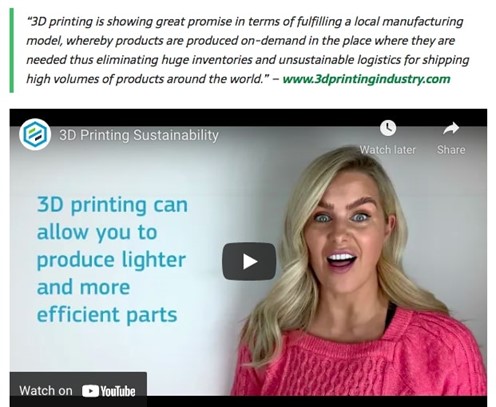 Image Credit: Green Living Blog
7. Tailor Your Press Release to the Right Recipients and Readers
You wouldn't write an eco-friendly press release on 'The Plight of Deforestation' and send it to your contact at Pets Magazine, now would you?
So, be sure to streamline your press release material towards the right publication/media outlet.
By personalizing your press material, your content showcases greater appeal, increasing your chances of receiving press release coverage filtered through to the appropriate targeted audience of readers.
Here are some ways of identifying your ideal point of contact:
Identify the best contact: comb through the relevant publications' website for press contact information, usually displayed on its 'Contact Us' page, and identify the right reporter, journalist, or editor in chief who is responsible for receiving &/or publishing press releases.
Expand your search: If your reporter research initiative proves unsuccessful via a publications' website, take to social media (i.e. Facebook, Instagram, and Twitter) to expand your search on those worthwhile platforms. LinkedIn, for example, is the holy grail of company employee insights, as its user profiles contain a plethora of information about the positions, responsibilities, and departments that various staff operate in.
Prepare a clear and concise pitch: When reaching out to a publication of interest to pitch your press release, be direct in briefly describing its importance, purpose, and value to the publication and its readers.
Include deadlines and embargo schedules: These are crucial components of inclusion in your press release pitch, as this information signifies the important time-sensitive parameters for respective media outlets to adhere to.
Distinguish your press release by adding relevant resources: In addition to including media in your press release, also ensure that any additional promotional material and valuable sources are sent to your recipients to use or send in a separate folder via Google Drive or any other online file-sharing/storing platform.
Ensure clear and consistent formatting: For recipients of your press release, it's pivotal to clarify a definite indication of what information is for publication purposes and what information is for editorial purposes, making this distinction on how to use the information clear to editors.
8. Understand that the Value of Timing Can be Your Saving Grace
Being a written communication that reports specific, but brief information about an event, circumstance, product launch, or any other happening, most effective press releases are promptly produced and made available for "immediate release", meaning that anyone can share the information as soon as it's gone public.
Reporters need to be given adequate lead time, so ideally, you should endeavour to share your news release 48-72 hours in advance, which would give journalists sufficient time to read your submission and put together a write-up for publishing.
9. Always Include Background Info
Including brief information (i.e. company/brand profiles, contact details, and relevant hyperlinks) towards the tail-end of your press release that's important, but not crucial, is still of value to reporters and journalists looking for background insights that could strengthen their article: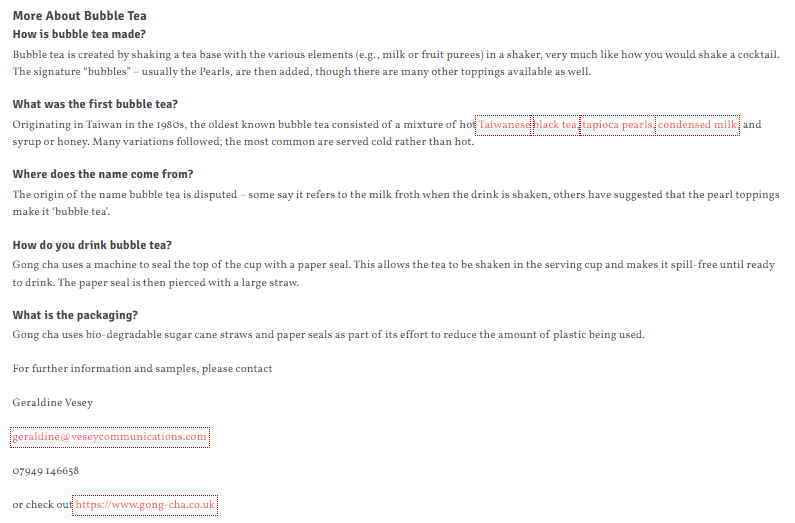 Image Credit: London Out Loud Blog
10. Concluding Your Press Release with a Call-To-Action
In addition to press releases typically ending with a short description of the company or organization mandating their release, it's also worthwhile to include a CTA (call-to-action) in yours where necessary.
Again, regarding maintaining the principles of relevance, the CTA could be to participate in an event being promoted, register for a free trial or membership of services being promoted, or simply find out more by contacting the author of the press release. Ensure that your target audience is always kept top of mind here!
Some promoted services, events, and news highlights may not apply to some readers. For instance, a press release profiling the '4 UK Cities Making the List of Top 30 Best Student Cities Worldwide' wouldn't necessarily appeal to readers residing outside of the UK due to its geographical limitations, however, to ensure that the CTA remains relevant to your target audience, be sure to encourage readers to review the full study to gain leads and more traffic to the website.
In Summary
Issuing your press releases doesn't mean that mainstream media outlets will automatically jump on every piece you submit for them to run with and, although standing out and being a cut above the rest may seem challenging, getting your press release published over the flurry of others received isn't outside the realm of possibility.
Simply remember to maintain your journalistic integrity whilst staying true and authentic to your writing style and overall delivery.
Certain agencies offer services that will distribute your press or news release to suitable and selected media outlets that are relevant for your business. At ClickDo you can speak with PR Strategist Manuela Willbold about customized press release services and distributions to achieve the best marketing and SEO outcomes.
If you're unsure about your press release draft, get in contact with press release service professionals like ClickDo to have it evaluated.
Lastly, here's our concluding CTA just for you:
If you're hell-bent on applying the above tools when writing your perfect press releases for an intended target audience, feel confident when hitting 'send' and pitching them to traditional media outlets as well as niche blogs like:
Not to mention the UK News blog like Submissions at news.clickdo.co.uk.
Author Profile

South African wordsmith Zanda Simamane is an enthusiastic, cheerful, conscientious, and talkative individual who is likely to express my emotions, enjoy change and exhibit a lively attitude. In addition to being warm-hearted and outgoing, he is actively interested in others and tolerant of them. Throughout his career, Zanda's exceptional copywriting, editorial, and communication skills have proven valuable in his diverse fields of interest, some of which include Copywriting, PR & Marketing, Entertainment & Fashion Journalism, Social Media, Tech, and Influencer/Talent Management.