WordPress SEO: Learn How to do On Page SEO for new WordPress site and launch it on Google
Are you looking to do SEO For New WordPress Website and launch it on Google with bang? – Then you are about to learn to do that step by step with these WordPres SEO video totorial done by Fernando the #1 SEO consultant in London, UK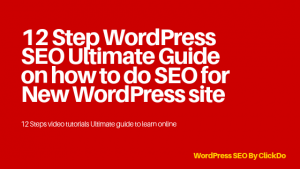 We've done SEO for thousands of WordPress websites and launched over the years for our clients and we have covered WordPress SEO steps in detail on our online WordPress SEO course. However, we still want to simplify the SEO steps when it comes to the new site. And many web designers do not know how to lunch a new site to Google with perfectly done on page SEO.
If you do not get the On Page SEO right and launched a new site,  it will not rank fast on Google search engine.
Even to get to top 10 pages it's tough, but with properly done SEO for the new WP site, you have the highest chances to move your new site to the first page.
The website we will be doing on page SEO > https://www.alljunkremoval.co.uk/ and it's newly done WP site created for the local business owner in London.
Designed by ClickDo web designers and hosted by SeekaHost London web hosting services https://www.seekahost.co.uk/blog/london-server-hosting/ for optimal performance.
Introduction to WordPress SEO
12 Steps for WordPress SEO
Now let's look at each step individually and you can watch the videos for each step to understand how the SEO is done for the website.
1. Keyword research –
10 keyword research tools you can use can be found at https://ahrefs.com/blog/free-keyword-research-tools/ or learn further at https://www.clickdo.co.uk/seo-training-course/ on how to do keyword research. Also 15 more you can read further https://backlinko.com/keyword-research-tools
Keyword research is one of the most important things and all the SEO success will depend on this step. So use the tools as listed above, but you can see we use SEMRush for keyword research on the below video.
2. Install the important WordPress plugins
Start with the All in one SEO pack as that's the most important plugin for WordPress SEO setup on newly done websites.
3. Write the On page SEO elements and implement
4. Internal linking pages (Wikipedia style)
5. Setup Google sitemap
Google site map is very important and it makes it easier for Google bots to read your WordPress site code and understand easily. That's why I recorded the Google xml site which you saw in the video. You can easily search it from the WP dashboard and install it. Watch the next video to see how it's done.
6. Submit site map to Google
7. Install Google analytics
9. Start offsite SEO with business directory listing
As a UK local business list https://www.alljunkremoval.co.uk/ over 100 UK directories that are listed on https://business.clickdo.co.uk/top-100-uk-business-directories-list/
10. Create an infographic and list on submission sites
Check the top 40 infographic submissions sites as shown at https://www.clickdo.co.uk/infographics-submission-sites-list/
11. Publish blogs on the WordPress blog
You must publish articles that are related to the niche. https://www.alljunkremoval.co.uk/blog/ do further internal linking
12. Start guest blogging on niche relevant sites
And get backlinks to the WordPress website to boost the SEO.