(18 Proven Ways) How to Earn Money Working from Home in the UK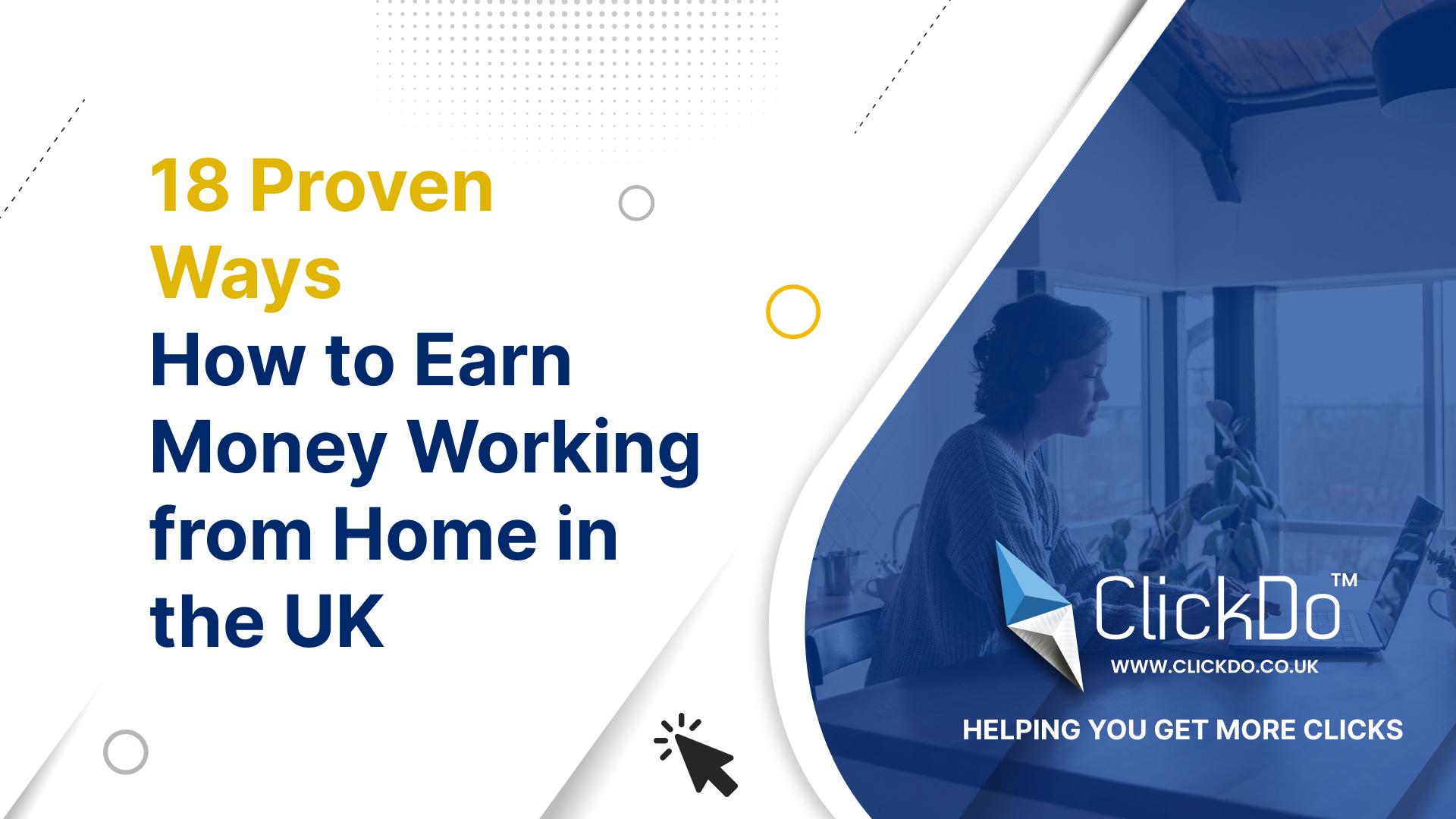 Do you want to learn how to earn money from home in the UK working online?
Then discover these 18 best and most effective ways to easily earn money working from home in the UK.
Nowadays, with the digital revolution offering us a plethora of passive earning opportunities forged directly from our fingertips, online users are constantly on the lookout for new and creative ways to effectively generate income remotely.
Adapting to the current transitional shift from the traditional 'office work' model to more modern Work From Home (WFH) jobs in the UK, staying 'connected' and clued up on the latest trends in remote revenue generation correlates directly with the new-age information-sharing habits we've quickly grown accustomed.
Are you looking for proven ways to earn money from the comfort of your couch?
Well, you've come to the right place!
Without burning a massive hole in your pocket, we can help lead you in a profitably progressive direction towards building a legitimate and lucrative online business venture you can carry out from home or anywhere in the world.
Whether you're a stay-at-home parent or a student in search of a stable side-hustle, ​with your laptop in hand and an active secure internet connection in place, the only thing standing in the way of gradually developing a reliable revenue stream is time.
There's no need for any expensive equipment or software here. It takes minimal funds to start making money online and the return can be huge.
The time is now!
The Remote Revenue Revolution
Whether working from your home or from the sandy beaches of a secluded island resort during a relaxing getaway or as a digital nomad, earning money remotely has quickly become a growing trend in today's digital era. For this, we have the online arena coupled with the latest in technological advancements and their influence on our new-aged working styles to thank.
Given the synchronised suitability of the growing remote work trend in tech-reliant online sectors, more long-term, lucrative, and legitimate remote work prospects are sprouting.
Before taking a deep digital dive into the future of your finances from the comfort of your couch, it's pivotal to be cognisant of the digital marketing skills required to earn money from home on your terms.
Why Learning Basic Digital Marketing Skills is Essential?
Since the dawning of the digitized era, successful businesses have relied on digital marketing strategies to:
Foresee faultless projected marketing avenue streams.
Tactfully set effective KPIs in place.
Meet optimized outcomes.
These techniques also apply to at-home online money-making opportunities. Therefore, learning cyber marketing skills is crucial for those who want to see their 'work-from-home' (WFH) business model gradually meet profitable outcomes.
Gaining newfound knowledge about online marketing and how it works is vital to the success of at-home earning because, as a direct result of this insight, people can manifest and monetize their online offering to the online community for profit.
Starting a blog or website, for example, is one of the many proven ways of using basic digital skills to make money working online from home.
6 Effective Ways Skilled People Earn Money Working From Home in the UK
For skilled individuals with the know-how to navigate the online arena, finding independent self-guided WFH opportunities won't pose any challenges when looking for effective legit ways to generate revenue remotely.
With each requiring specialised knowledge and expertise in digital marketing at different levels, skilled people in the UK make their money working online from home in the following ways:
1. Starting and Monetizing a Blog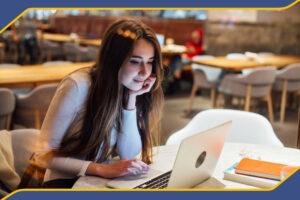 Starting a blog gives people the skills to learn how to get online with a blog that they can use to earn money in many ways. Furthermore, learning how to start a blog helps people understand basic web and digital skills.
A blog won't generate money over night and there are many additional skills required to make a blog successful such as SEO and content writing for example. You'll also need to learn how to turn readers into customers as Neil Patel explains:
We have centred many of our guides around earning online as we know that anyone can learn to start their own blog or gain the transferable skills to do many online jobs and easily make money at home.
In uncovering the wealth of opportunities awaiting them, along with various types of online work best suited for their WFH interests, people often turn to the below resources:
It is important to note that making money with a blog takes hard work, especially when starting a website from scratch.
There are now website builders and blog creator tools available that can help blogging beginners to get started quicker and easier. Some are free and some may cost you something, but they may give you the support you need in the beginning of your blogger journey.
Before earning anything from blogging, it is vital for a blog or website to attract a good number of visitors every month. Regarding advertising or other sponsorships, anything from 1000 upwards is worth people's attention. To learn how to achieve this, SEO skills and SEO copywriting skills are a necessity.
Understanding these first via ClickDo's SeekaHost University has helped people gain more insights about how to build websites or blogs and increase traffic for brand growth.
ClickDo's core team members Fernando Raymond and Manuela Willbold have each published tips and tricks in their personal blogs below:
SeekaHost App first-timers often can get started with free WordPress Hosting and adopt the easiest and most affordable WordPress Blog Hosting Control Panel when starting their blog and here's why:
2. Drop-Shipping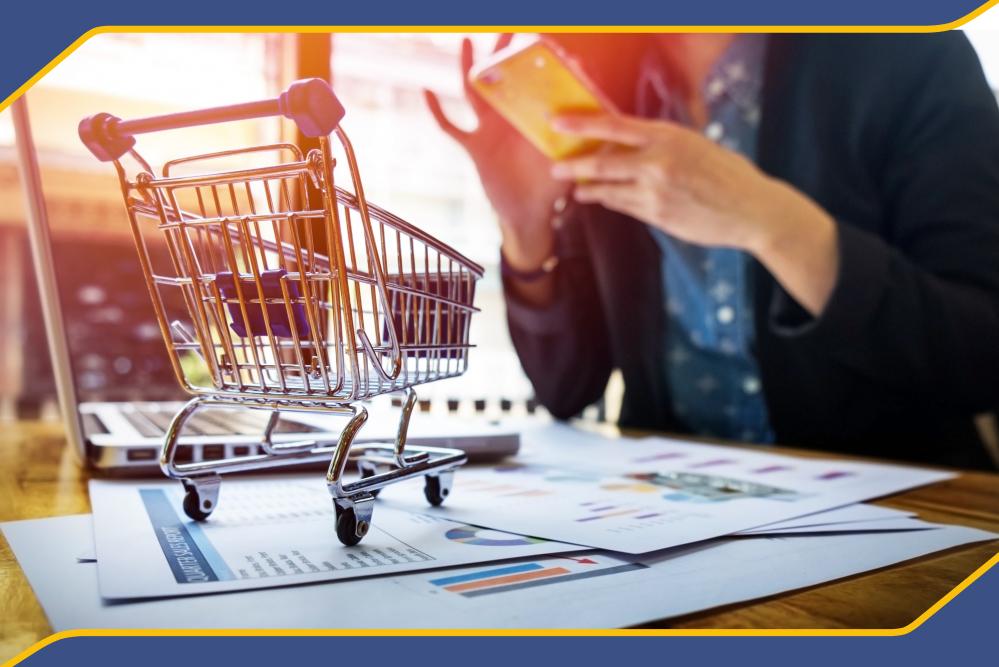 Drop-Shipping takes place when a store does not keep any stock. Instead, when an item is purchased, the store purchases that item from a third party and has the third party deliver the item directly to the customer. The third-party could be a warehouse or factory located in China.
This business model is a clean way for people to have a lot of items in their online stores and minimizes the risk factor by eliminating up-front payment methods to get the merch they want to sell.
So, if the business doesn't or isn't going well, worrying about costs becomes a non-factor. People don't need to invest lots of money in starting their e-commerce business or advancing their knowledge of the SEO skills required when improving an e-commerce website. All they need to do is pay for a domain name and web hosting.
There is no need to worry about the packaging and sending of items since the third party will take care of it. If drop-shippers want to add new items to their store, they can easily and quickly do it.
With everything managed digitally, drop-shipping businesses are able to offer a massive variety of items without the need to store anything. Some third parties will also allow people to add their business logo to items stored in their digital warehouse. This way, people can grow an awesome super-cheap online brand.
Most people looking for ways to drive traffic to their e-business are partial to paid Google Ads or Google traffic. In the video below, London's top SEO Consultant, Fernando Raymond, explains why:
3. Freelancing

For people with various skills (i.e. graphic design, copywriting, making videos etc.), freelancing is a quick super-easy way to make money online in the UK.
This potential to reap financial rewards is magnified when learning new skills that interest others through YouTube tutorials or free short courses online.
The skills people can specialize in are so endless that it couldn't get any easier to learn skills these days. The sky is the limit, as there are many freelance platforms where people can advertise their gigs.
As an alternative, people grow their audience through blogging and social media marketing by taking the Facebook Remarketing Course. Another good strategy adopted is making a freelance name brandable – this could be a person's actual name, pen name or something else.
With website creators not having to pay the fees that come with advertising on someone's platform, it simply doesn't get more profitable and cost-effective than this.
4. Buying and Selling Domains
There are millions, if not billions, of websites out there, with so many websites started every day. People are looking for well-branded domains that are keyword-rich with catchy domain names.
People with the capacity to snare domains that they think others will be interested in can sell these domains for a much higher price after building them to a level that attracts a good amount of traffic.
When purchasing a domain, people ask themselves:
Will someone buy this?
Does it offer any value?
People avoid shooting in the dark with anticipations of making a 'hit' by making sure they niche down!
For instance, people with specific knowledge in the law industry will search for websites that lawyers use to try and find common patterns.
The so-called domaining business is growing and can be very lucrative, but you'd need to understand the basic principles of it and first learn more about expired domains, domain auctions and how you can make money from domaining.
5. Starting a Print-on-Demand Shop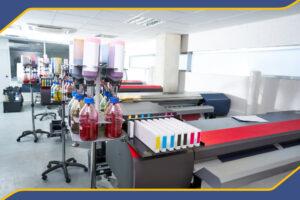 For creatives with a flair for developing authentic visual artwork, starting a 'print-on-demand' shop could be the perfect avenue to display original designs on shirts, hats, mugs, posters, and other products for online selling. With this method, people don't have to deal with the fuss of inventory and fulfilment needs.
All they need to do is select a provider (i.e., Printful, Printify), upload their file, choose the products they want to sell, and advertise them on their online store.
Suppliers such as pinbadges.co offer customization services and have a library of designs to design pin badges online that can be sold. Because custom pin badges are inexpensive and easy to store, the idea of an online store can be maximized.
People's basic skills in online marketing and effective SEO practices are adopted here when engaging in self-promotion to market their 'print-on-demand' store to prospective online buyers.
6. Developing An App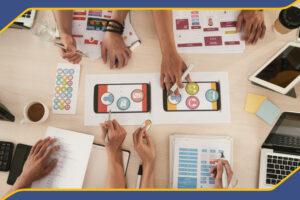 Developing an app is one of the more common skill-based methods for making money online. This approach is a dream for any tech whizz, especially for creators with concepts about how people can maximize their daily digital needs to best suit their lifestyles.
These days, people can passively monetize their digital skills as app developers by creating mobile apps to sell via the Apple App Store or Google Play.
By selecting from a range of the best app development tools that can help maximize online user reachability through app marketing, the opportunities to make money by catering to various niches are vast and endless.
For instance, mirroring the 'freemium' business model adopted by the UK Free Prints app and how it generates revenue, developers tap into their unique skillsets to provide specialized services through their app and upsell to online buyers from inside the app.
Now fully furnished with worthwhile insights on the profitability potential awarded to skilled online income-earners in the UK, let's veer attention away from the self-governed money-making methods mentioned above.
Below, we explore easier ways of using the WFH model as an outsourcing mechanism to profit progressively from revenue earned online.
12 Best Proven & Easier Ways of Making Money Working Online From Home in the UK
Our eclectic range of unique and creative remote money-making methods are lucrative side hustles that do not require huge investments, specific skills or qualifications.
Although relatively uncommon to most, these contemporary online avenues of income generation, some more alternative than others, have proven effective in yielding profitable outcomes for at-home businesses of today's era:
1. Reviewing Websites and Apps

If you enjoy scouring the internet to discover the endless ins and outs the world wide web has to offer, why not get paid for it?
With several sites that will pay you to test out websites, platforms like UserTesting can make this fun and exciting activity profitable for you. UserTesting pays site reviewers daily to visit all kinds of websites, with each review taking around 20 minutes, subsequently awarding you a PayPal payment of £6.50.
2. Getting Paid to Play Games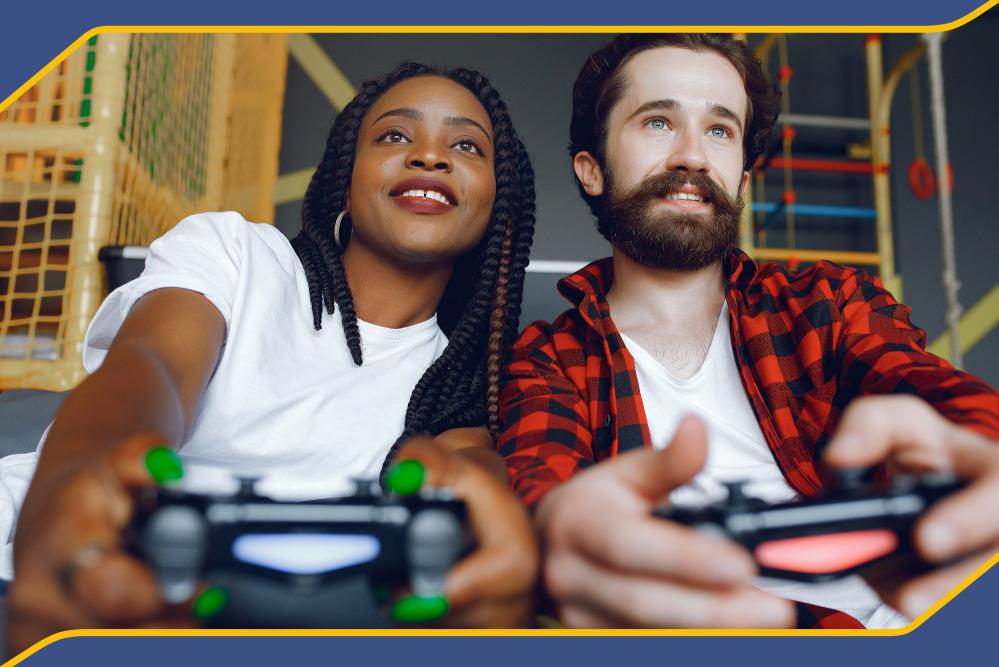 For all gamers out there, you may have hit the jackpot with this entertaining online money-making opportunity!
If you're into particularly popular e-games played by millions like Minecraft there are many ways to cash in on your gaming passion and skill.
You can get started with a Minecraft game server where you construct the server and build a dedicated community by inviting players. Try these money-generating avenues once your Minecraft server is up:
Stream your Minecraft experience on YouTube: Build a YouTube channel and add a variety of content related to your gaming like expert tips, behind the scenes, etc. You can earn a decent income through the YouTube monetization scheme.
Charge a fee for accessing your server: The charges should be based on the overall experience and use. You can charge a decent amount for an awesome world with great visual impact, expansions, mods and more. If users like your Minecraft world, you can charge membership fees, where you could offer different packages depending on the play duration, features etc.
Create a "task-based" virtual currency program: Set up your Minecraft server so that players need a virtual currency to play games. You can allocate a specific amount of virtual currency based on the tasks they complete. These tasks could be linked to your business affiliates and advertisers, encouraging players to download their application, watching their latest ad, liking their social media page, subscribing to their email list or participating in a market survey.
There are more advanced ways to earn with Minecraft, which you can find out about in the SeekaHost Make Money With Minecraft Guide.
Some sites in the digisphere that earn money through adverts will pay some of their revenue back to you as remuneration for your involvement in the gaming experience.
3. Reviewing Music for Money

There is virtually no one on this planet who doesn't occasionally enjoy tucking into some tasty tunes either in their spare time or whilst going about their day.
Why not make this your business?
Thanks to sites like Slicethepie, music lovers can review unsigned bands and artists online for cash.
With some users claiming to earn £40 a month via the site, this could be the perfect side hustle for you if meandering through the mainstream of music is a massive part of your life.
4. Watching Videos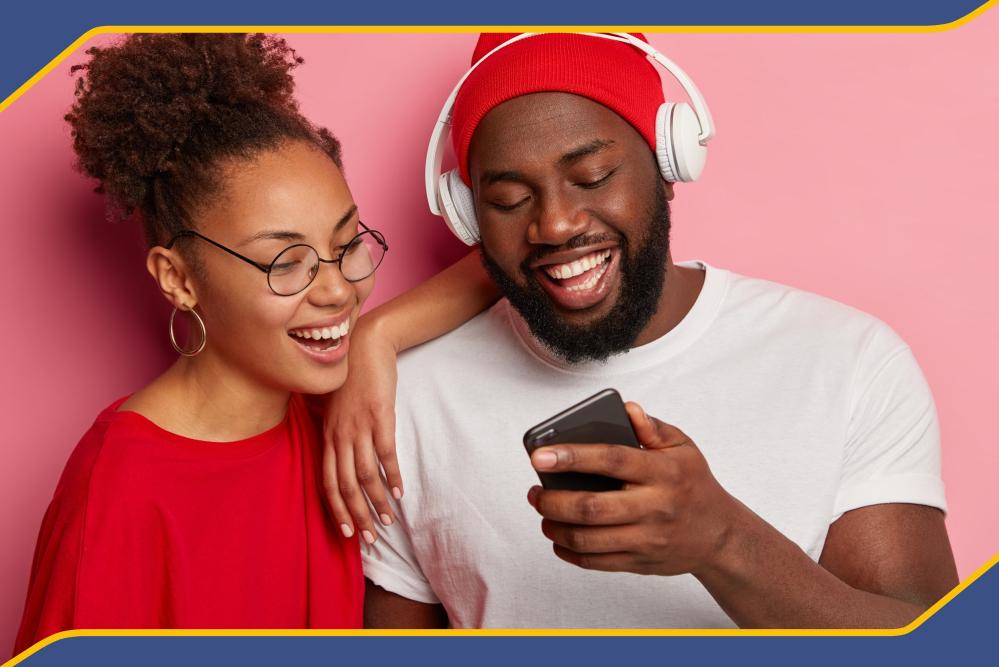 With video streaming platforms like YouTube, Netflix and Showmax virtually dominating the realm of online entertainment, viewers can't seem to get enough of what the world of webisodes has to offer.
As a result, avid video viewers get paid to watch videos online – this has to be one of the most enjoyable ways of making money online.
Sites like WeAre8 will literally pay you to sit back, relax, and watch online content like adverts and videos hoping to go viral.
Here are a few other ways to make money from watching videos.
5. Mobile Phone Recycling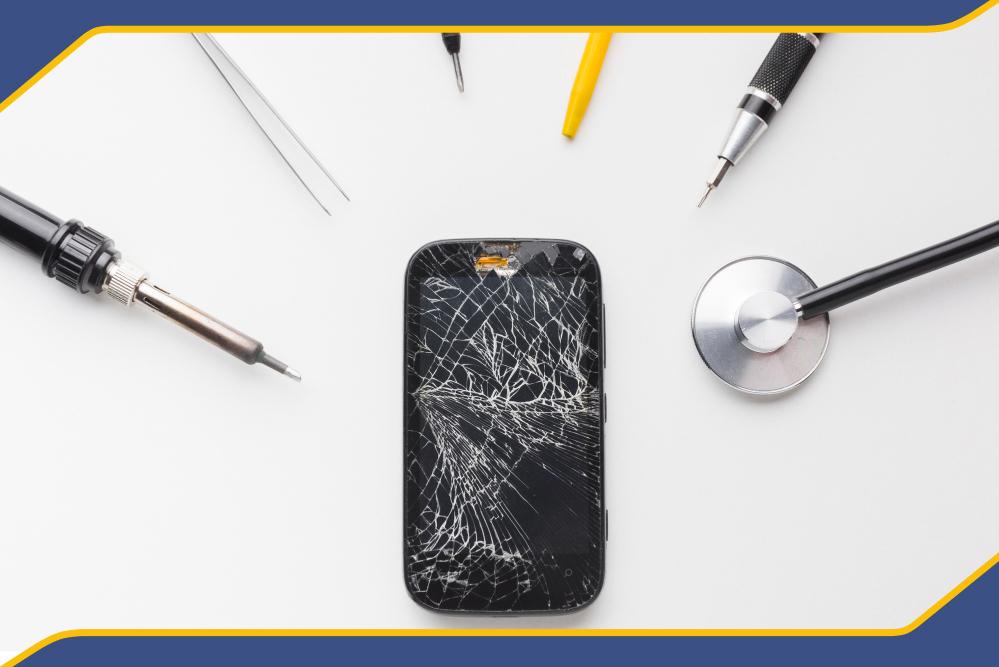 Let's be honest; we all have a lust for the latest in tech products and mobile devices.
So, after indulging your ravenous repertoire for a newer product upgrade, what do you do with your older outdated device?
Here's a hint: SELL SELL SELL!
By recycling your old mobile phone and other unused devices, you can earn money and help the environment as well.
Highly recommended mobile recycling sites include:
You can also sell any unused items you want to get rid of via the sites below:
6. No-Risk Matched Betting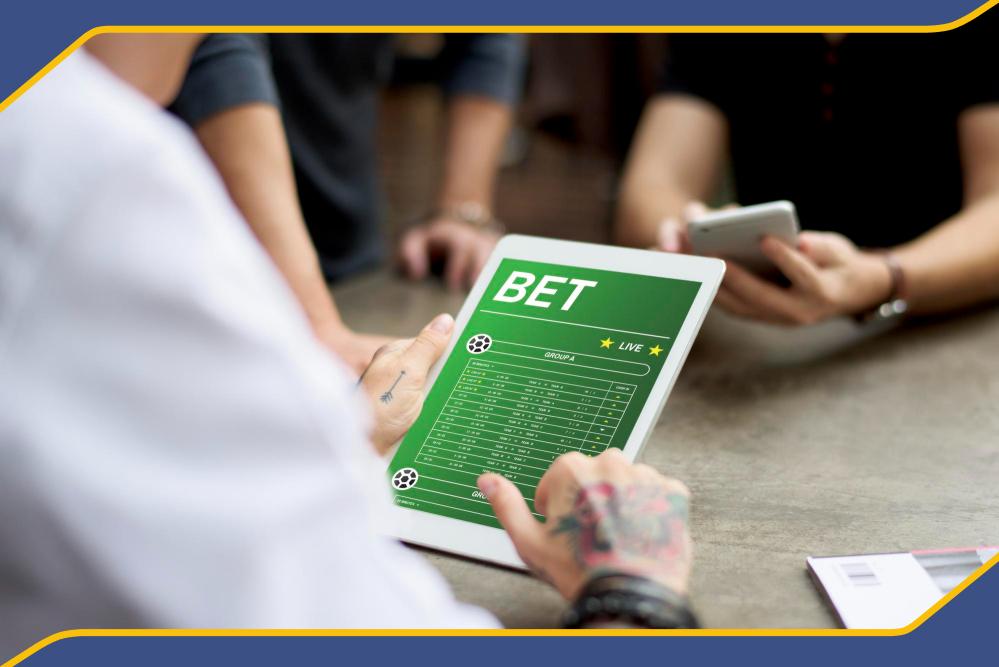 Matched betting has to be one of the quickest ways for students in the UK to earn extra cash, with some reporting to have made up to £100 through this legal, risk-free, tax-free money-making online avenue.
Here's a brief breakdown of how making money through matched betting works: Betting sites offer free bets you can take advantage of by 'matching' them at a betting exchange, which subsequently reduces any risk of loss since you are betting both for and against an outcome.
Many betting sites also pay for affiliates, so if you have a blog or website and you write about related topics, you can join their affiliate schemes to make some extra bucks.
7. Selling Cinematic Classics from the Secret 'Disney Vault'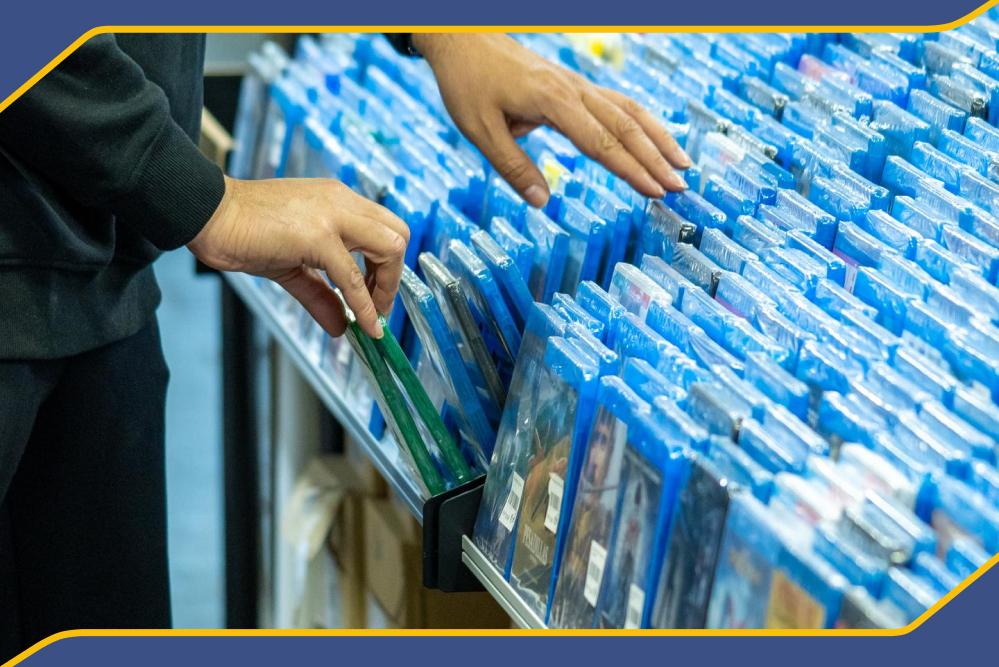 Not a lot of people are aware of the secret 'Disney Vault', but Disney Studios restricts their supply of some home classics to maintain high demand for their timeless widely sought-after collectables.
Physical blu-rays, for example, are locked away in the vault for 8-10 years before being released for a short time. This brief window period would essentially be the perfect time for you to strike by buying at the usual retail price, as you can turn a decent profit when they go off sale again for another few years.
For instance, 'Beauty & The Beast' sold for just £24.99 in 2011, later increasing to £74.99 on Amazon a couple of years down the line.
It's important to note that not all Disney releases are subject to the vault and only the true classics remain in such high demand. Currently, only two titles out of the vault are available for online purchase:
Bambi Diamond Edition Blu-Ray
The Lion King Diamond Edition Blu-Ray
8. Mystery Shopping
Most people don't know how financially rewarding mystery shopping can be – we're here to solve the mystery of it all.
Earning money while enjoying some much-needed retail therapy or indulging in cravings for a certain kind of cuisine could not get any more desirable to you and to consumer research analyst agencies, as plenty of mystery shopping agencies offer you payment to visit various shops and restaurants to report on their performance.
The best companies to sign up for mystery shopping jobs include:
As an alternative to mystery shopping, participating in tasking apps allows you to earn rewards for completing small local tasks, which could also be heaps of fun.
9. Selling Old Games & Movies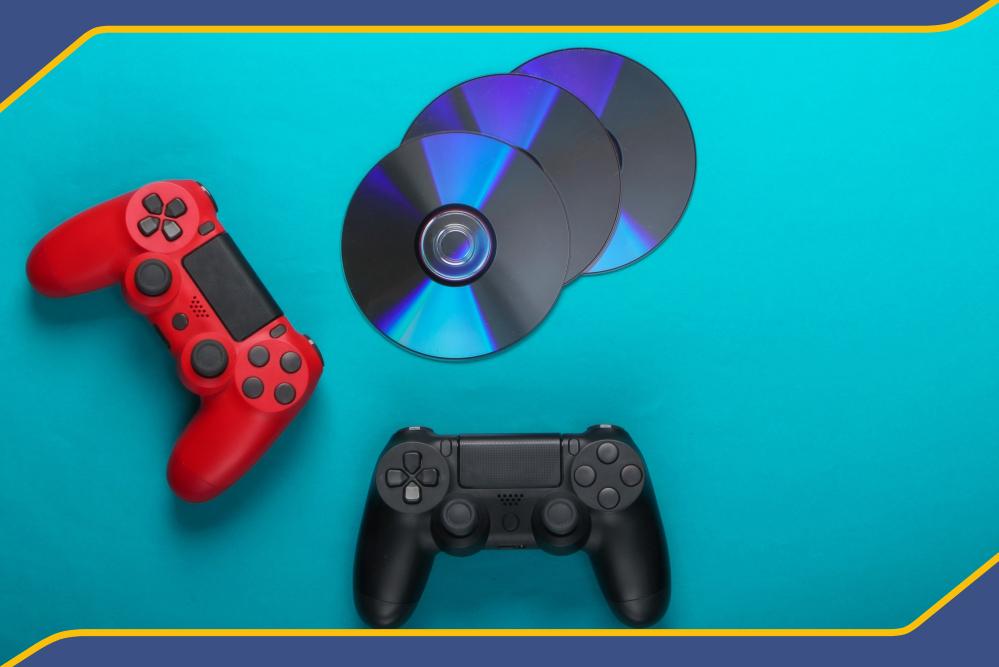 Have you outgrown your teenage video games and movies?
Well, now would be the perfect time to earn a quick buck by passing on those thrilling days of yesteryear to someone willing to put your entertainment items to good use today.
With sites like MusicMagpie offering to pay you instantly for sending in unwanted items, selling your old DVDs, Blu-Rays, and games can see you earn anything from 10p to £20 per item, depending on the size of your collection.
10. Renting Out Extra Storage Space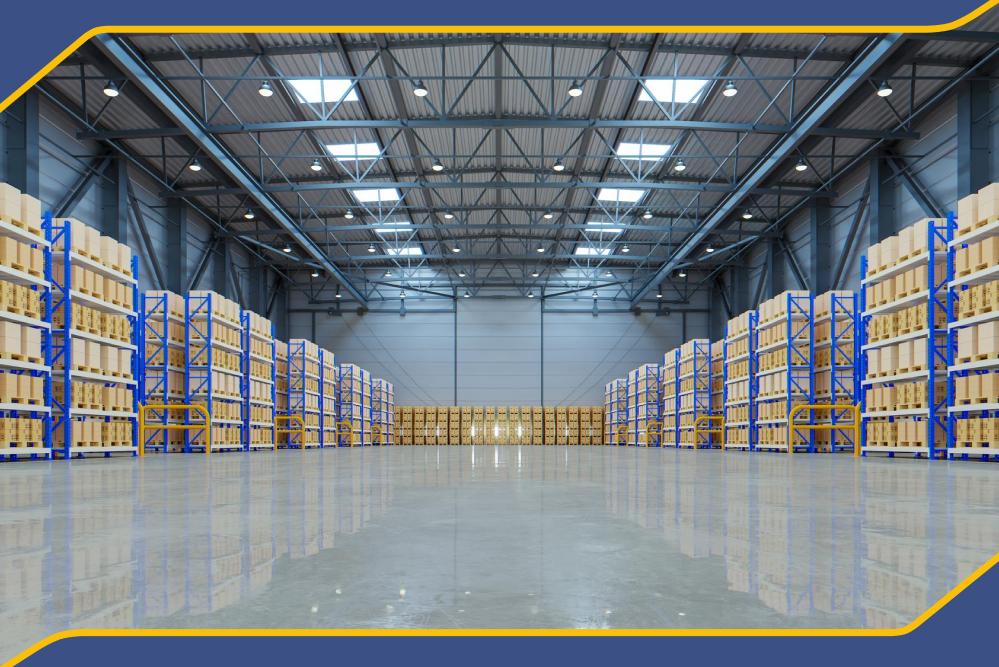 People moving house, renovating or spring cleaning all need extra room to store their stuff.
If you have the space, offering storage for rent is an easy way to make money from home.
With the right platform, you don't even have to do all that much.
Stashbee, for instance, offers free countrywide listings, and insurance is included with each booking.
You don't need any more surprises after 2020, after all.
Everything happens through an online map, and you can even see what other people are earning for their extra rooms, garages and spare spaces. In some cases, you could even make as much as £760 per month while watching Netflix!
11. Publishing eBooks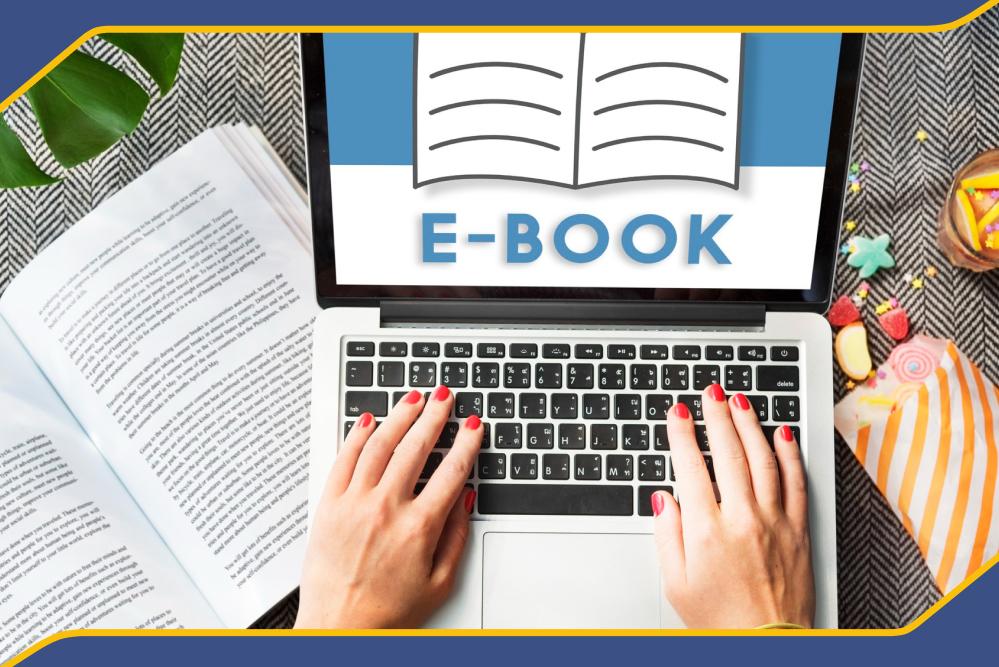 Publishing eBooks is a great way to make some extra money or even a full time career.
Do you have knowledge about a particular topic?
Maybe something like skincare, nutrition, beauty or anything you think people will be interested in?
Go ahead and create an eBook around it, but first research the questions your target audience ask. This will guide you with what to write about in your field of expertise.
I mean… why wouldn't you?
If you have knowledge about topics, why not get paid for sharing that knowledge.
Choose a topic you think people will be interested in, create an outline of the chapters you're going to write about and then write it!
After you've finished you can go ahead and publish your eBook on Amazon and promote it to your own audience. You can learn more about eBook publication and marketing here.
12. Selling Photos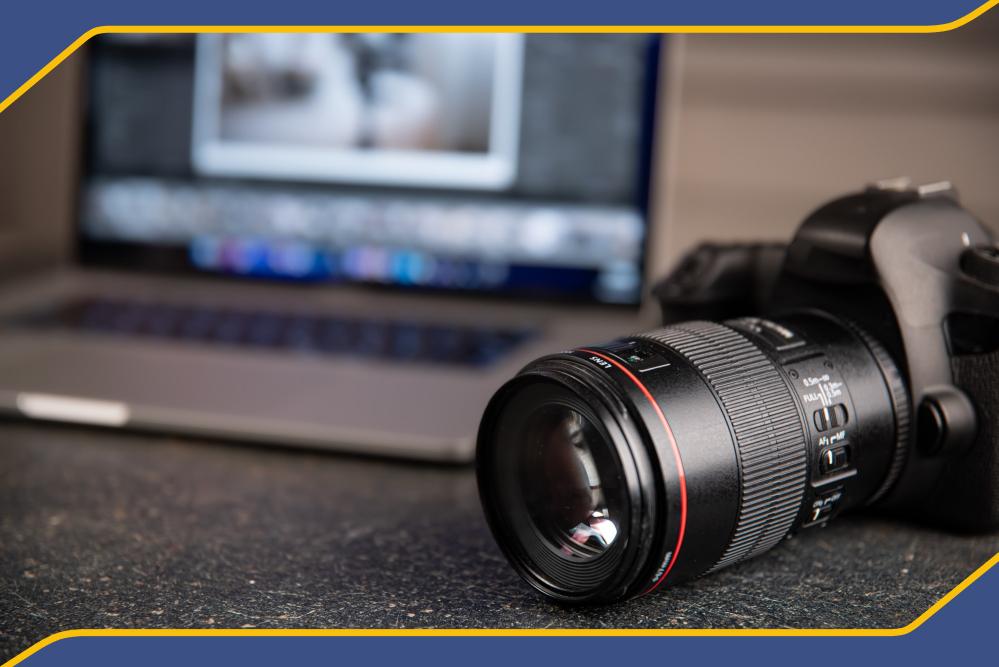 Do you have photos of stunning landscapes, famous people or everyday objects?
You can sell them online.
The prices can either be onetime purchases or monthly payments.
If photography is your passion, then this is a brilliant way for you to make money online.
Get a good camera, have some good lighting and start shooting.
There are so many things you can take photos of.
And remember…
…you don't have to be in some luxurious place.
People aren't always looking for luxurious photos.
Dark depressing settings are very popular too and you can cater to any niche as all online presences out there rely on quality photographs to improve their visual presentation.
So it doesn't matter where you live, your images are still valuable.
You can read more about how freelance photographers make money with selling their photos on stock photo sites like PixaBay or Shutterstock in this guide:
Teacher Builds a Freelance Photography Home Business
The Future of WFH Financial Frameworks
Intrinsically founded on digital advancements and enveloped with endless possibilities at our fingertips, the future of our financial freedoms will cohesively continue to stay in sync with modern-day WFH business models in more convenient, creative, and unique ways.
Fast Company, for instance, predicts that remote work software, like mobile work tools and virtual reality conferencing, will become the preferred form of communication, even over face-to-face meetings.
These tools could help support your online business ventures if growth is one of your primary objectives, especially when looking for easily accessible ways of managing the expansive range of networks you develop through your work over time.
In Summary
With the digital arena dominating financial frontiers from the comfort of our homes, we can now accredit a legitimate level of normalcy to the vast array of online remote work opportunities out in cyberspace just waiting for our grasp.
The agility of WFH business models and their capacity to adapt to shifting times and increasing demand for online service delivery has the profitability potential to secure your invested interests now for financial benefits later.
In other words: Act now and reap the rewards later!
To gain valuable insights on learning worthwhile SEO and blog/website development skills, connect with Fernando via his fernandoraymond.com blog and stay ahead of the online WFH money-growing game.
Manuela, ClickDo's online media strategist, and Fernando, the CEO of ClickDo, also have a wealth of sharable knowledge about earning from home as a content writer or becoming an online business entrepreneur. You can contact them to get more burning questions answered with regards to blog monetisation, guest blogging and digital media and marketing and more.
Although some of the online money-making avenues we have suggested offer earned income within a relatively short timeframe, it's also important to note that most others may not make much money to start with. However, keep in mind that, with time and patience, you can generate a steady revenue stream from most of them. It is however advisable to choose ways that can be automated or delegated in the long run to enable you to scale. So choose your online money making options wisely.
Author Profile

South African wordsmith Zanda Simamane is an enthusiastic, cheerful, conscientious, and talkative individual who is likely to express my emotions, enjoy change and exhibit a lively attitude. In addition to being warm-hearted and outgoing, he is actively interested in others and tolerant of them. Throughout his career, Zanda's exceptional copywriting, editorial, and communication skills have proven valuable in his diverse fields of interest, some of which include Copywriting, PR & Marketing, Entertainment & Fashion Journalism, Social Media, Tech, and Influencer/Talent Management.