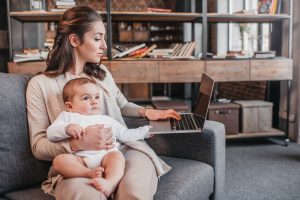 Work from home business ideas or call it remote working jobs is the new way of doing things today. It's convenient, it's fun, and from a business perspective, it makes a lot of sense.  A home business is easier and cheaper to start and operate; this makes it very ideal for small startups or upcoming entrepreneurs who are looking for the best new business tips to start in the UK.
What is a home business?
Well, it doesn't matter the nature or type of your home business. Also, you can think as start a small business from home. As long as you have a clear idea of what you want to do, as long you have a reliable internet connection, and some self-discipline, you're good to go! True, you'll need an element of luck, but those 3 are the fundamental requirements.
Over 89% of the British population has regular access to fast internet.  You're probably one of them and are wondering if the best business to operate from your home.
In this guide, I have compiled a list of the top 35 home business ideas in the UK. The best thing about these business ideas is that some require absolutely no capital to start.
Others are more about talent and passion than academic qualifications.
NB; It's worth clarifying that a home business doesn't mean you'll be confined to your house all the while. Instead, it means that your house becomes your work station, the nerve centre of your business operations; at times you may have to go and meet clients to make deliveries, drop your products to a customer, and so on so forth.
Top 35 best home business ideas to do in the UK
Social media influencers; do you have a massive following on Facebook, Instagram, SnapChat, Twitter and other social media platforms? Well, you can make money from brands and businesses. You could review the product and share the feedback with your followers.  Social media influencers help in brand scaling by the power of their social media followers and get paid for that.
Web designer; this is for IT gurus and coders who can design websites.  You can also learn to code online for free and start your own web design company. Freelance web designers earn some nice money on popular hiring sites like Upwork and Freelancers.  As a freelance web designer, you can operate from your house and offer your services remotely.  Some web designers in the UK earn up to £37,500 a year.
Pet Walking; there are around 11 million households in the UK that own pets.  In other words, almost 44% of homes have pets! Dog walking is a thriving industry; you can advertise your services on popular sites like BorrowMyDoggy or Gumtree.  Advertise and offer your services from the comfort of your home, wait for an interested pet owner nearby to contact you. Dog walking, however, will require prior experience handling dogs and the passion that dog lovers have.
Pet grooming; unlike dog walking, here you'll offer pet grooming services. From washing and giving haircuts to pets, trimming their nails; pet grooming is a perfect way to make an extra coin here in the UK. You can convert a part of your home into the pet grooming area and clients will bring their pets over.  You can read and watch YouTube tutorials on how to perfectly groom pets; clients will be more confident entrusting their pets to you if they learn that you're knowledgeable.
Blogger; bloggers make money by writing and posting content on topics they're passionate about, or on trending topics. As a successful blogger, you have to strive to build a robust following and have your blogs read or shared as much as you can. Bloggers earn money via affiliate marketing, product promotions, hyperlinks, and so on.  There are many affordable and reputable web hosting companies in the UK that can help you to set up your first blog post.
Virtual assistants; Virtual assistants are much sought after on sites like Elance, Upwork, and Indeed. You need to be very organized and able to pay attention to details at all times.  Most of the roles of a virtual assistant are administrative related and as such, can be done remotely from the confines of your house. Like we mentioned earlier, you'll need a very reliable and stable internet when working as a virtual assistant.
Accountants; are you a certified and accredited accountant? You don't have to wait for employment; you can start offering your services remotely from your house! As a freelance accountant, you can take advantage of the latest accounting software to help individuals submit their Tax returns or file Payrolls.  Many SMEs across the UK are constantly looking for accountants. Build a nice online profile and take constant refresher courses to stay on top of your game.
Online tutor; online tutors offer their skills to online students.  As an online tutor, you can offer your skills to a student who's located thousands of miles away. Some sites will pay you handsomely to teach students via distance learning. You can earn around £20-£30 an hour as an online tutor here in the UK.  Just be sure to invest in superfast broadband because most of your tutoring lessons often require video conferencing and voice calls.
Language teacher; English is one of the most spoken languages across the world. Millions of people seek to learn English, how to speak and write in English.  Unlike online tutoring, some English learners don't even want papers and certificates; they just need to learn from a native speaker in England.  Craigslist is one of the easiest places to find people from across the world looking for online English lessons.
Music teacher; music teachers teach students on how to play musical instruments, sing out their vocals, compose and write songs, etc. Are you proficient in any of these tasks? If yes, you can make money from home offering music lessons. To start with, create a YouTube channel and post videos showcasing your genius in music. Leave your contacts so that anyone looking to learn can contact you directly.  YouTube is one of the best platforms for learners to learn music; every music teacher ought to have a channel.
Space renter; do you have a spare room in your home that you don't use much? There's always someone who'd do with such a room, for a fee of course. Popular sites like Airbnb have made it easier for homeowners to make that extra coin by renting out their space.  It could be a basement room, a spare bedroom, and so on. Oh, and your car too; you can rent out your car for a day, a week, or even a month.
Dating consultant; online dating has transformed dating as we knew it. Are you good at giving relationship-related advice? Or dating tips that can help lovers spice up their love life? You can earn money as an online dating consultant.  Start by having a blog post or a YouTube channel. Ask your readers for their contacts so you can email or send them eBooks on dating. Dating consultancy can be easily combined with offering counselling services.
Animation; animation is a lucrative venture, but it requires specialised skills. From designing TV and video graphics to creating animated characters, Gifs, cartoons, emojis; freelance animators are some of the best paid remote workers.  Upwork is a great site where you can pitch for gigs from clients looking for your services. Besides, you're able to meet a community of animators and exchange ideas, see what others charge, and so on.
Freelance writer; are you good with words? Can you write a compelling story that will get readers glued from start to end?  If yes, then you can earn very good money as a remote writer. Popular writing sites like TextBroker, Greatcontent, Upwork, are a goldmine for avid freelancers. As a freelance writer, the secret to excellence lies in submitting top-notch content that's free of plagiarism and glaring grammar errors.  The internet has dozens of tutorials on how to become a freelance writer.
Academic writing; thousands of university students write essays, research papers, and dissertations each year.  There's a lucrative industry for professionals who can help such students write their papers. Unlike SEO writing, Academic writing pays much better. There are numerous academic writing accounts like WriterBay, Uvocorp, Essay Shark, Writerslab, and so many more.  Academic writers get paid per page, up to £12 for a 250-word page. An experienced writer can handle up to 8 pages a day.
Cook show; if you're a great cook who makes delicious and tasty meals, this is for you. You can start your TV show on YouTube or Facebook live where you showcase your cooking skills. Who knows, someone may hire you to prepare a meal for their event or party and pay you for that. You could also sell your recipes to your followers in the form of eBooks' or detailed emails. You'd be pleasantly surprised to hear that famous Chefs like Gordon Ramsey started small.
Yoga Instructor; over 300-400 people practice Yoga across the UK. This number keeps growing. Yoga has numerous health benefits as seen here.  As a Yoga Instructor, it is easy building your own following and fan base. You can convert one of your spare rooms into a Yoga room and use it to train a few students. You can charge them on an hourly, weekly, or monthly basis.  Have a look at this quick on how to become a Yoga trainer in the UK.
Fitness Instructor; just like Yoga, this is also related to the health and wellbeing of the individual.  There are thousands of people who work out regularly each day. Some are looking for a trainer to motivate them, guide them, and suggest the best training regimen. As a fitness trainer, yours is to record your training sessions and tutorials, avail them at a small fee to those that need them.  With superfast Broadband, you can easily stream your training sessions and reach thousands of people in real-time.
Social media manager; celebrities, startups, and major brands all have a robust social media presence. They often employ agencies and individuals to manage these social media accounts.  As you become more proficient in managing social media accounts, you can also start offering online marketing services like Facebook Ad campaigns.  Employers in sites like CareerBuilder and Flexjobs are continually looking for individuals that can work remotely as social media managers.
Internet marketers; major platforms like Facebook and Google earn most of their profits from ads and online advertising. Open an online consulting job where you help brands advertise their products online. Google ads and Facebook ads are easy to use and are quite impactful in helping advance brand visibility.  You can make some good money without leaving your house; all marketing and payments are made online.  There are also sites that hire online marketers who're proficient in Facebook marketing.
Graphic designer; graphic designers are continually being sought after by startups looking for business cards, logos, brochures, and the likes. You can get gigs from Upwork, Freelancer, or PeoplePerHour.  Graphic designers get paid per hour or based on the project at hand. Usually, their hourly rates range from £ 11-£25.  Quick tip; build an impressive profile so that prospective clients can gather as much about your experience and skills as possible.
Modelling; modelling requires one to have beautiful looks and tremendous confidence. Petite and big sized body shapes are all sought after by fashion designers. Many brands are looking for models of different shapes and sizes to feature in photo-shoots.  The beauty of this kind of job is that everything will be provided to you; the makeup, clothes and shoes, jewellery, and so on. Some popular job sites for online models in the UK include StarNow, and Indeed.

Videography services; You can start your videography career like Nicole Venglovicova has done and now work with ClickDo while being at home. She mostly works from and enjoys her work. She only has to visit the clients is she has to record the videos but most of the work is done by her from home.

Magician/clown; do you love making people laugh with your jokes, and sense of humour? You can dress up as a clown and entertain children during birthday parties. Wedding magicians are also popular with planners who're looking for a different form of entertainment. Although the pay isn't that great, the performances are fun, and you're able to meet new people. Magicians are always hounded and mobbed by fans in any party. Here's an interesting guide on how to become a magician.
Motivational speakers; in an era where business meetings are being held online and streamed live in the form of video conference calls, your skills as a speaker are quite an asset. You may be called upon to make a presentation via video conference, on behalf of a brand/company. You may also be called upon to pick and answer calls from customers. Speakers need to be very flexible, confident, and able to read the mood of their audiences.
Massage therapist; you can turn one of your rooms at home into a massage room: nice bed, special oils and ointments, and a bit of soothing music. Learn the latest massage styles and trends. Massage therapists will charge their services per hour and depending on the packages they've offered. Massage services are sought-after by ordinary people, sportspeople, or those with bone-related medical conditions.  A nice place to start would be Gumtree.
Event organizer; if you have a knack for fine planning and execution of ideas, you can try this one. No need to hire an office, you can do most of the brainstorming and administrative tasks from your home. You can start small by helping organize children parties, graduation parties, before finally graduating to helping organize weddings and other big events. Once you build a name for yourself, event organizing is a lucrative venture.
Photographer; photography is a passion-driven venture. However, some agencies like Shutterstock, Adobe Stock, FotoMoto, and so many more are willing to pay money for exemplary images. You can also opt to become a wedding and events photographer, charging clients for your services. Your home can double up as your processing and production studio.  Like any other job, be professional and pleasant to your customers; give them value for their money, and they'll stick with you.
Car servicing; there's a huge demand for professionals who can help repair and revamp motor vehicles. You can convert your backyard and have it as a garage. Car valeting, repainting jobs, wiring and installation of music systems; these are services you can offer to customers right from your home. Check out this site to see examples of available jobs for car repair enthusiasts. You can also advertise your services on local chat groups and resident social media pages/groups.
Waste clearance company; waste removal is a multi-million-pound industry in the UK. Offices, commercial premises, and residential homes all pay to have waste removed from their premises. You can start your own waste removal company from your home. Buy the tools and equipment required, have a waste removal van, while using your home as the nerve centre of your operations. Some of the leading waste removal companies in the UK will tell you that they too started small, before evolving into the reputable brand that they are today.
Fiverr; Fiverr is one of the most popular money making platforms for remote workers. You can earn money on almost any field, from logo and web designing to songwriting, composing poems, you name it. You can have a look at this comprehensive guide on how Fiverr works.  The best thing with Fiverr is that even newbies who have no prior experience are good to go.
Scriptwriters; media and TV stations are ever looking for creative scriptwriters who can help write great scripts. Even music videos require professionals to help write scripts. You can promote your services online on sites like Craigslist. Other sites that you can try include Glassdoor, Indeed, to mention a few. As a scriptwriter, you must be ready to lose the copyrights to all scripts you've been paid for; you can't use the same content on different clients.
Proofreaders and editors; remember we spoke of SEO writing and academic writing? Once a writer has submitted their work, proofreaders and editors have the final task of going through that content, looking for grammar, factual, and other errors. Upwork is a great place to pitch for gigs as an online proofreader.  Editors in the UK can earn as much as £27845 per year. Most employers will let you work from home as long as you're meeting your targets and obligations.
Dance instructors; dancing is dynamic and different segments of society have different preferences. From the recent moves to the old school moves of the 80s when Soul music carried the day; people are always looking to learn and perfect their moves. You can use your home as the practice area where your students come for training sessions. Don't forget to share videos of your dance training sessions; it's easier attracting new learners if they see that you're having fun and are really good at what you do.
Webcam models; this may sound stranger than fiction, but you can earn  5 figure amounts a day performing erotic dances and moves with clients on your webcam. A client pays you to tease them as they watch on their laptops on the other corner of the world; you undress slowly, seductively, you may have a voice call at the heat of the moment, and the section may take an hour, two or even more. Aspiring webcam models can check out this page. Also, check out this step by step guide on how to get started.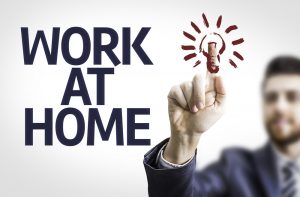 There you have it; those are the top 35 home business ideas in the UK in 2019. And there are more ways to get started and work from home and one of the best ideas is to start work from home SEO consultancy business.
As you can see how Fernando has started a home-based SEO business back in 2014 when he was is living Queensbury, London. You can read about how to start a home based SEO business and learn how.
Also, read about how to start an online business in the UK.