Work from Home Jobs In The UK
Working from home has never been as urgent and relevant as now. With the covid19 virus spreading fast and disrupting  economic and social activities around the world, it is time to move from the traditional job platforms and embrace innovative home-based job opportunities. In fact there's talk that the UK government may introduce a total lockdown after or during Easter to help reduce new infections. As such, it makes much sense to learn a thing or two about home jobs you can do to supplement your income.
Start working from home online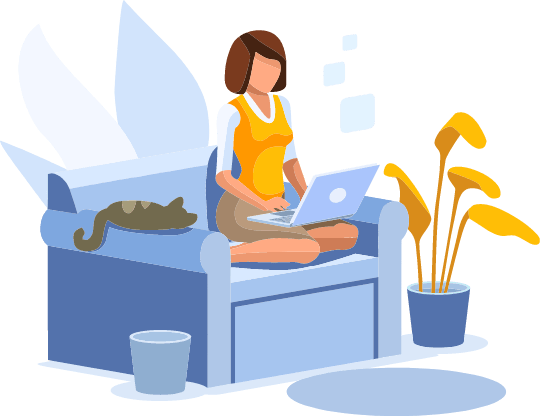 Top 50 Jobs You Can Work From Home
Have a look at these 50 business ideas that you can comfortably do from the safety of your home.
1. Affiliate marketer
You can earn a lot for money in the form of the commission working as an affiliate marketer. Typically, affiliate marketing is a form of referral marketing where you earn a commission for every sale you make through referrals. Affiliate marketing comes with a lot of benefits. It is easy and less costly to set up. The return on investment time is also concise. You just need a little patience before you earn money passively while you are at home.
2. Baking
You can easily monetize your baking skills to create a good source of income at home. You will not need a lot of capital as the venture can be started from your own home kitchen.  You can market your food through online platforms and organize for home deliveries for your friends, neighbors, and other markets. Turn your passion into side business today.
3. Bookkeeper
You can sign up from an online bookkeeping course and start earning a passive salary. Many companies and businesses outsource bookkeeping jobs. With this kind of job, you can expect to make as much €70,000. And you don't need a CPA to start bookkeeping. All you need is a basic bookkeeping course that will take a short period.
4. Child caregiver
A child care business at home can be quite profitable. You can do this job part-time, depending on your personal schedule. You can also do it as a full-time job if you want to realize more income. The advantage is that this is a sustainable business. More and more babies are born each day in the UK. All you need is to position yourself as the best child caregiver in your neighborhood.
5. Clinical research coordinator
With the covid19 pandemic, many researchers worldwide are focusing on finding a cure. You can position yourself as a clinical research coordinator to manage operations for clinical trials. This job doesn't require many academic qualifications. You have to possess high organizational and analytical skills. Well, you can make over € 50,000 with this job.
6. Consulting
If you have knowledge and skills in a particular area, then you should consider offering home-based consultations.  For example, if you are a pet professional, then you can provide advice to pet owners and businesses for a small fee. You should consider setting up a website or a blog form where you will interact with your clients.
7. Customer care representative
If you possess excellent communication skills, then customer care representative could be your best work from home job. All you need to set up your operation is reliable internet and good communication devices. You can charge between €10 to € 15 per hour working as a customer service representative.
8.  Data entry
There are several data entry opportunities that you can grab. However, this job requires some level of skill and experience. You may, therefore, need to enroll for a short course online before you start applying for jobs. Data entry jobs pay up to €15 per hour.
9. Instructional videos
If you possess a well sought-after skill, then you can film and post instructional l videos on YouTube to earn form your skill. Start by creating a YouTube account from where you will post your instructional content for others to learn. You should also enroll in YouTube's partner program. The program pays according to the number of viewers who watches your videos.
10. Grant writer
You can also earn passive income as a grant writer for hospitals, non-governmental organizations, and universities. Application process from grants tends to be complex, and most institution outsources the writing to talented writers. The grant writing venture can bring home up to €70,000 per year. However, you have to be really talented to make such an amount.
11. Internet security specialist
An internet security consultant, you advise websites and businesses on security standards they should implement to avoid third parties from accessing sensitive data. You may also be required to install data protection systems for your clients. The job is expected to grow with a rise in cyber threats. But before you begin this job, you will need some basic training.
12. Online juror
Attorneys can go to any length to prepare for trial. Some set up a mock jury website from where they get feedback for their cases. Working as an online mock juror can bring home you also of money to supplement your budget. You can make up to €200 working as an online mock juror in the UK.
13. Online teacher
With the schools closed due to the covid19 pandemic. The demand for online home tutors is set to rise. You can offer your lessons via Skype or pre-recorded sessions. The advantage of this job is that you can reach many students using one platform. You can also offer your services to other students from across the world.
14. Product reviewer
Have you ever thought of making a living using the products that you use daily? Well, you can start making an earning by reviewing the products at your home. However, you need to set up a website of a blog if you want your venture to succeed. Product reviewing can bring you more than €100000 in a year.
15. Realtor
You can successfully run a realtor business from the comfort of your home. Working as a realtor involves showing potential homeowners different alternatives to choose from. With technology, it is possible to be a virtual realtor. You don't need to be physically present to show potential buyers the hoses on sale. However, this business needs a listened form the relevant authorities. You also need to partner with various property developers.
16. Medical transcriptionist
You can work at home as a medical transcriptionist. You will transcribe recorded medical diction at home. Setting up this business is easy and affordable. All you need is a computer, reliable internet, desk, and good headphones.  A medical transcriptionist in the UK earns more than € 20 per hour for their services. You can earn more if you have exceptional skills.
17. Translator
It is possible to do translation at home because it allows you to observe the tight deadline that comes with the job. The job requires little academic qualifications provide you are fluent in the language at hand. Working as a translator has provided many citizens with passive income sources that range from €50,000 to 100,000 per year.
18. Web developer
Many businesses require websites to interact with potential clients and run their operations.  You can profit from your website skills by developing the websites for these businesses. So many people make their living from bogs and websites. And the demand for website developers is set to rise even more because the world is embracing wide use of technology.
19. Travel agent
Although at the moment the travel industry is on the decline due to the corona pandemic, working as a travel agent is a good option in the future. You can use the internet to help clients plan their adventures across the world. If you want to earn more as a travel agent, focus on group travels and be knowledgeable in certain regions of the world.
20. Virtual receptionist
You can also work as a virtual receptionist. The job involves answering phone calls and taking messages for your clients. You may also need to answer inquiries and respond to emails. The advantage of this business is that it is experiencing exponential growth in recent times. Both startups and established companies are embracing virtual receptionist.
21. Proofreading
If you are a gifted writer with exceptional proofreading skills, then it is time to earn as a proofreader. It is one of the most suitable stay at home jobs. Although formal education is not a requirement, you must possess good grammatical accuracy. Media industry players are turning to virtual proofreaders as a way of cutting down their costs.
22. Selling on Etsy
You can make products to sell on Etsy and earn big money. Setting up an Etsy account is an ultimate way to monetize your skills. Popular products that sell fast on the platform include handmade garments, custom stationery, and leatherwork.
23. SEO evaluator
Website owners require SEO consultants to help rank their websites higher on search engines such as Google. The higher the site is ranked, the more traffic and sales. All you need for this type of business is an internet connection and access to search engines.
24. Graphic designer
You can also work from home as a graphic designer. You can use programs such as Canva to create exceptional graphics for companies. You will not need any formal education for this kind of job. All you need is a keen eye and passion for design.
25. Telephone nursing
If you are a registered nurse looking for work from home opportunities, then working as a telephone nurse could be an ideal job opportunity for you. Your patients will call you up, seeking advice on what they should do when faced with a health issue. You access the problem over the phone and give appropriate advice.
26. Matchmaker
The dating scene cannot be suppressed even by the corona pandemic. Although there are limited interactions, couples are harnessing the power of technology to date online. You can easily work for matchmaking organization while you are at home. If you want to succeed in this field, then you must possess strong communication and emphatic skills.
27. Content marketing.
Content marketing is a suitable alternative if you have a marketing background. It is more of advertising where you aim at making sales to get a commission. This job, however, may need your full-time attention. You aim to drive sales by convincing potential clients on the benefits of certain products and services.
28. Computer troubleshooting technician
You can offer over the phone solutions to clients who are experiencing trouble with their computers or networks. With most companies allowing remote network access, this job is a suitable work from home opportunity if you possess relevant IT skills. Although it is an entry-level role, you need training on basic IT skills if you are looking to cash in on this opportunity.
29. Online counseling
With the competitive world we are living in today; many people are experiencing mental breakdowns. There is a lot of pressure everywhere from the home, job, and school. With the COVID19 pandemic wrecking people's lives, more and more patients will need counseling services. If you have a formal counseling qualification, it is time to set up an online counseling venture.
30. Website tester
Most businesses want to bet their competition. They, therefore, need a website tester who will make sure their sites are as intuitive, interesting, and user-friendly. As a website tester, you will receive specific instructions on how to check out your client's website. You will need under 30 minutes to carry out each teat. You can charge a fee of €20 per test.
31. Virtual recruiter
As a virtual recruiter, you will get to work from home to find the right employee for companies and websites. You will undertake virtual interviews, screen the potential employees, and negotiate their terms and conditions. You will be paid more than €140 per hour for your effort. Although this is an entry-level opportunity, a background in HR will work to your advantage.
32. Virtual assistant
As a virtual assistant, your work will involve basic office duties only that you work virtually. Parts of your responsibilities and duties include replying to emails, managing your client's calendar, booking travel tickets, entering data, and managing your clients' social media accounts. If you possess high organizational skills, then this job is suitable for you. You can earn more than € 20 per hour working as a virtual assistant.
33. Tax preparer
It is a mandatory requirement for businesses and individuals to make tax returns. Most of these entities outsource the job either because they are too busy or the process is too complex for them. You can earn passive income as a tax preparer for your clients. This job, however, requires you to register with relevant entities. You should also possess some knowledge of taxation.
34.  Reseller
Typically, reselling involves finding low-cost items that you can sell for profit. It is a viable online work if you possess good marketing skills. You can focus your attention on finding unique products such as antics and garage sales. A great way to start this business is to sell all the items that you no longer need in your home
35. Photographer
Photography offers you real opportunities to work from home. Apart from doing real photography, you can teach your photography skills for an extra penny. You can also sell your photos on stock websites such as iStock. Starting a photography business requires little capital. All you need is a reliable camera and reliable editing software
36. Voice over
You can earn income working as a voice over for businesses.  Businesses need male or female voice-overs to narrate explainer and marketing videos. You can also offer voice over services for TV/Radio commercials, podcast intros, and audiobooks.  An excellent voice in the appropriate language is all you need to become a successful voice-over professional.
37. Short tasks
You can earn income working as a voice over for businesses.  Businesses need male or female voice-overs to narrate explainer and marketing videos. You can also offer voice over services for TV/Radio commercials, podcast intros, and audiobooks.  An excellent voice in the appropriate language is all you need to become a successful voice-over professional.
38. Stylist
If you have a knack for fashion, it is time to earn form your skill. As an online stylist, you can run a successful online fashion blog that advises clients on the best attire to wear for different occasions. This is one of the easiest to set up jobs. However, you may need basic fashion knowledge to meet the needs of your clients.
39. Survey taker
You can also make money working as a survey taker.  Most surveys pay between $1 and $50 every time you take an opinion poll. You will be answering basic questions about trendy topics. The topics range from business to politics. For example, you may be required to answer questions about your shopping habits. Every question you answer will come with a point that you can redeem for cash.
40. Renter
You can monetize your extra vacant room by renting it out. This also applies to cars that you don't sue often. It is time to look around your room for devices and equipment that you don't often use.  Rent them out for them to earn you some income. Besides, you will also be getting value for your money.
41. Repairer
If you are skilled at fixing things like computers, cars, bicycles, then it is time to set up your own repair business. This business will not cost you a lot to set up. You will not also need any complicated marketing to popularize it.  Everyone has damaged times in their homes. You should start by repairing your neighbors' items.  However, you need to invest in basic tools and resources to set you on a successful path.
42. Blogger
Blogging is cheap and easy to set up. Concentrate on trendy topics to attract many followers. Such topics as music, food, electronic devices, health and fitness, and politics usually attract huge followings.
43. Copywriting
You can earn up to six figures while you are copywriting for businesses from your home. There are several writing platforms that recruit writers. These include up work and Fiverr.  Find your gigs form such platforms.
44. E-commerce store
You can become a successful E-commerce store owner while you are at home. You can use such platforms as Shopify and WooCommerce to start off a successful e-commerce store.
45. Event planner
People periodically need the services of organized event planners for their wedding, parties, and other key events. You can market your event planning skills to earn gigs from individuals and corporate entities.
45. Sponsored posts
You can earn decent income sponsoring posts on social media platforms for business.  Many companies in the UK offer handsome monetary rewards for bloggers and social media influencers who promote the company's products and services
47. Ghostwriting
Again if you possess excellent writing skills, then consider working as a ghostwriter. As a ghostwriter, your name will not be attached to the content you are creating. Basically, you will be writing on behalf of someone else for a fee.
48. Writing cards
You can design special cards and sell them to stores for individuals to buy. Most stores are constantly looking for well-designed original and special cards for their customers.  Design cards for several events to earn good money.
49. Editing college admission essays
Applying for college is not only complex but also stressful. Most parents are willing to pay anything for their child's admission essay to be made perfect. This is a fantastic work from home job for you if you possess excellent proofreading and editing skills.
50. Designing T-shirts
You can use your creativity to make original and trendy t-shirt designs. You can customize your designs to suit individual client's tastes and preferences. You can target individuals, groups, and companies with your designs.
Conclusion
The list we have provided today offers you the best work from home job opportunities. They are not only practical but also easy to set up and run. Although some require some basic training, you will find these opportunities to be very affordable to start. Try a number of these jobs today, these are tried and tested ideas that you can't go wrong with.