How To Be Confident: Tips For Boosting Confidence to crush it in business and life
If you have conducted searches for "how to be confident" on Google or YouTube, you are probably looking to learn how to build the selfesteem you need in life.
What is confidence?
Believing in yourself will help with all aspects of life and in this article, I will tell you how becoming more confident pushed me to build my two businesses ClickDo and SeekaHost to a thriving level. And confidence impacts your personal happiness as you develop the self-belief to achieve the things in life you want.
My story on how I became confident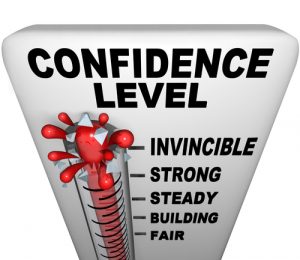 As a business owner in one of the most competitive markets in the world, I had to find ways to put myself in front of the competition and sell. Back in 2014 when I started the game of entrepreneurship, I did not have the confidence I have today. I would stutter in a conversation with a stranger and would hesitate to open up and introduce myself to someone new.
A lack of confidence leads to keeping yourself hidden, and you missing potentially life-changing opportunities!
I had to find ways to gain confidence, so I read many books on personal growth and listened to people like Tony Robins, whom I discovered back in Sri Lanka, when I was about to start my working career. Tony Robbins is a famous American author, entrepreneur, philanthropist and life coach who really reflects in his own lifestyle what he teaches. His legacy inspired me to change things.
In my early days of trying to sell and convincing people to hire me, I encountered issues as I didn't have the faith in my own ability. If I didn't truly believe in the value of what I was selling – my services – I wouldn't be able to make them trust and believe in me.
So I really had to work on my self-belief, public speaking and body language.
At networking events, I would only talk to the people approaching me first. This was keeping me back and I wanted to change this.
More and more reading about the subject of confidence started to help slowly, but it wasn't until I met Lee Bannister, who is a leading confidence coach in London, UK. I met with him after he is discovered me online. I was ranking on Google for the keyword "SEO outsourcing" and he found me via one of my video recordings. If you saw this video now, which was done back in January 2014, you would be able to see the difference: I can't even look at the camera with confidence.
How To Be Confident? (Build Confidence With Lee Bannister Method) from ClickDo on Vimeo.
We developed a friendship and I was hooked by how he talked and presented himself. I learned that he is a hypnotherapist and confidence coach. Meeting him regularly as I rented his flat in Bermondsey, London, helped me build my confidence. I found out more about his coaching techniques and philosophy.
His materials and videos gave me many ideas to grow my selfesteem and be more capable in doing business videos. As a start-up entrepreneur in 2015, I had to record videos of myself and present my proposals to get clients online. So, I practiced doing more and more videos and Lee Bannister's videos were a great motivation for me.
See his free program "7 ways to be more confident" online for yourself and understand what I'm talking about better.
But enough about me! Let's look at ways to gain confidence and crush it in business and life.
It's not just about your business. When you become brave you can do anything in life. That's why a strong man is worth his time.
In my own experience, I have noticed that a more confident persona can be easily trained to sell effectively. I train my staff at ClickDo and SeekaHost and developing their self-belief and selfesteem is always a priority as I know what a difference it makes to the sales.
Why it's important to learn to be confident?
Confidence "muscles" need to be trained like any other muscle through repetition. That's why you need to expose your brain muscles to perform the activities you want to improve with.
Whatever challenge you set yourself, whether it's to approach strangers or to sing in front of an audience: You have the ability to train yourself through regular thought exercise to be good at anything new.
Reading and just listening isn't enough, you must act. You should face your fears and follow a step by step approach to make this more achievable for yourself.
I therefore suggest being trained by a confidence coach like Lee Bannister as it's the best way to get you on the right track without delay and crush it in business and life.
Lee doesn't know I'm writing this. But as his training has supported me moving closer towards my goals, I just felt I must share this story with you so you can learn to be free in life.
A confident man or women can do anything in life! Just see the case of Joe Kowan explaining in his TED Talk "confidence coach" how he grew in confidence.
He turned his fear into a strength by singing about it as that's what he wanted to achieve: to get rid of his stage fright. He trained himself by going on stage regularly and dealing with it actively. He faced his demons head on and step by step developed an acceptance: that he was able to sing and talk on stage and that he can be a good entertainer.
If you are looking to learn how to become more confident in life and achieve those aspirations for your future, check Lee Bannister online or visit https://www.sevenwaystoconfidence.com/.
As the creative Italian mastermind Michelangelo wisely said:
"The greatest danger for most of us is not that our aim is too high and we miss it, but that iti is too low and we reach it."
Believe in yourself, trust yourself and challenge yourself today! Don't miss out on those opportunities waiting for you.
30 Ways to be more confident in 2019