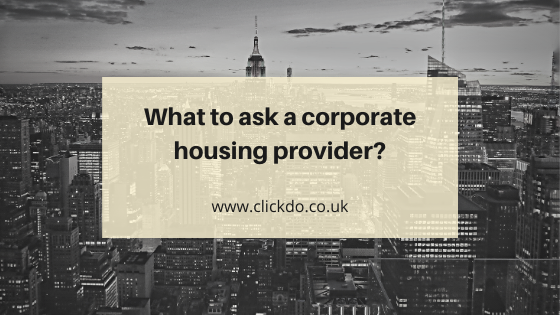 What to ask a corporate housing provider?
By Matt Singley
Most people are familiar with the complicated process of apartment hunting and know what a headache it can be. Fewer are experienced with the process of searching for temporary corporate housing for their employees.
Naturally, you'll have a lot of questions: What do you do when you need to find comfortable, furnished housing for staff who are coming from out of town for an extended stay? How is the process different from shopping for a personal apartment? What's special about short-term rentals? How do you know what to look for, and what are the signs of a good find?
To help simplify and streamline the hunting process, here's a list of key questions to ask corporate housing providers before you sign a lease:
Is it fully furnished?

For employees who need a home away from home, an unfurnished apartment would be inconvenient. You don't want to force a staff member to transport (or buy) furniture for a short-term rental. Likewise, you don't want the added expense of providing it yourself. That's why fully furnished units make sense. Find out what is provided: Is the residence bare bones or complete and luxurious? Ideally, you want to give your workers the best parts of a hotel experience but in a temporary home where they can feel even more comfortable.
What is included?

Ask about utilities to find out what's included in the rental price and what will cost extra. If utilities are part of the package, check on the Internet. Are there any usage caps? Will everything be set up and ready for your team members when they arrive?

What are the amenities?

Many apartment facilities offer luxury amenities, from workout rooms to swimming pools. Find out what the building has to offer so you know what your personnel will be able to enjoy.

Are pets allowed?

For those employees who have a dog, cat or other furry friend they need to bring during travel, it's important to know a building's policy on pets. In some complexes, animals will be welcomed and even accommodated with dog runs or pet-washing stations; in others, they will be forbidden.

Is there public transportation nearby?

Consider whether your out-of-town employees will want to bring their vehicles with them when traveling. If not, public transportation is vital. Ask how close a rental unit is to buses, trains, etc. and how convenient that will be for your workers.

What fun activities are in the area?

It's always nice to live near restaurants, entertainment, outdoor recreation and other fun activities. While your employees are coming to town for work, remember that you are asking them to leave their homes and personal lives for an extended time. Find out what the location has to offer and how that might be a benefit to your staff.

How are the company's reviews?

Anytime you work with a new business, it pays to read evaluations from their customers. Dig into what other renters are saying about this housing provider. Are the listings accurate? Is there good service, clear communication and overall positive experiences? Get a feeling for which reviews are trustworthy and which should be taken with a grain of salt.

Is there an available maintenance team?

What should your employees do if something goes wrong in a unit? Who do they call? Ask about the response and service they can expect when an appliance breaks or there's unexpected water damage. If you know this information upfront, you'll avoid major headaches with a unit provider who is unavailable when you need them.
What kind of cleaning standards are in place?

In today's climate of contagious and deadly viruses, it's more important than ever for providers to maintain proper cleaning standards. Find out what policies are in place and what your employees can expect by way of protection. Ask how individual units and community facilities (such as workout rooms and other gathering areas) are cleaned and disinfected. Do cleaning personnel wear gloves, gowns and/or other protective gear? Are linens put through thorough laundering processes? What cleaning products are used? Knowing this information can go a long way toward giving you and your employees peace of mind.
These eight questions are a good start when evaluating a potential corporate housing partner. Any reputable, trustworthy company will have no problem answering them, addressing any concerns and instilling confidence in your decision to rent a unit. While this extra research may take time, it pays off in the long run — with rentals that your employees will enjoy and that free them up to focus on their work.