5 Powerful Tips on Creating and Designing Instagram Reels Like a Pro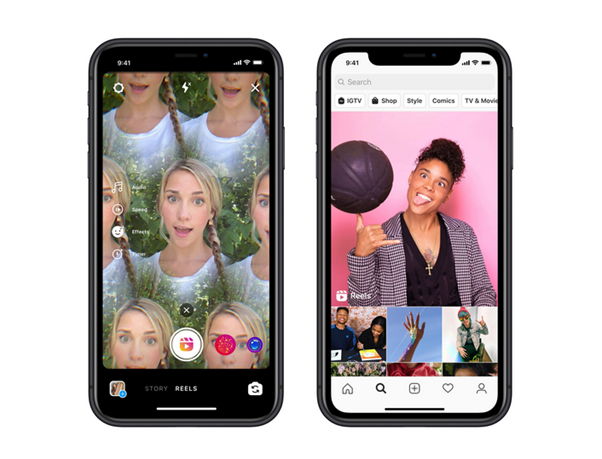 Source: https://about.instagram.com/blog/announcements/introducing-instagram-reels-announcement
Instagram Reels is one of the fairly new features on IG. It is a video feature that displays a short-form video content of about 15 seconds. Instagram Reels' main purpose is to be a brief but fun way to share content with other Instagram users.
Unlike IG stories that disappear after 24 hours, Reels have a permanent spot on your Instagram account.
When you create and share a Reel using certain songs, hashtags, or effects, your Reel could appear on assigned pages when someone clicks on that song, hashtag, or effect.
These unique benefits make Reels super accessible and so many small businesses leverage this new feature to improve their visibility and tell people about their products and brand.
How to create a Reel on Instagram?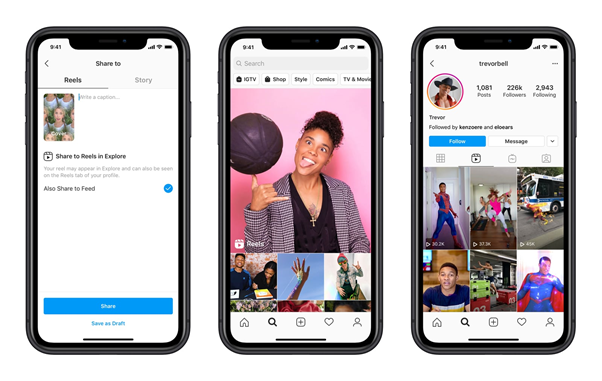 Source: https://about.instagram.com/blog/announcements/introducing-instagram-reels-announcement
Creating Instagram Reels is a pretty easy process but sometimes you may make a few mistakes before you finally get the hang of it and effectively use all the features.
Here are a few simple steps to help you get started
To begin, click the camera icon in the top left of your home feed using your Instagram app.
Scroll over to the bottom of the screen, you will see three options: Live, Stories and Reels. Tap on Reels to continue.
Click on the music icon to select the song you would like to use. You can choose the exact 15 seconds of the song you want to use as the background audio for your Reel.
Use the play/pause icon to slow down or speed up your videos. You can adjust your videos to slow-motion and fast motion as you wish.
You can use the smiley face icon to add filters to your videos.
Tap and hold the record button at the centre bottom of your screen to record and tap it again to end the clip. You also can choose to add a video from your camera roll by tapping your camera roll in the bottom left corner of your screen.
The timer is a very important option. It's not really necessary if you are making only one 15-second clip, but if you plan to edit more than one clip, you need to set the timer of your clips first.For example, if you want your first clip to run for five seconds before transitioning, after tapping on the timer icon, slide the bar that pops up above to the five-second spot.  When you use the timer option, you have the benefit of a three-second countdown before the next clip.You can record as many clips as you want till you reach the 15-second limit.
Once you have completed your Reel, you can add stickers, drawings, or text to your reel or download the reel to your device by tapping the right-pointing arrow
Add your captions and hashtags so that more people can find them.
Decide where you want to share your reel and tap Share and Done.
Now that you are familiar with the basics of how to create a Reel, you can get started and become a pro.
5  Sure-fire ways to create and design IG Reels like a pro
Get the benefits of pro-Instagram Reels by working with these tips we have outlined. They will help you improve your Reels, make them look professional, and boost your growth and the number of Instagram followers.
1. Add interesting or trending music to your Reels
To create engaging content for your prospective customers, adding music to your Reels is one of the most important basic editing skills that you should have.
How to add music to your Reels
Go to Instagram, scroll to the bottom of your screen, and tap on the Reels icon, look for the photo icon in the top right corner to start creating content.
Click on the music icon on the left-hand side of your screen to select the song you would like to use for your Reel.
Once you have selected the song you like, you would be redirected to the recording screen.
To select the specific part of the song you would like to use for your Reel, tap on the thumbnail in the left-hand menu.
After you get your song locked in, it is time to proceed to make your video.
2. Design your reels using effects and filters on IG
Instagram has a huge catalogue of filters and Augmented Reality (AR) effects that you have access to. You don't have to hold back when using these effects to capture the essence of your brand.
How to add filters to your reels
Open the Reels maker.
Click on the smiley face icon on the left-hand side of your screen.
A selection of filters will now be available along the bottom of your screen; scroll left and right to review your options. Tap Try It to test out the one you like.
To record with the filter you like, hold down the filter icon or use the timer feature to record hands-free.
Tap Share To when you're ready to post your video.
3. Include on-screen captions on your Reels
On-screen captions to your video content help to clarify your message for those who are watching without the audio on, or those with hearing impairments. It also works as aesthetics or to provide more information to what is shared in the audio.
How to add captions to reels
Open the Reels maker, choose your song, and hold the record button to start recording.
After that is done, tap the forward arrow icon to proceed. This takes you to the editing screen. At the top right corner, tap the Aa icon to add text to your video.
Type out your message. Select your preferred font, alignment, and color from your options along the bottom and top of your screen
Tap Done.
Tap the little icon of your text on the preview on the bottom left of your screen to adjust when in the video clip your text will appear as well as how long you want it to stay up.
You can add as many texts to your video as you wish, tap the Aa icon again repeat the process.
Tap Share To when you're satisfied, and it is done.
4. Use voice-overs for your Reels video
The voiceover feature of Instagram reels allows you to make a voice narrative, further explaining your video content which can be played over your already recorded videos.
If you want to say more about your product or the services you offer, this is how you do so.
How to make voice-overs for your Reels video
Tap the microphone icon at the top of your screen
Select the point in your video timeline where you'd like your voice-over to be included and then hold the red button to record your voiceover. (If you have music in your video already, your voice will overlay the music track.)
When your content with your voice-over is complete, tap Done to return to the editing page and tap Share To when you're ready to post your content.
5. Use the Green Screen effect
With the Green Screen effect, you can make your video more catchy or interesting by adding a playful or colourful background image or picture.
To access the Green Screen filter
Swipe up to view your camera roll on the top left.
Tap Green Screen. Then, select the background picture or video you would like to make use of.
Proceed to record your video. Press down on the green screen icon to record over your background media.
Tap the arrow icon to proceed to your editing screen and then tap Share To to post your video when you're satisfied with your outcome.
5 Quick hacks to make your Reels more engaging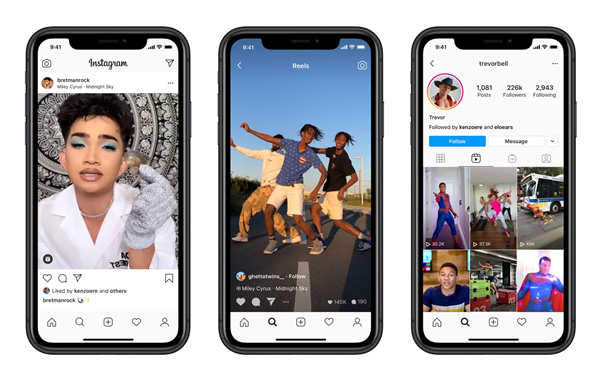 Source: https://about.instagram.com/blog/announcements/introducing-instagram-reels-announcement
It is not enough to just make pro Reels, but your Reels must be engaging to attract prospective customers and make the most of Instagram marketing.
Here's how to make Reels more engaging
1. Join trends quickly
Like other apps, trends on Reels come and go very quickly. Take some time out of your daily schedule to scroll through Instagram Reels and take note of trends that consistently pop up.
It could be a specific song or a dance trend. Create content around this trend to help you attract prospects.
2. Create original content
Creativity is very attractive and so thinking and coming up with original, educational, and entertaining content is key.
3. Post consistently
Just like anything else on social media, consistency is key. No matter what brand or business you represent, the best way to gain more views is to continue to create and post more informative and well-structured content.
4. Use hashtags
Including hashtags in your Reels is a great way to help the Instagram algorithm understand your content and serve it to important audiences. It also makes it easier for customers to discover your content when they search for reels using specific keywords included in your hashtag.
5. Share to your IG story
To increase the number of people that view your Reels, it is best to share your reels to as many places as possible. When posting your Instagram Reels on your story, you can cover a part of the Reel with a sticker or a GIF to pique your audience's interest and urge them to watch your Reels.
Ready to be an Instagram Reels Pro?
One of the primary benefits of the new Instagram Reels feature is to create brand awareness and reach a much larger audience. You can also get engagement from new and prospective customers with the tips covered in this article. Get started today and have fun creating content while having a play with different Reels features!
Author Bio:
Lydia Iseh is a writer with years of experience in writing SEO content that provides value to the reader. As someone who believes in the power of SEO to transform businesses, she enjoys being part of the process that helps websites rank high on search engines.