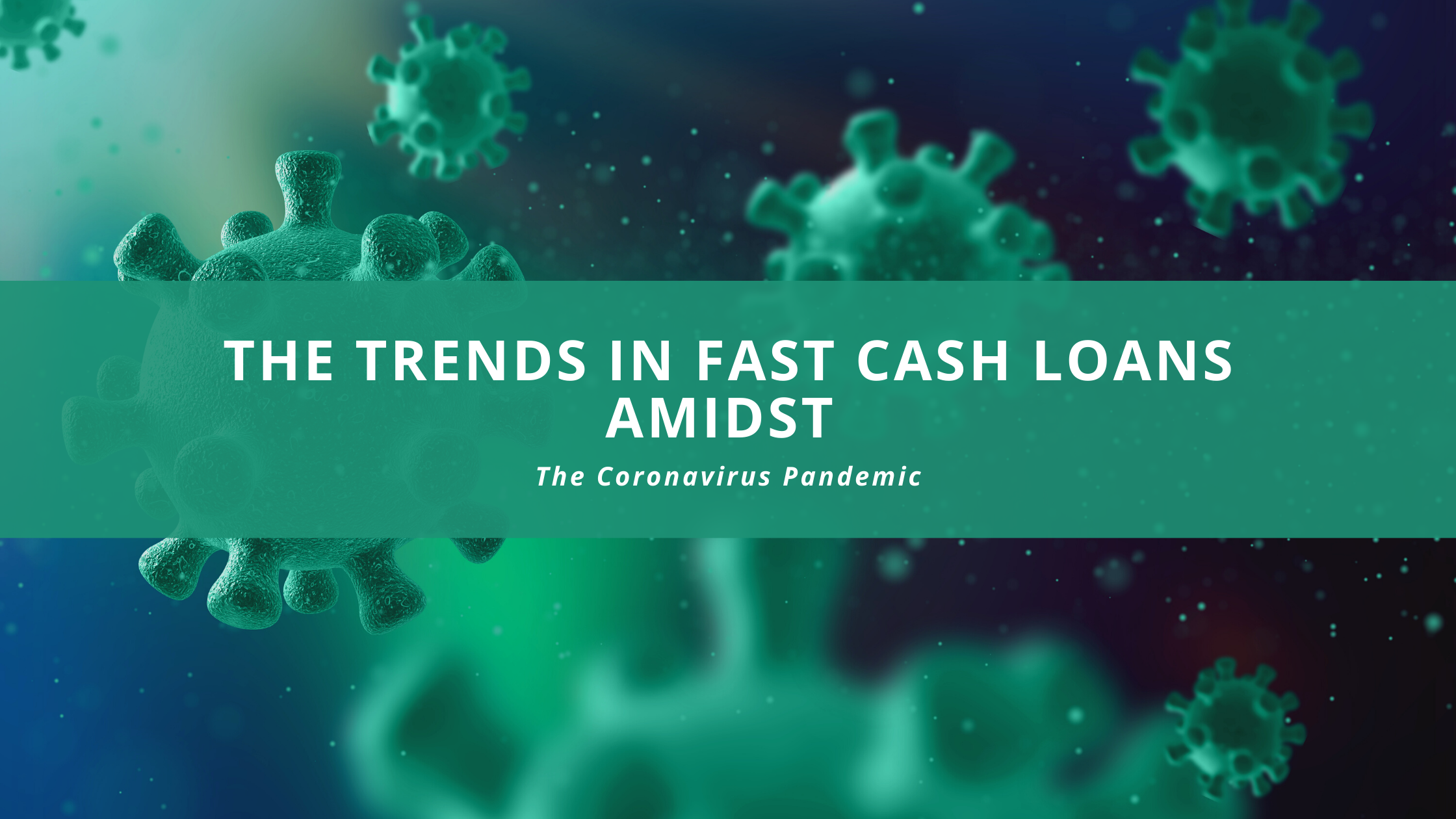 The Trends in Fast Cash Loans Amidst -The Coronavirus Pandemic
The entire world is currently facing a very unexpected outbreak. The coronavirus pandemic has brought a lot of challenges, especially economically. We hear news regarding many businesses closing and workers filing for unemployment. All these changes have affected many individual's sources of income, yet the bills and daily expenses are still coming in.
The struggle to make ends meet and stick to a budget is extra tricky these days. As a result, many people are looking to fast cash loans to help pay bills or manage unexpected expenses. Fast cash loans can be a very tempting option and offer many benefits. There are also other types of loans that could be helpful, too. Educate yourself about the types of loans available to you and make sure you choose the one that best meets your individual needs.

Fast Cash Loans Save The Day
At a glance, fast cash loans ultimately save the day. Who wouldn't like quick access to fast cash when it's most needed? In times like this, instant cash loans are what every struggling worker or family would like to access.
With their easy application process, online availability, and sometimes no credit score checking requirement- fast cash loans are ideal. You receive your money quickly, and the process is nearly painless- even for borrowers who are considered high-risk by many other lenders.
The Increasing Demand Of Borrowers
Fast cash loan borrowers are already at a high percentage, but now in the middle of a crisis, the numbers sky-rocketed. According to the Pew Charitable Trusts report in 2016, there are already 12 million Americans who use payday loans each year.
That number exponentially multiplied as the economy was faced with the COVID crisis. With numbers of workers filing for unemployment or businesses announcing bankruptcy or business halt, there is no wonder that the number of borrowers has dramatically increased.

Fast Cash Loans Accessibility Made It Easier
When we talk about the advantages of fast cash loans, nothing beats their accessibility. There are many fast cash loans like payday loans that have already positioned their businesses in the center of a community to be convenient for people who need them the most. These loans are also available online, making them even easier to apply for and receive quickly.
Fast cash loans are possible for people with little to no credit, as well as those with a bad credit history. These high risk borrowers often struggle to get loans from credit unions and traditional banks, but have more luck with fast cash lenders who cater to borrowers often considered 'high risk.'
These types of loans can be processed very quickly, allowing borrowers to have access to their funds often on the same day they apply. For people who need money fast, this solution offers exactly what they are looking for.
However, even with all of these advantages, there can be disadvantages that borrowers should know.
Fast Cash Loans Can Have Higher Interest Rates
It is important to know not only the benefits of fast cash loans but also the potential downside. While their accessibility, quick cash release, and hassle-free transaction make these loans one of the easiest to secure, often they are one of the more expensive types of loans. Fast cash loans like payday loans have the highest APR percentage compared to credit cards and personal loans. These types of loans cater to more high-risk borrowers, and as a result, offer higher interest rates to compensate.
Many states regulate interest rates charged by fast cash lenders. Most states have capped the interest rates fast cash lenders can charge and have created laws to protect consumers from malfeasance within this industry. In addition, the state of Wisconsin, for example, issued a warning statement to all payday loan lenders not to increase their interest, fees, or charges during the pandemic.

Other Loan Access During the COVID-19 Pandemic
Fast cash loans are a great way to get over the 'hump' and receive an infusion of cash when you really need it. They are easier to obtain than traditional loans and often require no credit check. That said, they are not the ONLY way to go, if you need emergency funds. More traditional lenders also offer personal loans to help meet your financial needs, though the qualification process is more stringent and  it usually takes longer to receive your funds.
If you have a good credit score, your chances of receiving a traditional personal loan are much higher. Even with a bad credit score, though, you can still apply and be eligible for one. However, the interest rate is much higher for borrowers with bad credit compared to borrowers with a decent credit score.
Another option you could consider is tapping into the paycheck protection program and the CARES Act if you haven't yet accessed these government aid programs. These can help you manage your budget and stay afloat without needing a loan at all.
Author Profile
Blogger by Passion | Contributor to many Business Blogs in the United Kingdom | Fascinated to Write Blogs in Business & Startup Niches |