Content Marketing Agency – Digital Publishing Services to Boost SEO
Content marketing and content distribution through digital publishing is one of the best ways to facilitate a website's SEO and boost the visibility and ranks in this digital era to reach a global audience through various online channels.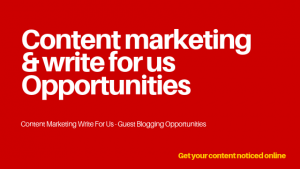 Why?
According to the Global Web Content, Search Portals And Social Media Market Report 2021 by the businessresearchcompany.com rising penetration of mobile, tablet and other electronics and rising data consumption will drive the web content, search portals, SEO services and social media market.
An increase in sales of internet accessible electronic devices such as smart phones and tablets leads to an increase in consumption of digital content and the global web content, search portals and social media market is expected to reach $958.28 billion in 2025
So, getting your message out there is key to be heard by as many as possible.
How?
ClickDo has been publishing and distributing digital content for nearly 10 years for clients in various business niches as you can see in the case studies section.
The key in content creation, publishing and marketing is to share valuable and insightful information in an appealing and effective manner.
Easier said than done – and that's where we help out.
ClickDo has set up and manages many premium content publishing websites in various niches that are gaining authority by the day and attract thousands of readers monthly.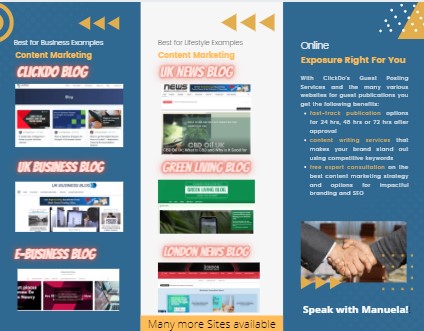 As a content marketing agency we support our clients with content creation, publication and distribution.
So, if you enquire about our digital publishing services, we will discuss your requirements with you and then offer you the best and most suitable approach to reach your content marketing goals.
First and foremost we will try to make your content as unique as possible. Even if you send us your content, we will optimise it for SEO, structure it for a better user experience and add engaging media to keep readers glued to it.
You can see some of our digital content publication examples and services here:
You can contact us to enquire about writing for us or getting your content published and distributed.
Because having your content curated and published is only half the ticket. It matters where people can find it.
That's why we also offer content distribution services to help you increase your online exposure through various channels and platforms.
If you get your content published via our blogs and magazines, it will be shared with relevant #hashtags and @mentions on our social media channels like Facebook, Twitter and LinkedIn which have gained hundreds to thousands of followers. We also offer our clients to provide us media such as images or videos that we can then post for them.
But we can go further. We can reach out to authority and prominent publications relevant for your content to get your message shared there too.
You can find examples of brand mentions and content publications in established digital magazine publications on our ClickDo homepage:
Does it work?
You most probably found this page on Google which ranks for several related keywords and terms.
We apply the same success criteria to our client's web content to get their websites and pages rank higher on Google.
If you are a UK business owner, freelancer or an SEO professional looking for digital content curation, publication and distribution services, then speak with us about your ideas and goals.
We manage business stories, for example a business story about your company, press and news releases or CEO and entrepreneur interviews. We make sure that the content you submit or would like created is published on the right digital platforms for the best content marketing campaign outcomes.
Because relevancy and relatability matters when you are looking to engage the right audience for increased leads and conversions.
For business related content we work with successful business blogs like the ebusinessblog.co.uk, livebusinessblog.com, idobusiness.co.uk blog and the londonbusinessnews.com blog for global business audience reach.
For lifestyle related topics we offer content publishing opportunities on the news.clickdo.co.uk blog, education.clickdo.co.uk blog, ukmagz.co.uk blog and the greenlivingblog.org.uk.
Because technology becomes an increasingly important aspect of most people's lives, we cover tech topics on blogs like the Internet Home Business Blog, the UK Tech Blog, The Widest Web Blog and more, including topics around the home business, remote work and work from home narrative.
We will make your content king in many different ways and via various digital channels.
How to get your content published with us?
Check our blogs so you get an idea about what type of content we welcome that matches with your niche.
Write 800 words or more per article and send your draft to us for editorial approval.
We can also write articles for you upon your initial enquiry and considering your specific requirements.
We make sure that your content is SEO optimised and digitally appealing for maximum engagement before publishing it.
Contact us about any topics in your mind.
Ask which platforms you can/should get published on.
Discuss with us which content publication formats are most suitable for your content marketing campaign.
We will work with you from start to finish.
Your brands/websites will visibly experience an online visibility and SEO boost after publication and distribution usually within one month or so.
Please note that we do charge fees for our content publishing and marketing services and we will discuss these with you prior to any work we do.
If you are looking to get paid to write for us, you can contact Manuela Willbold or Dinesh Kumar and ask for further details about how you can become a content writer for ClickDo.
We are always looking for great content that can help make the web a better place with well written user-friendly content.
Fill in the form below and let us know about you interest in content writing for us.