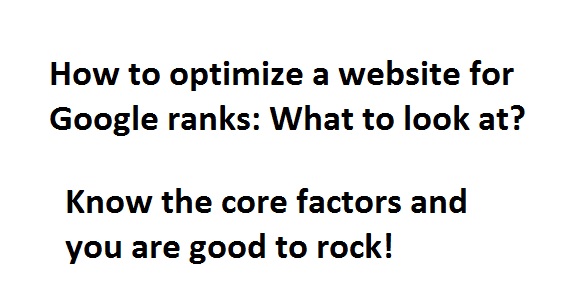 How to optimize a website for Google ranks: What to look at?
Ranking on Google search engine is the hottest thing on the web right now. As I do rank on top of Google UK, people have started to ask me how it was done? was it the backlinks? or was it the page you have done and what's it that helped the ranks?
**This is a quick write up and may have some errors or sound creepy 😉
Honestly, it was hard work, and more than anything it's the authority and social factors that helped the ranks. There is a scientific manner to trigger those social SEO factors of the website. Basically, it comes down to building a brand! Brands are winning and they will keep winning. Gone are the days you can chum and burn. Google is smart and they appreciate hard work, the effort a website puts to thrive on their search engine.
I did cover in this article > WHY CREATIVELY DESIGNED SEO WEBPAGES RANKS FASTER? and if you did not read it, go read it soon. There you can see my mentions and I knew what works and adapted my search engine optimisation strategies.
Then have read on GOOGLE'S 3 MOST IMPORTANT RANKING SIGNALS REVEALED and listen to that video. If you did listen to it and applied it, there shouldn't be any issues by now. Tyr to get the core message and identify what Google expert says.
Now read > ADVANCED ON-PAGE OPTIMIZATION TECHNIQUES so you know and ready to grab the next level On Page SEO techniques inside the SEO secrets lab.
Head over to > How to Optimize a Small Website: On-Page & Mobile Factors and read it all and ask me anything on the SEO consultants group.
Really pay attention to below when you reading the above article:
And then the H1 and H4 titles on your pages.
This is an H1 Title
This is an H4 Title
So now you know that. I'm an SEO expert and telling you this from my experience in what works.
make sure you have alt tags on images. Check above images and you can see I have given > On-Page-SEO-factors as the alt tag
Having more content on the page helps. Some commercial website owners does not want have content on the page, but keep in mind that helps in SEO. more content on a page that tells and authentic story helps the budge.
Next, comes the page speed of a website. Try to look up for Google Page speed test insights and it will tell what areas to improve on the website/page. Also, this GTMetrix  is another tool if you can get your webmaster to achieve perfection.