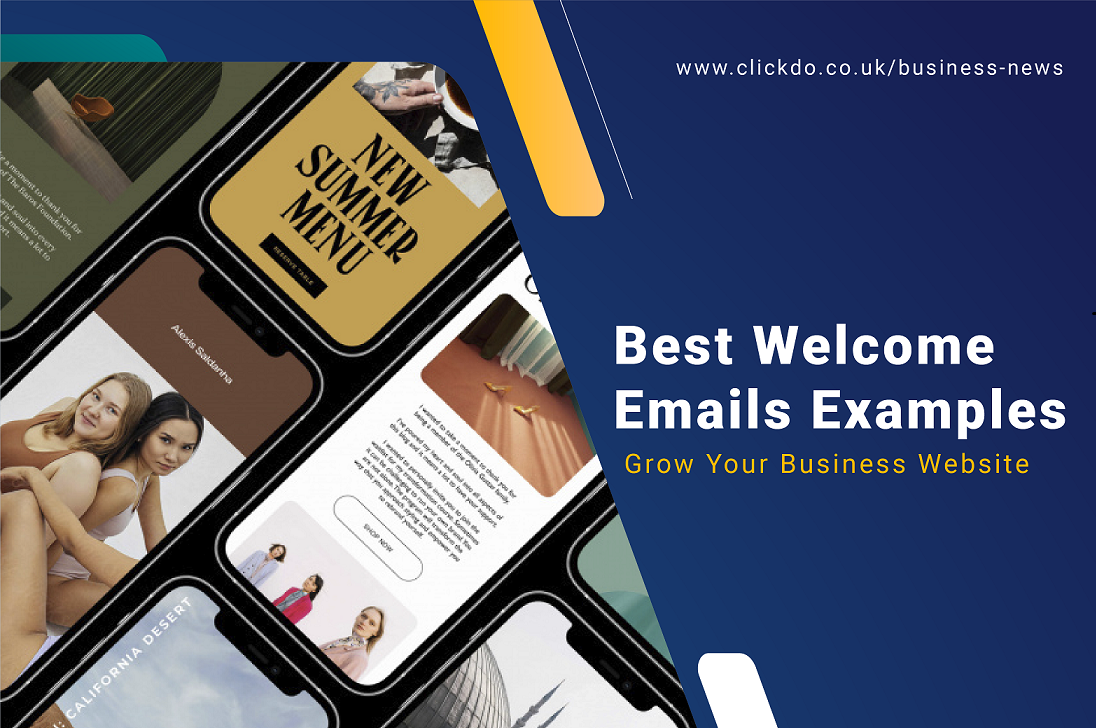 The 6 Best Welcome Emails Examples to Grow Your Business Website
Starting your conversations on the right note is critical to building rewarding and long-lasting relationships with your customers. Here we discuss best welcome emails examples.
Research shows that welcome emails generate a  91.43% open rate and 320% more revenue than other forms of marketing emails or cold emails.
When your visitors go to your site for the first time and subscribe to your mail list, it shows they are interested in your business and are willing to get to know you better. Just like every other type of relationship, the way you go about the first conversation matters.
If you say the right things the right way, you get a chance to create a good impression and get them to look forward to the next conversation with you.  But if you don't, you may end up on their spam list.
So how do you structure your welcome emails to get your new subscribers to warm up to you? What types of welcome emails work? This article answers these questions.
Let's get started with a definition of the welcome email.
What are welcome emails?
Welcome emails are the first interaction your brand has with a prospect via email. They allow you to set the tone for a brand-to-consumer relationship.
When they are friendly and welcoming, they make your subscribers feel relaxed and comfortable with your brand. So, they become encouraged to engage and interact with you.
They respond to your emails, buy from you, and become ambassadors of your business when the welcome email is done right.
6 Welcome Emails to expand your Business
Successful relationships with your customers depend on how effective your welcome email is. Therefore, it's important to create excellent emails that do their job of warming your prospects up to you.
To do this, let's check out six welcome email examples that work below:
1. The 'Thank You' email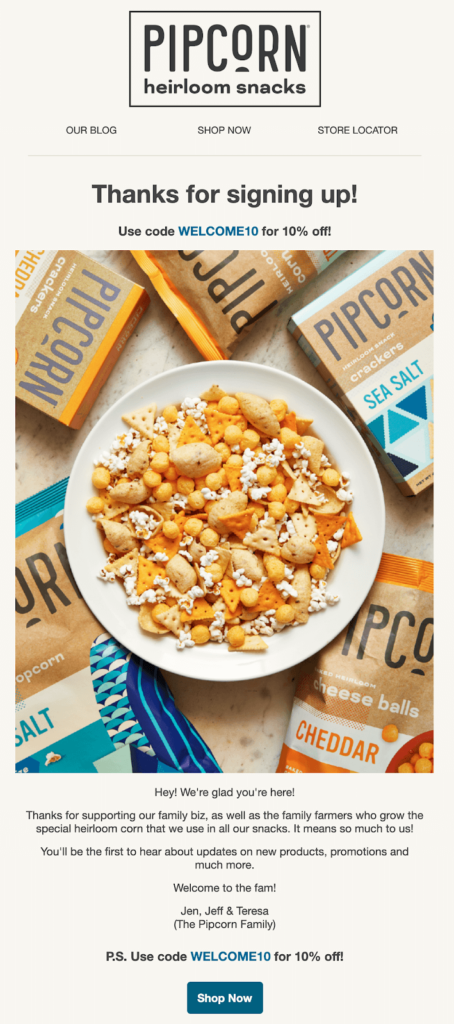 Thank You emails are a simple way to thank your customers for joining your mail list. This may seem like a basic thing to do, but many businesses often wave it off as unnecessary. However, it's one of the simple things 74% of your new subscribers want you to say to them.
Expressing gratitude and appreciation to your new subscribers is one of the best ways to create a positive first impression.
With this email, you show them that they matter to your business and aren't just a mere addition to the numbers on your mailing list. This is a great way to get your prospects to like you and want to be involved with your brand.
The best thing about welcome emails is that they don't have to be something elaborate. They can be as short as a line of text expressing your gratitude.
You can also make it more engaging to read by saying it with colourful images and GIFs. But ensure the images and GIFs are in line with your brand's tone and personality to set the tone for the rest of your conversations.
For example, this "Thank You" email by Pipsnacks.com is an excellent one that says a simple "Thank you for signing up" with other additional details on the incentive that comes with joining their mail list.
2. The Introductory Email
The introductory email is an example of a welcome email that gives more information about who you are as a business, what you do, and what you are passionate about, just like you would when you want someone to know you better.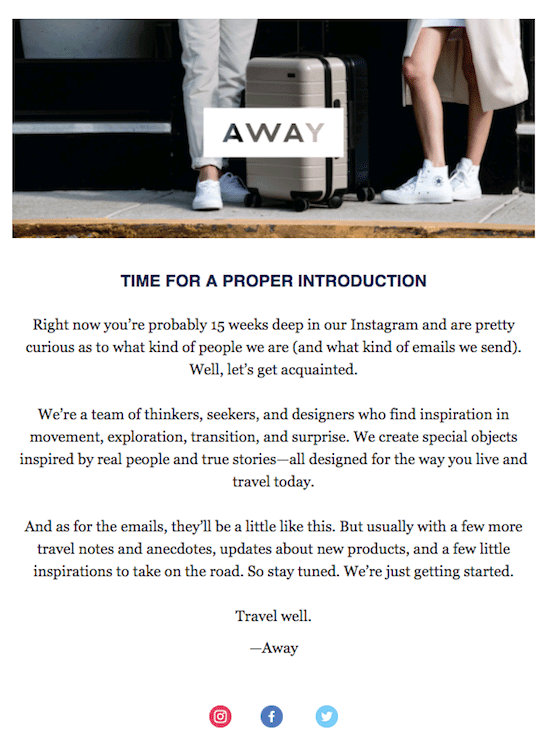 It goes beyond stating your company's name to telling your customers your mission, your passion, and your company's business.
This doesn't mean it should be boring information about your business, though; it should be done interestingly and written as short as possible. Take this welcome email from AwayTravel.com as an example:
In this email, Away gives their new subscribers insight into who they are and what they do in an engaging way, revealing their brand's tone and personality without overwhelming their readers.
3. The Expectation Email
Expectation emails are welcome to email examples that tell your new subscribers what to expect from your emails subsequently. It's a good way to create anticipation and a way to prepare your subscribers for what is coming.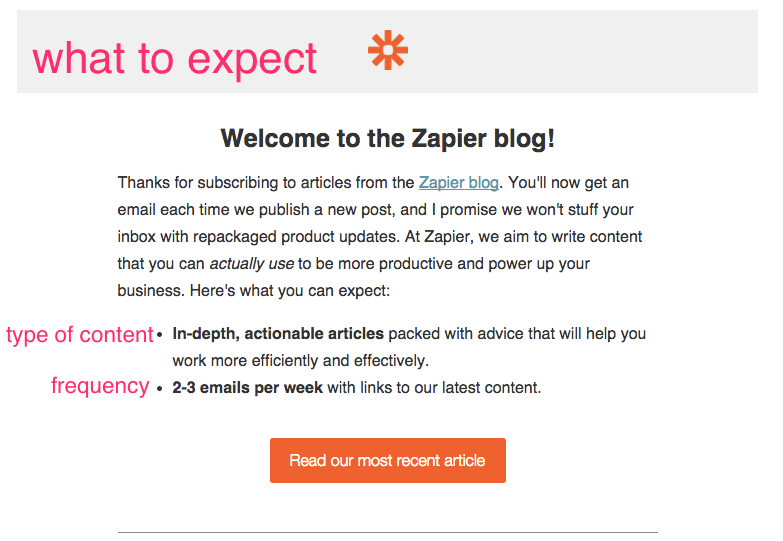 It informs them you will be showing up often in their emails, so they don't see you as intrusive because your emails had informed them ahead. This way, you can increase your click-through and engagement rate to grow your business.
Zapier is an example of a brand that does a great job with its welcome email.
They inform their new subscribers on when they will send their emails, how frequently they will send emails, and the type of emails they will send.
4. The Incentive Email
The Incentive email is the type of welcome email that delivers on the initial promise you made to your subscribers before they join.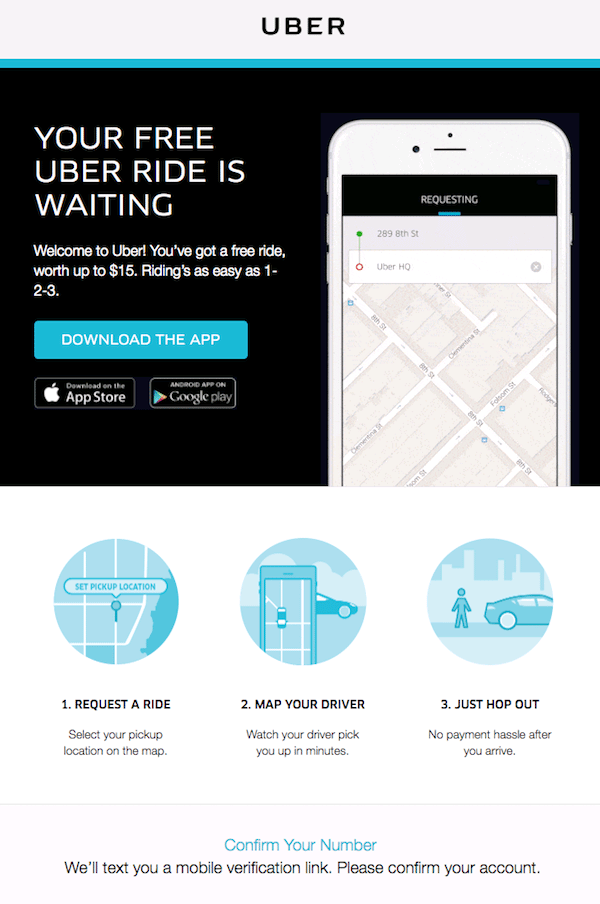 This could be the reason your customers signed up to your mail list in the first place, so it's important not to keep them waiting. Share the coupons, discounts, lead magnet, or other exclusive offers you've promised your prospects immediately they sign up to your email list.
It goes a long way to show your new subscribers you are a brand that delivers on its promise, thereby establishing trust on the get-go.
In addition, starting off with an offer is a way to show your brand that you have value to provide, which inspires them to open your emails whenever they come in. They will also want to stick to your brand for longer because of the future benefits they will enjoy.
Here's an example of an incentive email by Uber:
Uber informs their new subscribers about their free ride, with a clear call-to-action that tells them to download the app to enjoy the offer.
5. The Onboarding Email
The Onboarding email is a welcome email example that shows your new customers how to use your product or service.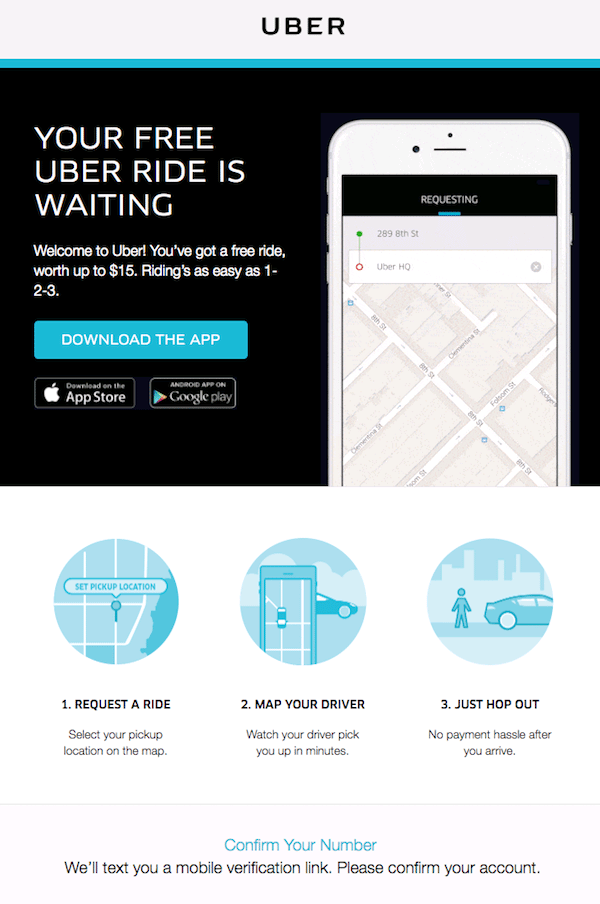 It's an incredibly helpful way to improve your customer onboarding process and make things easier for them from the start.
So, if you provide a product or service that involves a few processes to get started, sending an onboarding welcome email would be an excellent way to start a conversation with your new subscribers. It can be in the form of a tutorial video or a simple, written, step-by-step guide.
Again, Uber is an example of a brand that does this right:
Uber shows their new users how to order their first ride in a simple 3-step process with descriptive images, making the onboarding process easier for their new users.
6. The Social Media Invite Email
The Social Media email is the perfect way to welcome your new subscribers and invite them to check out your brand on your social media page.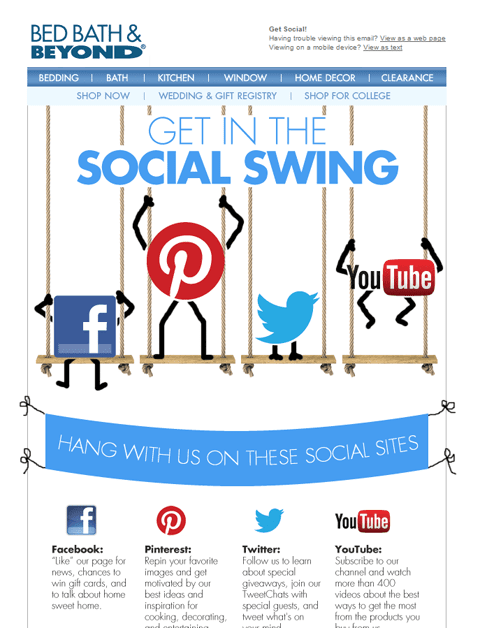 It is effective to get your new subscribers to initiate the conversation on platforms other than email; it's also a good way to showcase your products and give them insight into your brand.
Bed Bath & Beyond creates an excellent social media invite email.
Bed Bath & Beyond does this effectively by inviting their subscribers to join and engage them on social media and stating the specific social media platforms they are active on.
Why Welcome Emails are important?
Welcome emails play an essential role in growing your brand. Let's find out the different ways they contribute to your business's growth below:
1. They are effective in increasing engagement
Welcome emails generate higher open rates than other types of emails. First, because many of your new subscribers expect it, and because they want to hear what you have to say.
Secondly, most welcome emails come with incentives and calls-to-action that get your audience to take a specific action, thereby boosting engagements and interactions from your new subscribers.
2. They save your time
Welcome emails are time-saving because they enable you to connect with your new subscribers automatically. It eliminates the need to follow up with your prospects with phone calls and texts, which helps to save time.
3. Welcome emails tell your prospects what to expect
Welcome emails inform your new subscribers of what you have in store for them. You let them know what they should expect from your business, how frequently you will send them emails and what type of emails you will send.
This information keeps your audience expectant, so rather than see your emails as a disturbance, they receive them warmly.
4. They build loyalty
Great welcome emails work to help you build a life-long connection with your subscribers. They help you create a positive brand impression from the start, so they see you as a business they want to be a part of.
When you include calls-to-action that inspire them to continue the conversation, you can create a two-way communication system that turns them into loyal subscribers.
Conclusion
Welcome emails are effective in growing your website and business. They can convert visitors who subscribe to your mail from your website into engaged and loyal customers, which helps you generate leads and sales to grow your business. We discussed six welcome email examples to inspire you to create your own unique welcome emails soon.
Author Bio: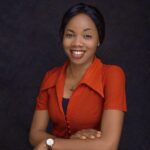 Lydia Iseh is a writer with years of experience in writing SEO content that provides value to the reader. As someone who believes in the power of SEO to transform businesses, she enjoys being part of the process that helps websites rank high on search engines.