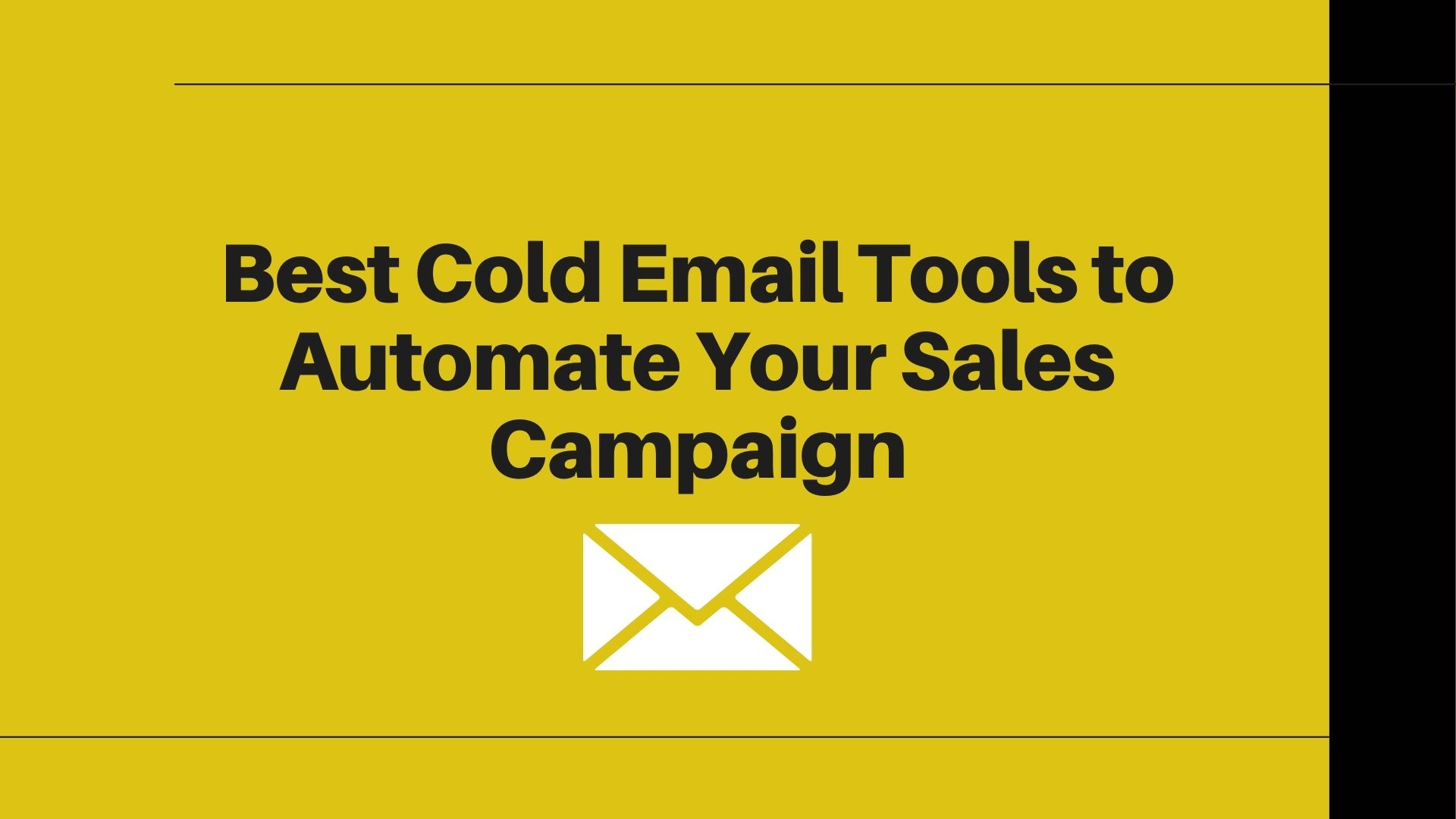 Best Cold Email Tools to Automate Your Sales Campaign
We all know by now that email marketing is far from dead. In fact, it's one of the most thriving tools for generating leads, driving sales, boosting brand awareness, and just about every other benefit that you could think of for your business. Simply put, its efficiency is unparalleled, and it allows you to maximize your marketing budget that's crucial to running a successful sales campaign. With email marketing, you can use different tools to automate your sales, verify email addresses and organize your content so you can stay efficient while hitting your goals. Here, we'll talk about the things that you should look for in an email tool and the best cold email tools to help you generate more leads.
What makes an ideal email tool?
Email marketing is a must-have tool for both B2B and B2C marketers. In fact, 87% of B2B marketers and 79% of B2C marketers use email as a distribution channel.
These days, there's no shortage of email tools that you can use to do cold email and other strategies for your campaign. But what really makes an ideal email tool?

It should easily be integrated with your CRM software
Behind every successful digital marketing campaign is reliable Customer Relationship Management (CRM) software. This tool is used to automate just about everything in your campaign to not only accomplish tasks easily but also keep track of your progress—or the lack thereof.
If you are going to use cold email software to automate your email marketing campaign, you need to choose one that could easily be integrated with your existing CRM software.
This will allow you to choose, verify and filter out emails conveniently, and send content out in an organized and timely manner.
A good email tool should also provide you information on key metrics like click-through rates, bounce rates and open rates, so you know exactly which emails are giving you results and which ones you should change.
It should have automation features
The best email automation tool should allow you to automate email messages for new subscribers and new purchases, so you can ensure after-sales customer service and hopefully drive more sales from consumers.
For instance, good cold email software should be able to automatically send thank you emails to customers who recently purchased a product through your website. You can also recommend products that are similar to what he just bought so you can promote sales continuity.
It should fit within your budget
Not all email marketing software are created equal and by that, you can't guarantee that the most expensive email automation tool that you can see is the most efficient.
Whether this is you're just starting out with your campaign or you're trying to ramp up your efforts with cold email, it's very important to find a tool that fits within your budget without sacrificing quality.
To make this possible, you need to make a list of your needs and non-negotiables to make it easier to for you to decide which software has most, if not all, of the things that you need without going over your price point.
It should grow with you
Unless you want to find new cold email software for every stage of your business, you need to invest in one that's scalable for your future growth.
Although you can find a lot of free email marketing tools out there, they also only offer basic features that won't grow with you in the long run. Find a follow-up tool that can accommodate your needs as you grow your business.
It should offer good customer support when you need it
Aside from ensuring that your emails get delivered, your cold email software should also deliver when it comes to offering the best customer support and service whenever you need it.
Remember that you can't afford long downtimes when you're running a campaign because a lot is on the line. This is why you should find an email automation tool provider that offers excellent customer service and support to ensure that all problems related to your tool can be addressed efficiently and quickly.
What are the best cold email tools today?
Now that you know what to look for in a cold email tool, we compiled some of the best cold email tools that will help you automate your sales and add more value to your campaigns:
1. EngageBay

Starts at $9.99 per month
EngageBay is an all-in-one sales automation tool that promises to automate your sales funnel within just minutes.
Aside from being useful for cold email, this tool also offers features that will allow you to measure click-through and open rates, send newsletters to customers and even personalize their engagement based on their behavior.
Best features
Account management
Analytics/ROI tracking
Audience targeting
Automated routing and scheduling
AB testing
Call center management
Campaign management
Marketing automation
2. Snov.io

Starts at $39 per feature, per month
Snov.io is considered the best email automation tool for cold email. It's been used by thousands of entrepreneurs, marketers and sales reps for verifying email addresses, converting leads, automating cold outreach and even tracking their campaign's progress.
Snov.io also boasts of over 2,000 integration options.
Best features
Bulk drip campaign
Email marketing
Lead generation
Single email verification
Disposable email detection
3. Prospect.io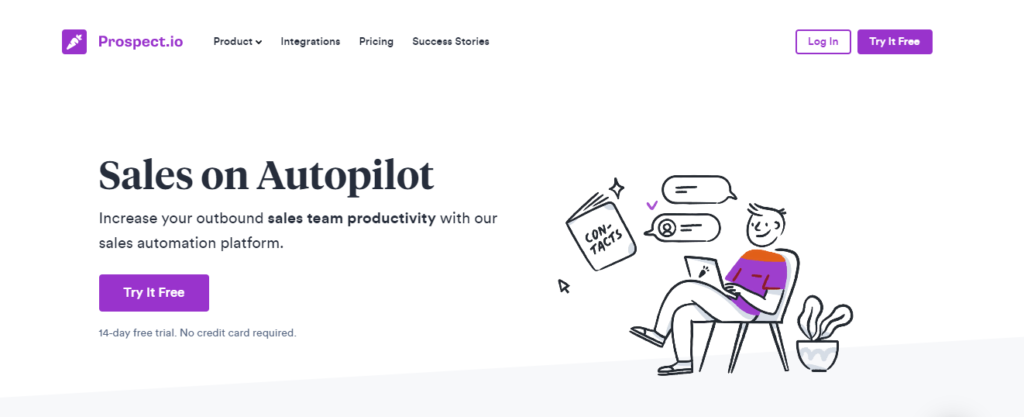 Starts at $19 per user, per month
Another popular cold email tool is Prospect.io. Designed specifically for small and medium-sized businesses, this tool helps you build a strong email list, create efficient campaigns and keep track of your results through integrations with PipeDrive or Zapier.
Best features
Campaign management
Opportunity management
Lead management
Performance metrics
4. Woodpecker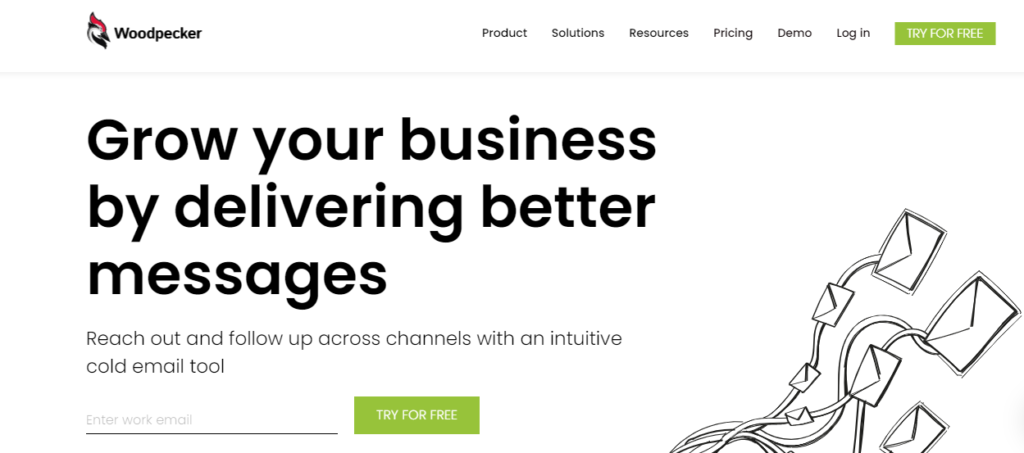 Starts at $32 per month
Woodpecker is another one of those email automation tools that you can rely on to provide you with everything you need to build and nurture business relationships. Its features are specifically designed to help you reach out to prospects, work on them and turn them into loyal customers.
Best features
Campaign management
Lead nurturing, qualification and segmentation
Collaboration
Content management
Lead management
5. Mailshake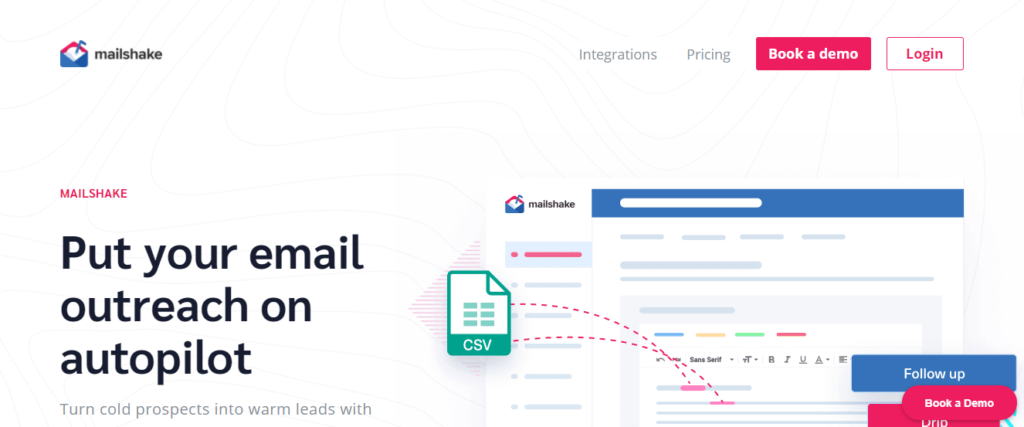 Starts at $39 per month
Mailshake is another follow up tool that allows for reaching out to leads and customers through phone and social media. It's also integrated to Pipedrive and Salesforce along with other apps to make organizing your sales funnel a lot easier.
Best features
Campaign management
Drip campaigns
Lead management
Dynamic content
Reporting/analytics
WYSWYG editor
6. Yesware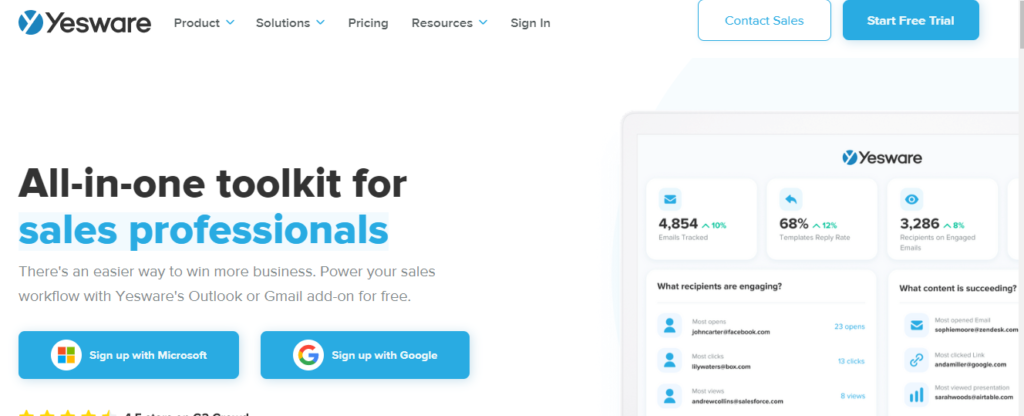 Starts at $15 per month
Yesware features an all-in-one sales toolkit that you can add on Gmail or Outlook. This tool allows you to send emails, schedule meetings and monitor prospects without learning the ropes of another app.
This sales engagement platform has more than 1.2 million downloads and it's also used by big ticket companies like Twitter and Yelp.
Best features
Audience targeting
Campaign management
Performance metrics
Location tracking
Team management
7. Reply.io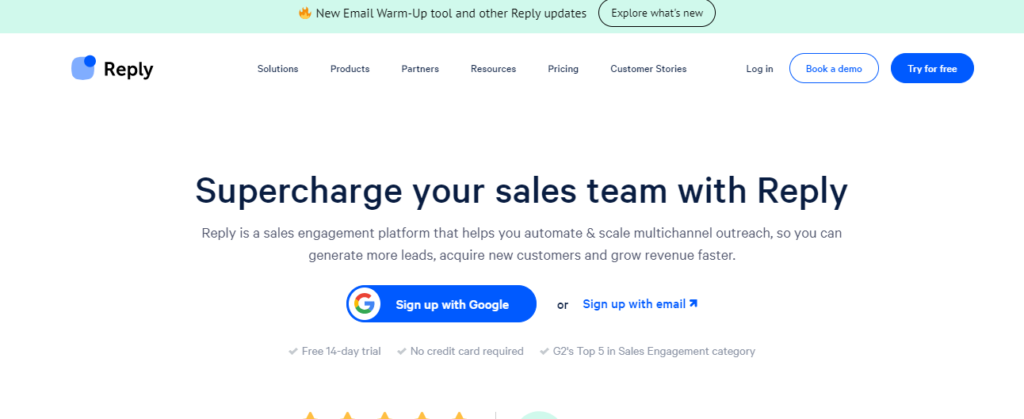 Starts at $70 per month
Reply boasts of a unique AI algorithm that helps you work on your hottest leads and send the right messages to them.
You can easily integrate this email automation tool with your CRM for improved efficiency, which is why it is used by more than 2,500 companies around the world.
Best features
Business process automation
Email marketing
Campaign management
Contact and content management
Lead management
Performance metrics
Sales pipeline management
8. Quickmail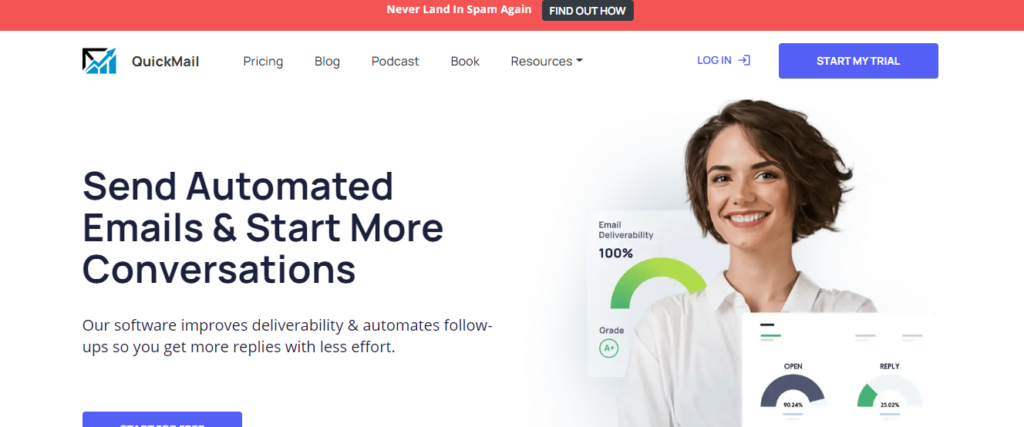 Starts at $49 per user, per month
If there's one thing that Quickmail guarantees, it's that you're not just sending cold emails to your prospects, but you're going to send them emails that they'd actually want to read and respond to. This cold email tool has been proven by thousands of companies to be efficient in email outreach because it allows you to do automatic follow-ups, personalize your emails and monitor your progress.
Best features
Audience targeting
Campaign management
Customer database
Lead and opportunity management
Email marketing
Team management
Performance metrics
9. Mixmax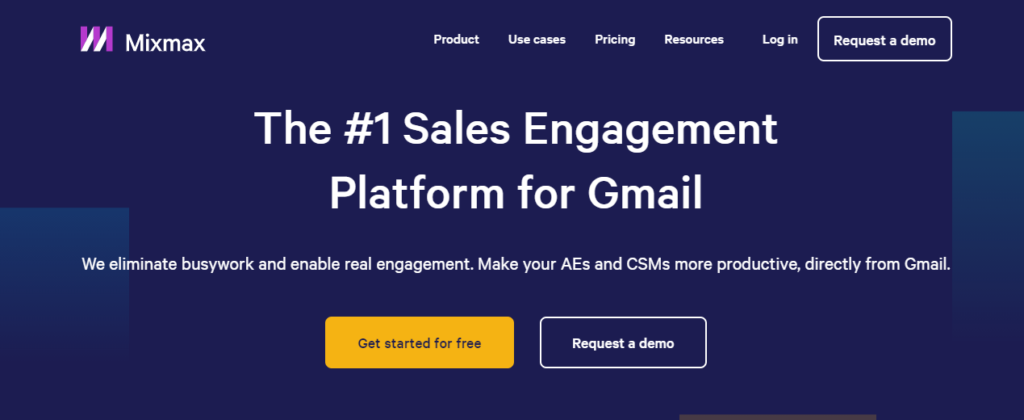 Starts at $12 per user, per month
Mixmax is a Gmail-based app that's designed to automate your sales and ensure that you get the most out of your email marketing campaigns.
It boasts of topnotch features like one to one communication, schedule automation and personalized cold emails that deliver real results for marketers and businesses.
Best features
Campaign and contact management
Call management
Data management
Email marketing and monitoring
Lead management
Queue management
With more than 4.03 billion email users around the world, email still reigns supreme when it comes to having the most potential to drive sales and nurture your brand.
With the help of the right email automation tool, you'll have all the weapons you'll need to design sales campaigns that give you the results that you need.
The bottom line
Cold email is still one of the best strategies when it comes to prospecting leads, converting them into sales and building long lasting relationships with your customers.
With more people still using email as their primary form of communication online, you have to take advantage of its many benefits by investing in one of these cold email tools.
Author Profile
Blogger by Passion | Contributor to many Business Blogs in the United Kingdom | Fascinated to Write Blogs in Business & Startup Niches |