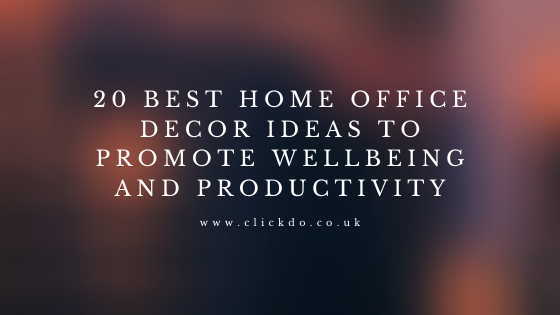 20 Best Home Office Decor Ideas To Promote Wellbeing And Productivity
By Dinesh Kumar
You don't have to be a master at an interior design to find the perfect office desk for your own home office. Finding the perfect home office solutions that make a difference to your work-life balance and wellbeing such as a comfortable and multifunctional home office desk, can work wonders. Especially if you work increasingly more from home due to social distancing.
For many, the home office is the dining table, and a Bluetooth speaker system. But if you are looking to build a large dropshipping business or write the best blog on fashion, you need to be inspired.
Productivity depends on how much energy and positive vibes you can draw from your surroundings. We have the best home design tips to make your home office an attractive place for you to work from.
Essential Tips For Home Office Decor Increasing Productivity
1. Use Colour Effectively
The mind is influenced by colour more than you can imagine. Painting an office is not to be taken lightly since the palette can affect the way your brain functions. Green is very suitable for stimulating creativity and keeping the mind full of energy.  Cream and off-white relieves stress and allows your spirit to be rejuvenated.
2. Be Deliberate With Lighting
Harsh lights with high colour temperature will tire your eyes. Use golden-hued LED lamps with no more than 3000 Kelvin. As it is, you would be spending most of your time looking at the monitor or smartphone. The lights must have a dimmer switch to take the brightness all the way down. You may need several electronic parts, if you improve the lighting and other features that require electricity to run.

3. Get a Comfortable Rug
A soft rug that gently massages your feet is ideal for a home office. If your office is large enough, a rug also allows you to lie down and look upward at the ceiling. Doing yoga poses like savasana twice a day for four minutes reduces body aches and lowers blood pressure. A carpet or rug is also a fantastic way to express your personality.
4. Bring in Some Office Plants
Not only do you get fresh oxygen, but indoor plants are also a companion of sorts. Caring for a plant by spraying water in the middle of a workday is the perfect way to take your mind off the deadline and relax. Some of the best office plants that need no sunlight are Devil's Ivy, Aloe Vera, and Peace Lily.

5. Buy Purpose-Specific Furniture
This is the single most crucial element of your workspace. The enormous revolving chairs and large desks are no longer considered ergonomic. Try for innovative solutions like a stand-up desk. If you wish to rest, then sit in a straight back chair made of wood. Your spine will thank you for this consideration.
6. Get Some Wall Art
Not the typical Abbey Road poster, but something chic and bright would be perfect. Our personal favorite is a print of Monet's Water Lilies that can be purchased online for a few dollars. You can also find great wall stickers or abstract hypnotizing pictures with swirling colors disappearing into a vortex. Avoid whatever causes intricate and reflective thoughts to arise, that distract you too much.
7. Massage Cushion
Indulge yourself with a back massage chair. Even a budget chair can rub your back with revolving nodes and can vibrate to relax your hips and thighs of tension. Besides, most massage chairs can give you heat therapy to improve circulation.
8. Set Your Home Office in a Room With Windows
This is overlooked by most designers of a small home office. Natural light is perfect for the mind and body. It helps by setting your circadian rhythms straight after pulling all-nighters to deliver a project. If you yawn, just look out of a window and instantly feel recharged.
9. Use an Aromatherapy Diffuser
Aromatherapy is in fashion as one of the best ways to make your home office have a more welcoming atmosphere. They give off a natural fragrance that is quite uplifting. The essential oils smell lovely and fill the air with an exotic smell.
10. Optimize
Clutter is your worst enemy. Keep your workspace well organized. Designate a cabinet or at least a desk drawer for essential papers. A table organizer with space for pens, pencils, and stationery can keep your workspace uncluttered.
11. Experiment With Patterns
A parquet floor or wallpaper with a zigzag motif can make your small office look trendy. Patterns tend to break up a linear thought process and provide you with better insights. Contrasting colors, such as the yin yang symbol, is another way to inspire you.
12. Get A Suitable Laptop

You cannot get anything done without a good laptop. Older models would take time to execute programs and save files. A tablet with a docking keyboard like Surface Pro makes a suitable second backup machine to carry around and use beyond answering emails and writing documents and presentations as you can also record videos, take photos and hold video conferences with this handy tool.
13. Use an Office Planner
Online or offline, you need to maintain a planner. Office 365 has one, and so does Evernote. If you are old fashioned, why not just make notes in a large diary. It should be an hour by hour plan about your workday. This will keep you focused and motivated to meet your micro targets throughout the day.
14. Surround Yourself With Motivation
What keeps you going through the day? If you are an intellectual, chances are great literary works like Dostoyevsky, and if you are the sporty type, most likely it is Michael Jordan or some similar personality. Keep something in the home office that reminds you of your essence. It could be the biography of Mandela or a scale model of a Concorde.
15. Get a Sofa
You do need to relax and get some shut-eye in your den. A comfy couch and a footstool can work wonders by providing you a nap opportunity when you need it most. If you want to indulge yourself, get a La-z-Boy recliner. It is a home office, and no one will judge you.
16. Get a Wifi Mesh Router
It is not possible to work without the internet, at least not unless you are a painter. Buy yourself a mesh router such as Google Nest for uninterrupted bandwidth. Mesh systems are far better than the traditional router and range extenders.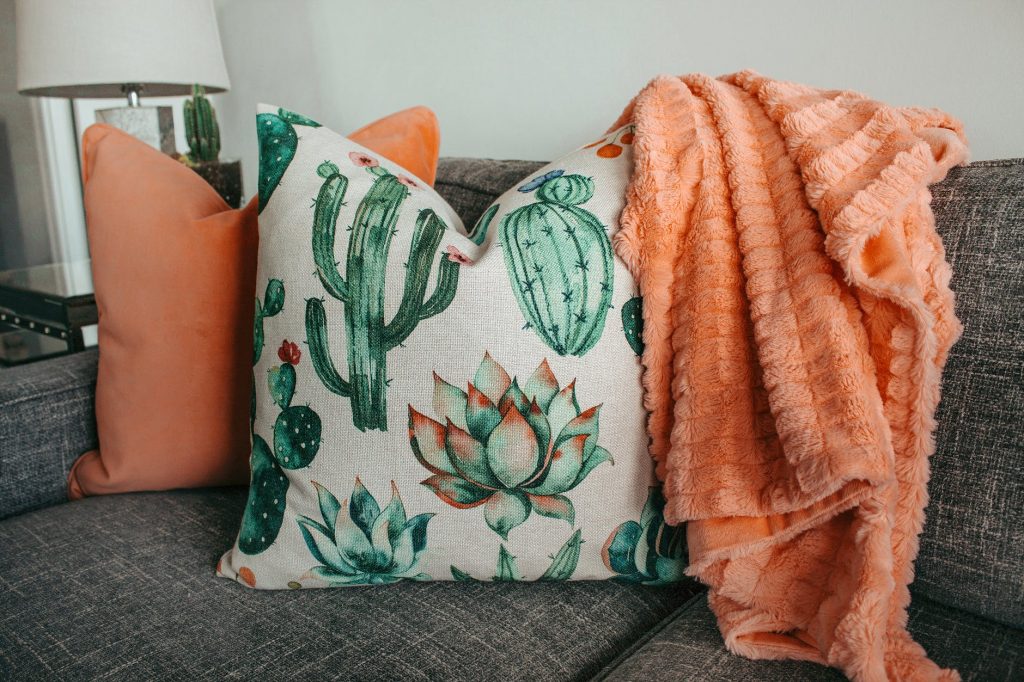 17. Get a Clock
A large digital table clock with a minimalistic design would help to keep you moving along. If you are working from home, it is quite possible to lose track of time and give too much time to one task and neglect the other.
18. Be Deliberate With Caffeine
If you are like most people, you need caffeine to fire up your brain cells. K-Cups are the most efficient way of getting your morning fix without making a mess or having to walk to the kitchen. If you want to splurge, you can, of course, get a super luxurious coffee maker, getting your cappuccino ready when you need it.
19. Use Curtains
Even if you hang one on a wall, a curtain has a therapeutic effect. If you have a door, then it provides privacy. A curtain absorbs sound and makes the workplace quiet. In a silent room, the slightest 30 dB noise of a laptop cooling fan can cause distraction. Curtains are heaven-sent for both the aesthetics and soundproofing qualities.
20. Get a Humidifier
Locked in a room with air-conditioned air all day can make your nasal passage irritated and give you a sore throat in no time. A humidifier makes the air a pleasant sixty percent humidity and keeps you feeling energetic and healthy all day long.
Plan Your Home Office Right
Having a good mood is essential for productive work.
You have to think of your home office as more than your bed or kitchen table and a laptop. It is the fountainhead of energy and inspiration that would pull you through grueling workdays and nights and make you a more efficient freelancer or remote employee working from home.
So, research the office furniture and home office decor you fancy and that suits your needs best. Make a list, take measurements, calculate the cost and once you're sure they're the perfect fit, go get them and create your very own home office oasis that you look forward to going to every day.
Author Profile
SEO Consultant & Blogger Outreach Expert at ClickDo Ltd . Has Expertise in Google Ads, Facebook Ads & Remarketing Ads. Interested in writing about Business & Technology stuffs.