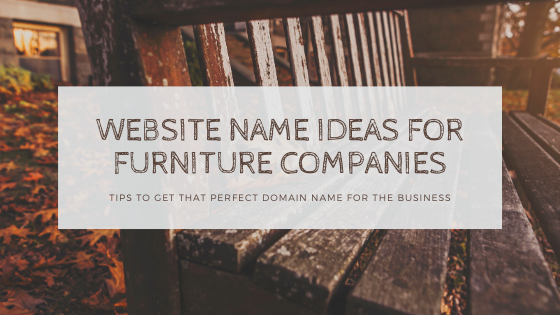 Website name ideas for furniture companies
With the high rise in living lifestyle and state-of-the-art choices, many companies are orienting towards furniture business. This business domain has attracted many entrepreneurs as well as large enterprises as the demand is growing both nationally and internationally. Whether it be a home, office or restaurant furniture, the furniture market has expanded exponentially in every sector.
For any growing enterprise, establishing its name and brand is highly essential. Gone are the days of distributing pamphlet and advertising through newspapers since this mode of marketing is quiet restrictive and local bound.
Nowadays online marketing is at paramount as it spans a large mass of people and is found to be more effective. Hence it's essential that you maintain a good website that will represent your furniture company's identity irrespective of how contemporary or local furniture you are dealing with.
Here we present a few tips and ideas which will be quiet worthy for furniture companies
Keyword Oriented
Be sure your website name readily pops up in the Google search. Keep a relevant name by making use of the keyword tool. Also since the competition in this sector is also high, ensure that similar website names are not being taken or rampant enough. Play a unique game.
Go for IDN
'Be like the Romans, when in Rome'. Want your website to be appeared in the same dialect according to the region where it is accessed? Internationalized Domain Names (IDN) help you in doing so. With IDN your website can be named according to customer's respective language. You just need to enter the domain name in the registered website and it will convert into its Punycode or native language characters. For viewing the IDN characters, the web browsers language settings must be adjusted.
Use the right TLD
TLD (Top Level Domain) or extensions are the three letters that are suffixed with a dot after the domain name. For example, .com, .in, .biz. Here you can have a variety of option to choose from. Moreover, there are new TLDs for almost every niche. You can simply opt for .furniture extension too. Furniture companies that are trading within India can utilize the .in extension to be more precise. Also keeping your email ID associated with the same domain name leverages your market value and credibility. Other TLD alternatives which you can opt for are: .supply, .industries, .storage, .group, .trade, .market and the list goes on.
Own Multiple domains
It's a good practice to adopt more than one domain. One can serve for your primary website whereas the other can be for your subdomains, all directing towards your main website or business. This can be a great source for driving traffic and keeping your customers internally connected.
High expansion is expected in the furniture market in the near future. India is the origin for a rich supply of a variety of woods. This gives the small as well as big companies a boost in their furniture production and supply. Solidly grounding your furniture company right now is the quintessential demand in a digital environment. Don't let your company dissolve in the sea of furniture.
Author Profile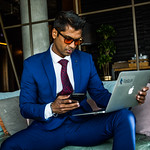 ClickDo Ltd. - CEO