Circumcision in London ranks #1 on Google for the same
The circumcisioninlondon.co.uk website ranks #1 on Google and holds well.
The website was built on the Wix platform, which is not the most SEO friendly; however, with correctly done On-Page SEO and guest blogging for backlinks, it ranks well.
I worked on the website fixes after taking over the SEO project at ClickDo from the client.
I wrote a Wix SEO case study on how I did it and pulled the site up to the top of Google.
This was a swift ranking case study, and in less than two months it budged to top 3 and took few more months to ranks #1
Even after ranking #1, there were some shuffles, and now the website is stable at #1 after experiencing many Google updates.
Looking at the ranks and how it's sitting at the top, I would say this site will rank forever unless competitors work so hard to get top backlinks from Dinesh at ClickDo. Without top-notch guest posting backlinks no way some other competitor can outrank this site for long.
There can be slight ups and downs on top 3 when Google coughs, but that's it.
Yesterday I wrote the new about the Quick Wasters ranking again #1 for "rubbish removal london"
Ranking #1 for the top keyword is the best way to get more organic leads and enjoy the business.
It's tough, but in the end, it's worth it.
I will write about the EOT Cleaning story to #1 for "end of tenancy cleaning london" after two years of continuous SEO work. That's one of the most inspiring client stories, and I will do a video on how everything was started and what it took to rank #1 for the top uber-competitive keyword and blow up with targeted traffic from Google organically.
If you are looking for best SEO services or want someone who can help with backlink services, get in touch with Dinesh by emailing to dinesh@clickdo (dot) co.uk or call us our hotline for SEO.
On a side note: the website also gets a ton of traffic from Google AdWords done by Dinesh personally and it has greatly helped the organic SEO ranks with the on-page time and interactions on the website. 
Author Profile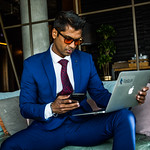 ClickDo Ltd. - CEO