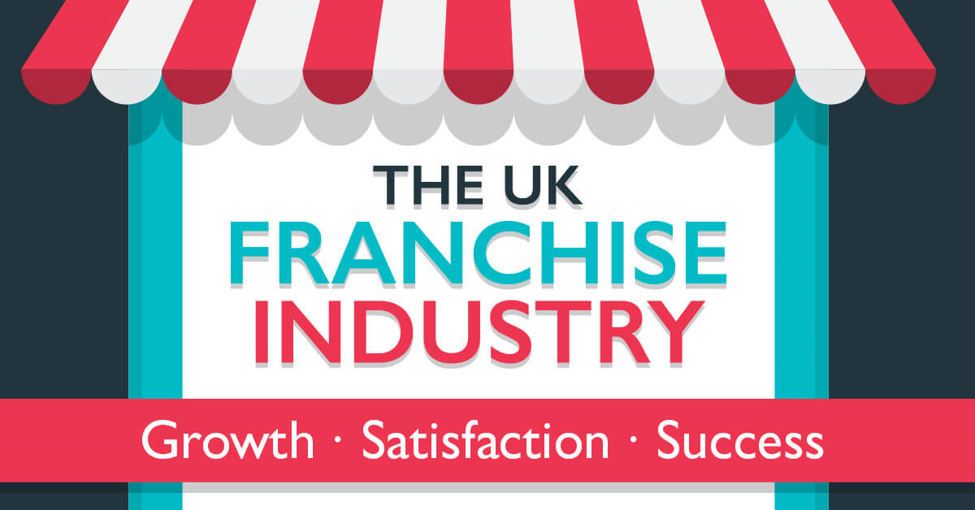 Top 10 franchise businesses to join in the UK
[DISPLAY_ULTIMATE_SOCIAL_ICONS]
[vc_row][vc_column][vc_single_image image="5723″ img_size="full" alignment="center"][vc_column_text]For anyone looking for a sustainable business without the proverbial 'daily grind', there's none better than a franchise.
Your investment in the property rental and upfront deposit cost are the pillars of the business model. The marketing and product development are handled by the franchiser. It is a turnkey proposition, and it is available as soon as you can set up shop, quite literally.
The statistics below paint a clear picture of franchise businesses being on the rise in the UK and that women are gaining more business opportunities through franchising. Another fascinating trend is that nearly half of all franchise businesses can now be managed from home.[/vc_column_text][vc_single_image image="5724″ img_size="full" alignment="center" onclick="custom_link" link="https://www.accesswire.com/users/newswire/images/530710/fdfa6b9d-9060-451e-a719-be61a418f5d6.png"][vc_column_text]
What are the best franchise businesses you can opt for? Let's take a look.
1. Barking Mad
Your investment is about GBP 15,000, and you can be part of the most exciting pet care business in the UK. Barking Mad has about 80 franchisees now and won multiple awards, including the BFA HSBC Franchisor of the Year 2013 for Franchisee Support. Barking Mad offers home boarding of pets, and the only thing that you need is ample love for man's best friend.
2. Angela's Swim School
Angela's Swim School teaches people of all age groups how to swim. Owned by Angela Wilson, a medal-winning swimmer, the school specializes in teaching students of all ages the correct way to swim.
The investment is GBP 22,000, and in return, you get access to a swimming pool and your own territory. As the business expands, you will be encouraged to take on additional instructors.[/vc_column_text][vc_single_image image="5725″ img_size="full" alignment="center" onclick="custom_link" link="https://www.accesswire.com/users/newswire/images/530710/fdfa6b9d-9060-451e-a719-be61a418f5d6.png"][vc_column_text]
3. Costa Coffee
A huge rival to Starbucks, Costa Coffee has over 20,000 outlets in the UK. Owned by the Costa Brothers, it is the most popular place to drink coffee across the country.
An investment of at least GBP 250,000 is required. You may not invest in a full store or café, but a coffee machine or a smaller coffee bar. According to reports, it is highly lucrative due to the enormous goodwill of the brand.
4. Fitness Space
A Fitness Space franchise would cost you approximately GBP 200,000 and some additional fees for equipment. The owner Tim Benjamin was a celebrated 400 meters runner, and the business specializes in offering a bespoke training routine to its clientele.
5. Tutor Doctor
Tutor Doctor is a home-based franchise. You would be allowed access to students and get training in pedagogical styles that will help you succeed.
At only GBP 50,000, this franchise opportunity is highly affordable. Once you're set up, you would have access to their state-of-the-art e-learning program that brings out the best in every student.
6. Bright & Beautiful
Here's another award-winning business, that provides home cleaning services across the UK. You and your team would be given adequate training by the company and will get an assured stream of customers at the start.
As your goodwill grows, you would own a profitable business. Home cleaning remains a necessary service for many households. Once you establish a client base, focus on quality, and you'll have loyal clients entrusting you with repeating business.[/vc_column_text][vc_single_image image="5722″ img_size="full" alignment="center" onclick="custom_link" link="https://ichef.bbci.co.uk/news/410/media/images/73147000/jpg/_73147520_tax_think.jpg"][vc_column_text]
7. TaxAssist Accountants
Founded by John Westgarth, a chartered accountant, TaxAssist Accountants provides you with the know-how to provide bookkeeping services and file tax returns for small businesses.
You do not need to have an accounting background as TaxAssist provides you with technical training. As tax rules for export after Brexit become more complex, this is a business that would give a windfall opportunity.
8. Agency Express
This is a low investment franchise business, and all you need to get started is a van. Agency Express is a professional estate agency board service provider and offers huge returns of above GBP 60,000 per van for board maintenance.
You also get access to software and free listings by real estate agents. The typical investment is GBP 65,000, and an eight-day training offers you the know-how of creating and maintaining estate agency boards.[/vc_column_text][vc_single_image image="5727″ img_size="full" alignment="center" onclick="custom_link" link="https://images-na.ssl-images-amazon.com/images/I/61o-%2BCFDLVL._SX355_.jpg"][vc_column_text]
10. Home Instead Senior Care
Home Instead Senior Care is a global brand with operations across a dozen counties. In the UK, there are over 200 HI service providers.
The minimum amount required for investment is GBP 30,000 and you will be trained to provide effective senior care at home. There are manuals and training programs for your team, as well. No qualification is required apart from having a caring and compassionate nature.
The perfect steppingstone into the business world
The franchise model is perfect for you to cut your teeth in the business world. Of course, there is an upfront investment, but most top-rated franchises, as suggested above, pay you back in 9 months to a year. And the big plus is that you're learning all about running a business firsthand, but you're not alone.
If you're looking for more low-investment franchise opportunities you can also run remotely, find more on information here.[/vc_column_text][/vc_column][/vc_row]