LinkedIn – The Unknown Golden Tool must include in your Digital Marketing Strategy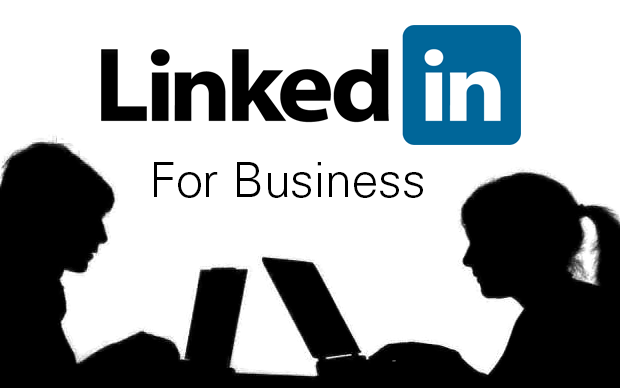 As a digital marketing professional you must have observed that LinkedIn is one of the best tools to connect with fellow industry experts. Since long it has been transform from a professional networking site to an enormous people place. Since its inception marketing nerds are trying to crack the nut on using it as a promotion tool. The foremost reason for this is availability of the millions of professionals at one place, so it's for sure that there's some way to open the flood gates to get prospects converted to clienteles.
So, now as you are aware about what potential does the LinkedIn have for your online professionals that let you reach heights by assisting you to build a money making business empire.
Hold On…!! You might be wondering how come that is possible. Is there is any room to promotion that opens your doorway to success?
You heard that right…Yes, It is possible…!!! Let see how this phenomenon works.
In this post, I'm going to show you some advanced techniques with the help of which you can use LinkedIn as a powerful tool for your business.
Here's how LinkedIn process works?
Establish —->  Connect  —-> Engage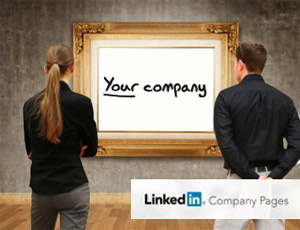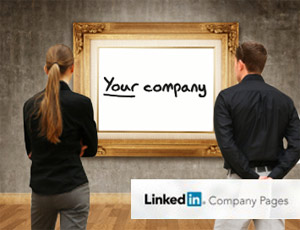 1. Create Company Page that Speaks: To use the power of LinkedIn it is very most important to create a Company page that talks lets the visitor know more about it. You must work for the page with an intention to get leads. The best way to do is to structure your company page in such a manner that it focus on a conversion action. The action of conversion is a CTR to your company website to include in the company description or company updates. The effective tip for these are:
Create an image that grabs attention for the first time visitor on your page
Have a compelling pitch that instigates the user to click more.
Make your Recent Updates section clickable and conversion focused.
2. Make the Best use of Advance Search Feature: It is very crucial to make the best use of Advance search options provided by LinkedIn. This will work as a helping hand for building connections. Let's see how.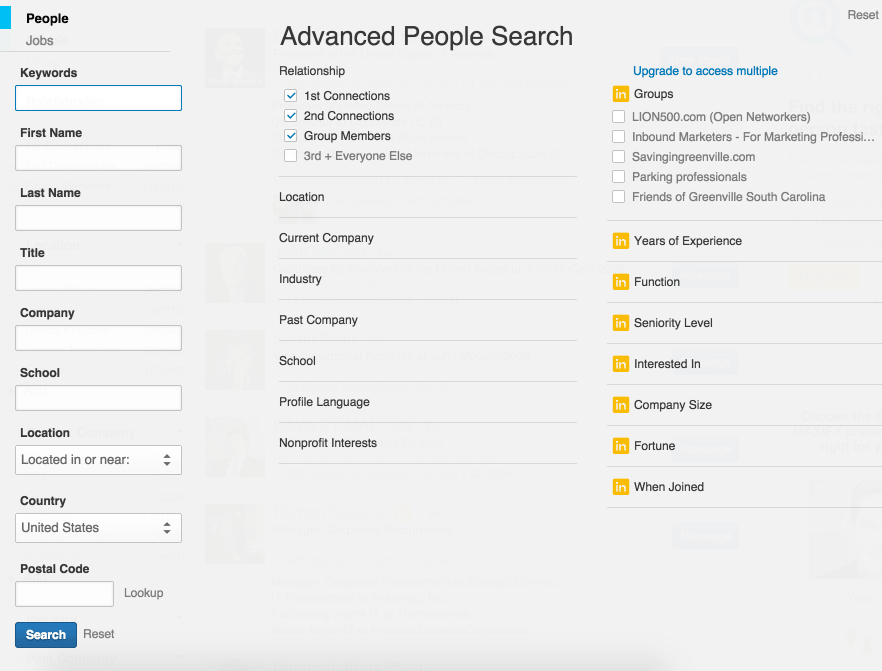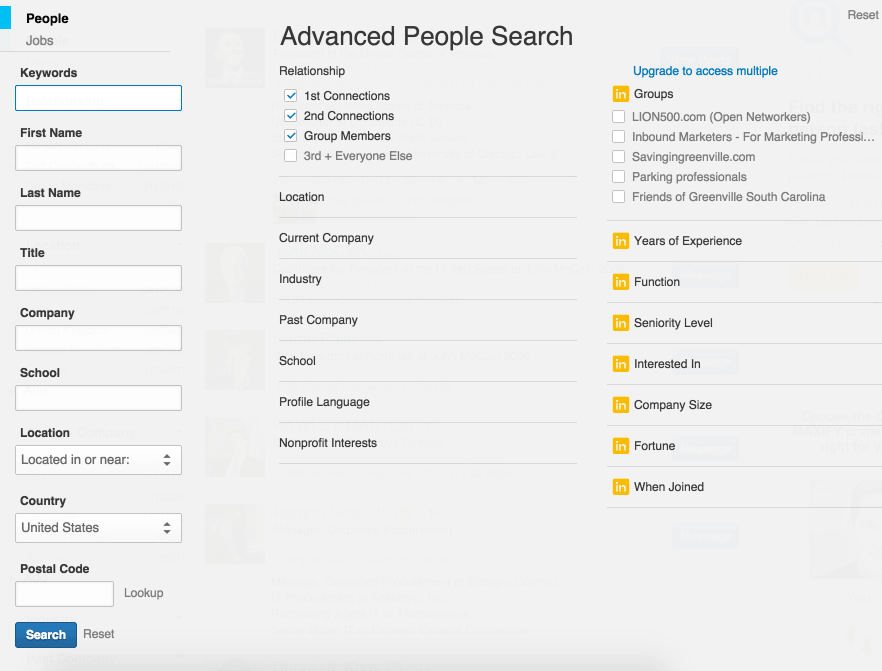 In the above image you can see various fields which allow you to search for people who are working in your field since years. So finding them and getting them in your connection will works best for you.
Step 2: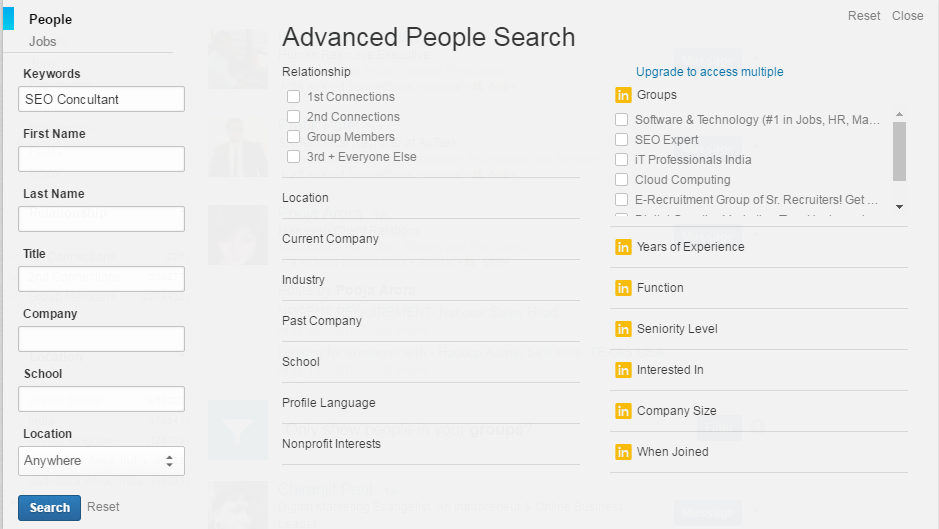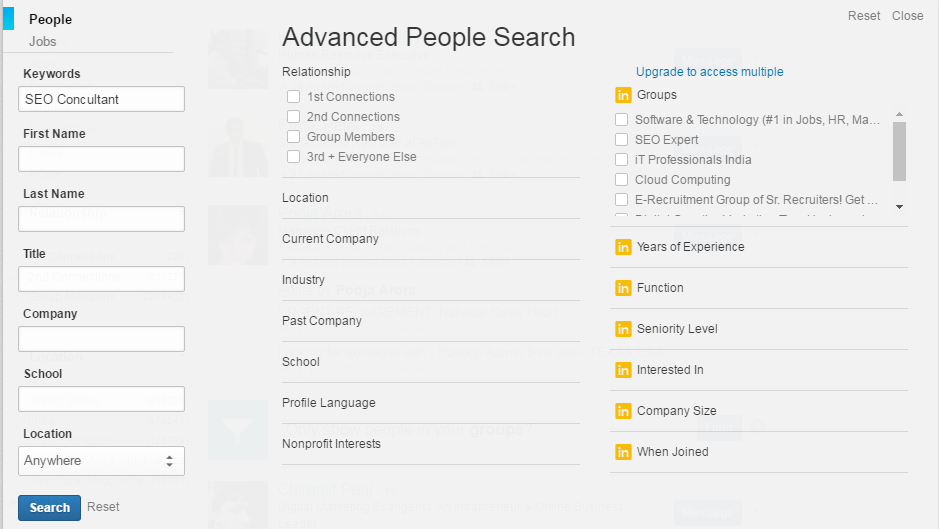 In the above step, I am trying to search for the keyword SEO Consultant. The LinkedIn also provides multiple fields to filer connections. Just need to place the keyword in the field given and on pressing search you will get ample of profiles of people in the industry. Try to send the request and connect with them.
3. Be a Part of a Group: Likewise, Facebook LinkedIn is also the unknown medium to join industry-specific groups to interact and engage with  experts or newbies in the field. It is the best platform to showcase your skills and know about others expertise.
Let's see how to become a part of the group given in the steps below.

In the image above you can see how to choose the Groups option from the dropdown just next to the search box and it will provide you various options on most active groups on LinkedIn. Joining the similar groups of your area of interest and engaging with fellow members will help to spread the word about your business in online world.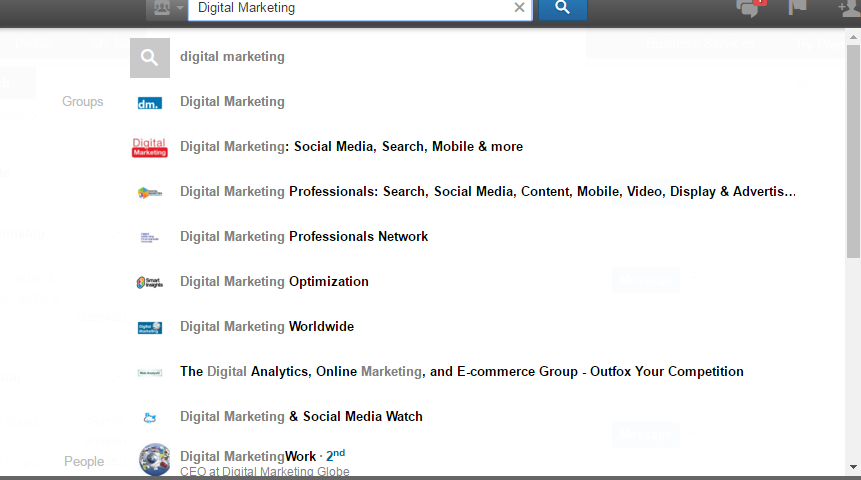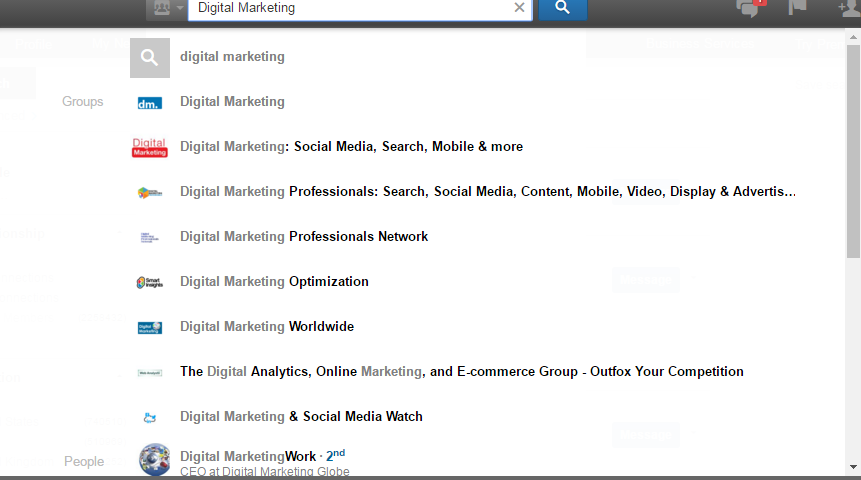 The above image shows the number of available groups for the Digital Marketing professionals. You have an open platform to get massive audience to spread the word. Also, it is one of the best tools to promote your business by tactfully engaging with members in the group.
4. Personalize with your connections on LinkedIn: The LinkedIn is the best medium where you can get a chance to personalize with your audience. Once you managed to build about 200-300 connections at least then you can easily get in touch with them through email. Below image explains how to do it effectively.
Steps
Once you Login to your LinkedIn dashboard just click on this Link. This will land you on the page as displayed in the screenshot below.


Download all the connections in .CSV file and start emailing them and start building business relations with them. This will improve your business visibility and reputation as an owner in the world of web.
Isn't this sound great to you?
 Conclusion and Takeaways
On a concluding note, LinkedIn Marketing, and Promotion is a very wide strategy which works best for each one of us if done in an effective way with proper planning and execution.
If you are beginner then, start gradually and it could very well turn into your next lead generation tool.
Author Profile

Hi, I'm Madhur Sahasrabhojani. I do write about online marketing and business strategy for various industries. I work as SEO consultant and do write for blogs that needs traction on the web.