Blogger Outreach Services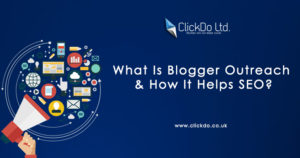 What is Blogger Outreach?
Blogger outreach for SEO or PR services is used to gain more exposure with other bloggers and writers in your niche, to network and to create increased awareness about your products or services.
Find the best ways to connect with and leverage other top influencers that have already established their web presence online and author or blogger profile.
Connect with them to propose different collaborations, pitch a guest post to them or ask them to write about/review your products or services to get the word out to the mass market.
You can see how ClickDo Ltd. does this successfully through the following examples:

Utilizing Blogger outreach campaigns are among the best ways to get your website or blog ranked higher up on SERPs with mentions and backlinks from high-authority websites in your niche or industry.
Blogger outreach can also lead to more natural backlinks, social mentions or collaborations that will expose you and your expertise to a wider audience and make your website a more trusted presence.  
How to do Blogger Outreach right in the UK?
At ClickDo, we have been practicing high-quality blogging, blog networking and blogger outreach services UK techniques such as guest posing services successfully for our own websites and those of clients, which you can find in the case studies section.
This has helped us and our clients rank for uber competitive keywords in the SEO industry.
For competitive searches such as "SEO Consultant" or "SEO Expert" ClickDo managed to rank #1 with authentic brand building techniques we use with blogger outreach and guest posting methods.

Blogger outreach SEO methods must be conducted in a very strategic manner to be effective.  Our team knows how to get a mention or a guest post publication on relevant high-authority websites so that your business websites get powerful links to shine online.
We guarantee that blogger outreach brings the SEO results you're looking for!
See how this client grew their monthly web traffic from 2k to over 20k in a few months with the best blogger outreach, link building and guest posting services provided by ClickDo SEO expert Dinesh:
Impressed? So, how to do it?
Basically, this is how you perform a successful blogger outreach campaign:
You study your market/niche and research influencers, authors, journalists, bloggers or higher authority websites/blogs that you want your message to be published with.
You read their content, you comment on their blogs or social media posts, and you get on their radar to make a connection.
You email them and ask if they would be happy to collaborate with you, write about you or your products or services and you discuss what you can offer them. You pay the price you're happy with (perhaps a content exchange, any other form of collaboration such as an interview, a mterial exchange) and get a mention with ideally a permanent do-follow link and author bio.
These blogger outreach methods take time and you might be too busy running your business.
That's where a blogger outreach expert can help you.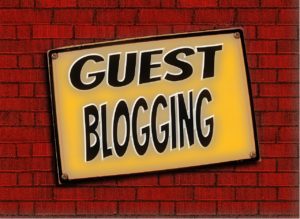 They can deliver it all for you and plan a strategy for the most cost-effective campaign that will bring you the SEO results you're looking for. The advantages are clear:
You can get guest blogging and writing services to write about your brand, products or services with SEO optimization so that you are guaranteed to get published.
You can get your brand content published much faster with guest posting services if you know the websites and if they are the right fit for your business.
Getting more brand mentions and social mentions on the web helps SEO. Having links coming to your website from other relevant websites helps with your ranks.
At ClickDo we have hundreds of UK PR websites that we use for blogger outreach and guest posting services. You can see them here.
You can also find more guidance and outreach ideas here:
Top 100 Business Blogs To Follow In 2019: Best Small Business blog Sites | UK Business Blog (clickdo.co.uk)
Top 20 SEO blogs to follow in 2021
Top 15 Education and Student Blogs accepting your Guest Post
Can Blogger Outreach help SEO in 2021?
Yes, it certainly can help your SEO and give your brand and website a massive boost, helping to increase your rankings for your top SEO keywords in 2021. But it is crucial to use the correct keywords, anchors and links for the ultimate rankings hence why it is vital to understand the science behind it. 
Read some of our extensive guides on blogger outreach, link building and guest posting to get a deeper understanding of the concept and how it can be beneficial for your online presence:  
Alternatively, you can sign up for free to the SeekaHost University where you can learn blogger outreach, link building and guest posting techniques in the SEO Training Courses, SEO Copywriting Course and Blogging Courses.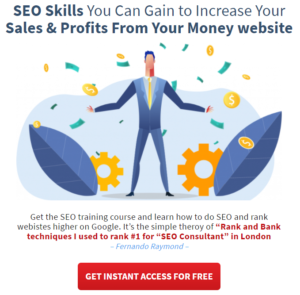 ClickDo™
Average rating:
0 reviews