How to get the Digital Nomad Visa in Croatia? – Application, Travel & Accommodation Options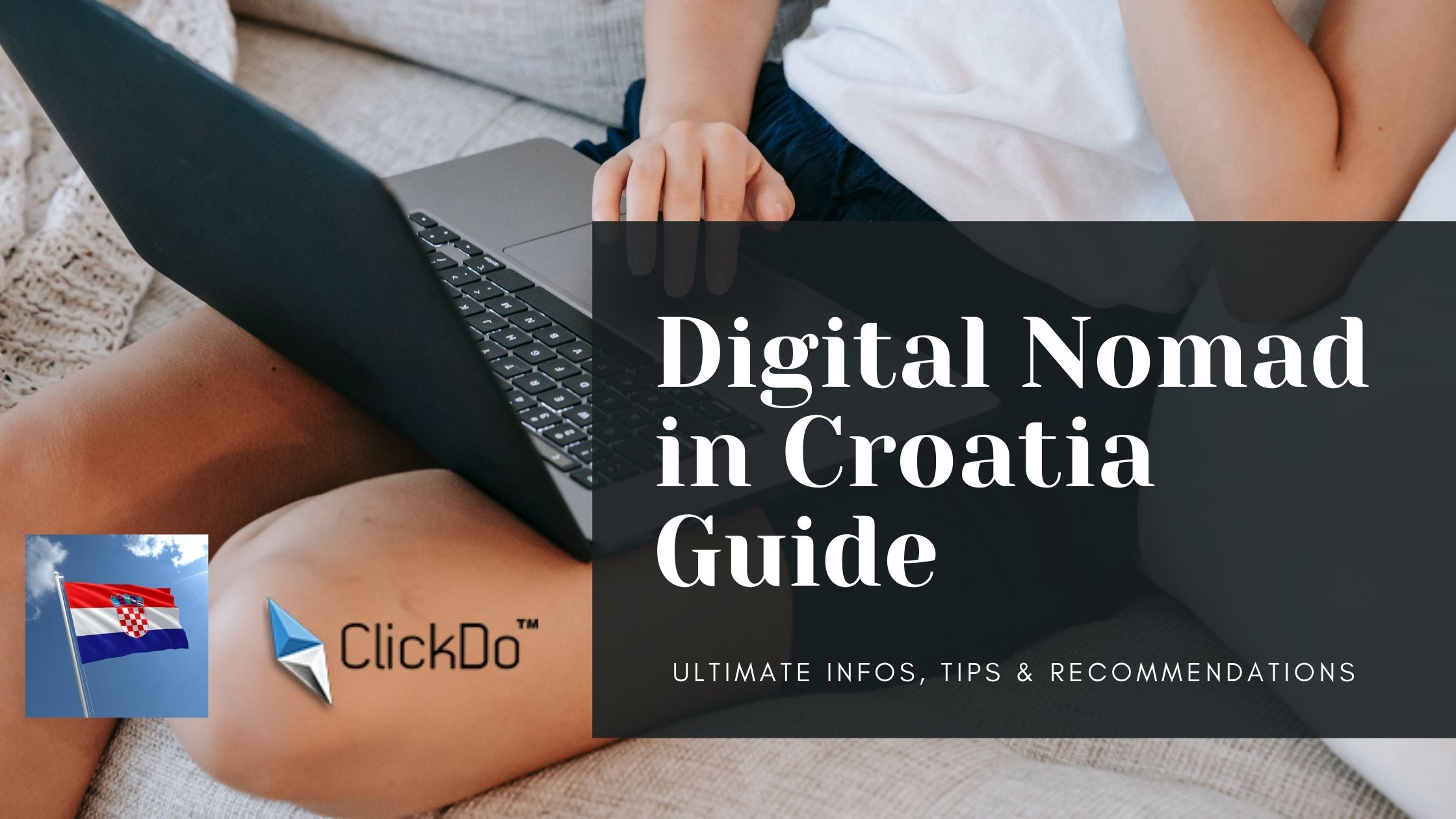 Now that travelling is opening up in many countries, remote workers and digital nomads can re-evaluate their options to work in different locations around the world as during the pandemic new opportunities have arisen.
The Mediterranean is a popular destination for many not just in Europe and the Balkans. Croatia has been leading with targeting digital nomads as it has introduced an attractive digital nomad visa in January 2021 after Dutch entrepreneur Jan De Jong wrote an open letter to Croatia's Prime Minister Andrej Plenkovic one year earlier, urging him to not ignore a new type of traveller emerging in the digital era.
ClickDo has been operating with remote work ever since it was launched by the ultimate digital nomad, Fernando Raymond, in 2013 and so does his other company SeekaHost.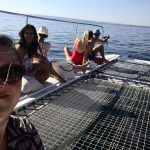 Manuela at ClickDo, who loves to travel as a digital nomad also in Croatia, has interviewed Jan De Jong about the latest news surrounding the Croatian digital nomad visa and his work with the Digital Nomad Association Croatia.
Additionally, she has done some research about the current travel conditions and what Croatia offers digital nomads in particular by interviewing some hotels that provide tailored packages and an agency that supports digital nomads with every aspect of their stay in Croatia.
Interview with Jan De Jong & ClickDo – 10 Digital Nomad Questions answered
1. Thank you, Jan for talking to us. Could you first please introduce yourself briefly and how you became the president of the DNA Croatia?
In 2006, at the age of 22 years, I moved from the Netherlands to Croatia – where I started my first business, called M+ Group. In 2016, I sold my business, employing at that time over 400 people in our contact centre.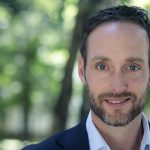 In the years that followed, I have started several other businesses, including Webpower Adria – the first locally present email marketing solution in Croatia and the rest of the region. Through my other company, CROP, we plan to build high-tech greenhouses in Croatia for growing vegetables – year-round, as Croatia is heavily under-invested in this area.
Last year, I initiated the introduction of a digital nomad visa in Croatia by writing an open letter on LinkedIn to our Prime Minister, Andrej Plenković. 44 days after my open letter, I had an opportunity to meet our Prime Minister, who gave me full support for my initiative.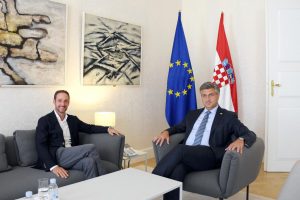 As of January 1st, 2021, Croatia became among the first 10 countries in the world to welcome digital nomads by granting them 1-year staying permits, during which digital nomads shall not have to pay any income tax in Croatia – in order to avoid double taxation.
The moment we knew that Croatia was going to introduce a digital nomad permit, we decided to start the Digital Nomad Association Croatia. Together with my co-founders Tanja Polegubic and Karmela Tancabel – it is our mission that through our association we can unite and serve digital nomads in Croatia.
2. Could you enlighten us more about the DNA Croatia and what it does for digital nomads and Croatia?
Especially in the beginning, we coordinated all efforts with the involved ministries to ensure that we have the legal framework that allows digital nomads to come to Croatia. Now, our efforts are focused on helping to build communities in Croatia.
3. What is unique about the Croatian digital nomad visa and how will it make Croatia a top destination for digital nomads compared to other European countries?
As an entrepreneur, I always like to compete. And I believe that the competition on getting digital nomads to come to certain destinations or countries is going to get very real. Therefore, when we created our own permit in Croatia, we closely looked at what other (competing) countries were offering.
What makes our digital nomad permit unique and strong in Croatia is that:
Digital nomads will be able to stay max 12 months
Digital nomads will not become tax residence in Croatia during this period.
Annual income required in order to get approved is EUR 25.600,00 – which is lower than most other countries that offer a DN-visa program require. (In case you don't have regular monthly income, its also enough to show EUR 25.600,00 in savings)
Digital nomads would need to have private health insurance coverage. In case they don't have health insurance, they can buy this in Croatia.
4. Digital nomadism and remote working are on the rise, but also experience criticism with regards to exploiting local communities or contributing to pollution for example. What is your take on it?
Over the past 10-15 years nearly 500.000 (mostly young and talented) Croats have left Croatia. By welcoming digital nomads, I see an opportunity to reverse the brain-drain. For a change we will see young and talented people come to Croatia and I believe that the digital nomad community can significantly contribute to positively impacting the mindset of our youngest generation.
5. You are the co-founder of CROP, a company that invests in high-tech greenhouse infrastructure in Croatia for more sustainable food. How do you bring sustainability and digital nomadism together?
Yes, last year I co-founded CROP – however, there is no connection between my digital nomad related efforts and building greenhouses in Croatia. The only thing both topics have in common is my great passion to see both of these opportunities succeed and positively impact Croatia's economy.
6. As a serial (digital) entrepreneur with a specific interest in tech can you tell us how the digital transformation has impacted you, your skills, your business ventures and when you started your first website?
I am actually a lot less tech-savvy than most people think. What does define me is that I am very open-minded and always ready to adapt myself and my businesses to new circumstances.
At Webpower Adria, we are all working from home since the lock-down started in 2020. We have not returned back to the office ever since and I am giving my colleagues complete open hands in deciding whether they wish to work from the office or from home.
7. At the SeekaHost University we teach digital skills and have published a Digital Nomad Guide and Digital Entrepreneurship Guide where we highlight the skills required for online work. Would you say that digital nomadism and digital entrepreneurship offer more people business or work/career opportunities? Perhaps also looking at the pandemic?
From my entrepreneurial point of view, I think that one of the biggest opportunities is that we can now recruit talent to work for our businesses from all over the world. We are no longer limiting ourselves by only hiring staff that lives nearby our offices. A few weeks back, we hired a young women from Osijek, while our office is based in Zagreb – some 250 km away.
But this opportunity goes both ways. Employees can now more easily than ever before find employment far away from home.
8. Which digital skills do you find the most important and which skills did you learn with your email marketing automation company Webpower Adria?
Now that we are meeting or seeing each other less and less, I believe that the power of content marketing has significantly increased. It's a perfect way to keep your audience or stake-holders engaged with who you are and what you do and can have a tremendous impact on how you do business development.
For example, Webpower Adria doubled the number of clients last year as a result of good content marketing.
Email marketing offers a great ROI, outperforming many other digital marketing channels. With e-commerce surging, email marketing is surging.
For many marketers or companies, email marketing became a more important communication channel, but very often – they have little to no experience in this area. That's why I believe most companies wanted to work with Webpower Adria. We offer more than just SaaS as we consider ourselves to be the email marketing partner of our clients.
9. Many digital nomads opt for more affordable and tropical destinations like Bali. How do you think Croatia can compete with those, especially in terms of cost of living, accommodation and travel all year round?
Croatia is an affordable destination for Western European standards or American standards. It's an EU country, giving digital nomads access to the rest of EU, fast internet connection, an amazing Mediterranean lifestyle. Last but not least, Croatia is a very safe country, with the lowest reported crime rate in Europe. All in all, I believe that's a great set of benefits.
10. Is there any other information you would like to share with our community today?
In case you would like to know more about Croatia's digital nomad permit, you can find all information at digitalnomads.hr.
We hope to welcome you one day!
More Details on the Digital Nomad Visa from the Croatian Ministry of the Interior regarding cost, address registration and joining family members
After having researched the temporary stay page of the Croatian Ministry of the Interior, the following questions were asked and answered by Pitanja MUP <pitanja@mup.hr> in an email exchange end of June:
1. What does proof of means of subsistence during the applicant's stay in the Republic of Croatia entail/require?
They can submit a bank statement or proof of regular income.
Third-country nationals who are regulating their temporary stay as digital nomads are required to have the amount corresponding to at least 2.5 average monthly net salaries paid for the previous year, in accordance with the official data published by the Croatian Bureau of Statistics.
This amount is increased by 10% of the average monthly net salary for each additional family member or life partner or informal life partner accompanying them. 
Currently, the amount required on a monthly basis is a minimum of HRK 16,907.50 (= £2000). More precisely, if the applicant intends to stay in the Republic of Croatia for 12 months, they need to prove that they have a minimum of HRK 202,890.00 (= £23.000) available.
 2. Please clarify the requirements to provide a residence address when entering the country?
Please note that, when filling in Form 1a to submit an application for temporary stay as digital nomads, third-country nationals need to provide the address of their stay or intended stay in the Republic of Croatia. This is important for determining the police administration/police station that has the local jurisdiction for processing their application. If this is the first time that the third-country national is applying and they do not have an address in the Republic of Croatia, they can provide a temporary address as the address of their intended stay (hostel/hotel if they have a reservation/confirmed reservation of accommodation).
We would like to point out that the temporary stay permit of a third-country national will be withdrawn if they do not register their temporary residence address at a police administration or a police station within 30 days from the date on which they were granted temporary stay.
Third-country nationals are obligated to register their temporary residence address within 3 days form their entry in the Republic of Croatia at the competent police administration/police station according to the location of their stay This is done by filling in Form 8a

and enclosing a lease contract, a statement from the landlord, or a title deed.

If the lease contract has been concluded for less than one year, please note that the third-country national digital nomad can inform the competent police administration or police station of the change in their temporary residence address by filling in Form 8a within 3 days from the date on which the change occurred.
 3. What costs do the digital nomads have to cover during and after their temporary stay visa application?
The administrative fees and form costs are listed under "COSTS" on the following link: https://mup.gov.hr/aliens-281621/stay-and-work/temporary-stay-of-digital-nomads/286833.
If the application is submitted at a diplomatic mission/consular post – the costs are paid when applying.
·         HRK 420.00 (= £48) for granting temporary stay, and
·         HRK 460.00 (= £52) for the visa (if the applicant submits his visa application through the VFS visa centre, they will be charged an additional fee for the service) or
·         HRK 310.00 (= £35) for the biometric residence card (applicants need to check with the diplomatic mission/consular post about the possibility of obtaining the card). 
If the application is submitted at a police administration/police station – the costs are paid after the stay is granted.
·         HRK 350.00 (= £40) for granting temporary stay, and
·         HRK 70.00 (= £8) for administrative fees for the issuance of the biometric residence permit and HRK 240.00 (= £28) for the biometric residence card.
4. What can Digital Nomads in Croatia do when their temporary stay visa expires?  
The Aliens Act expressly prescribes that third-country nationals can submit their application for temporary stay as digital nomads after the expiry of a six-month period from the date of expiry of their temporary stay that was granted to them as digital nomads, having in mind the nature of their work and the fact that they are not bound to any location but are characterised by mobility.
Third-country nationals who wish to stay in the Republic of Croatia for more than one year and who meet the prescribed conditions, can regulate their temporary stay for one of the purposes laid down in the Aliens Act (e.g. working for a Croatian employer, university studies, working as an intra-corporate transferee – ICT).
5. Who is considered as close family members that can join the digital nomad visa holder?
1. a spouse
2. a common law partner
3. a minor child common to spouses and common law partners, life partners or informal life partners, and a minor child of each of them, their minor jointly adopted child, or a minor child adopted by either of them who is not married, as well as a minor child of a life or informal life partner or his minor adopted child who is not married
4. parents or adoptive parents of a minor child who is a Croatian citizen, third-country national who has been granted long-term residence or permanent stay, asylum or subsidiary protection.
5. Temporary stay for the purpose of life partnership may be granted to a third-country national who is a life partner or an informal life partner of a third-country national who has been granted temporary stay of digital nomads. 
If the abovementioned persons are required to hold a visa to enter the Republic of Croatia, they have to submit their application for temporary stay for the purpose of family reunification abroad, at a diplomatic mission or a consular post of the Republic of Croatia.
If they are not required to hold a visa to enter the Republic of Croatia, they can submit their application for temporary stay for the purpose of family reunification at the competent police administration or police station.
The following should be enclosed to the application for temporary stay for the purpose of family reunification/ life partnership:
1.copy of a valid travel document (period of validity of a travel document must be three months longer than the period of validity of intended stay)
2.proof of health insurance (travel or private health insurance must cover the territory of the Republic of Croatia)
3. proof of purpose (birth certificate, marriage certificate or certificate of concluded life partnership, not older than six months, see Information on the legalization of documents)
4. proof of means of subsistence during applicants stay in the Republic of Croatia (see point 1 above)
5. proof that the applicant has not been convicted of criminal offences in their home country or a country in which they resided for more than one year immediately before arriving in the Republic of Croatia (see Information on the legalization of documents)
6.address in the Republic of Croatia.
What else is happening in Croatia right now for the Digital Nomad Community?
1. Events
is happening between the 21 to 27 June 2021. People can attend in person and online for a series of 7 themes over 7 days, covering: cyber security, online presence, remote careers, tax & finance, future of work, wellbeing and exploring Zagreb.
Zagreb Digital Nomad Ambassador Project
July to December 2021
The Zagreb Digital Nomad (ZND) Ambassador Project and the Tourist Board are inviting up to six digital nomads to take up a 1 month FREE stay in Zagreb, and share their experiences as a digital nomad. Ambassadors will participate in a program including free coworking, local engagement and promotion of their experience as a digital nomad in Zagreb.
2. Special Offers
Disclaimer: we have been in touch with the below providers and the offers listed are based on the information they have provided us with.
Radisson Blu Resort & Spa, Split
Offer for Hybrid Rooms and Breakfast + Spa Day (valid until 20.06), offer includes (contact: Ivana at ivana.sucur@radissonblu.com):
Breakfast
Outdoor, indoor pool and jacuzzi use
Saunas
Fitness facilities
Offer price: 300kn
Best digital nomad features:
good Wi-fi around the Pool area and Mistral Beach Club with amazing views over the Adriatic sea.
''Taste of local drinks' and local experience where you can try local homemade brandy's and get to know more about the local drink 'Rakija'
Adriatic Luxury Hotels Dubrovnik
21+ extended stay offer for digital nomads (contact: Djeni at djeni.paskojevic@alh.hr):
To qualify for extended stay offer/benefits booking has to be for at least 21+ consecutive days, can be extended beyond 21 days upon request.
Accommodation does not include cooking facilities within the room/suite (except coffee/tee making facilities) but the "Extended stay offer" qualifies for complimentary 'In room' breakfast included in the room price, and a special 20% discount on hotel's F&B offer, complementary housekeeping & laundry service, workout facilities and spa & wellness access, direct beach access, HighSpeed WiFi, knowledgeable staff and concierge services.
Other digital nomad perks Dubrovnik offers:

 Initiatives and projects carried out by the local tourist board like: "Dubrovnik for digital nomads conference", "Digital nomads in Residence" project
Dubrovnik (and Croatia) is one the safest countries in Europe in terms of crime and security. English is widely spoken (over 80% of the population speaks English, along with German and Italian).
Healthy Lifestyle Options with a mild Mediterranean climate with about 300 sunny days per year, a beautiful coastline and crystal clear sea for daily swimming and surrounding mountains for hiking or mountain biking. Healthy Mediterranean cuisine with locally sourced produce like fish, olive oil and indigenous wines.
Connectivity to all major UK airports throughout the majority of the year, with several daily connections to London (this is currently under revision due to Covid regulations – please adjust according to the publishing date of the article).
Adriatic SeaChange Relocation Services for Digital Nomads
Adriatic SeaChange specialises in relocation, accommodation and lifestyle services for remote workers and digital nomads worldwide (contact: Barbara at adriaticseachange@protonmail.com).
Specialise in advisory services in connection with
visas,
tax,
residency,
healthcare,
employment
Barbara has provided us with the following information regarding the Digital Nomad Visa & Initiatives in Croatia:
Consulted with 20-30 digital nomads about the digital nomad permit and they are from all over – but mostly the UK and USA.
Most digital nomads who have applied are "office workers" ranging from lawyers, management consultants, financial traders and project managers.  Some are in the health and wellness space (yoga instructor being one!).
Most digital nomads from abroad require assistance with navigating the bureaucracy in Croatia when applying for their visa. There is a significant language barrier in public services in Croatia and there is a way of doing things here that is very different to how things function in the UK or the US. They also ask for recommendations for services such insurance, health services, recommendations for things to do and see here in Croatia.
Most digital nomads like having a balcony and outdoor space, as well as a separate space to work.  Being in a good location and close to the local attractions is also key and many favour Split, but equally some nomads have set up in very remote parts of Croatia, enjoying the slow pace of life and natural beauty of this country.
Packages which centre on discovering things about Croatia that a standard summer tour would not include are compiled for digital nomads so they get to know locals to build that community that is so important for remote workers who may be in a place for the first time and on their own.
Events on Lokrum Island for example, where participants get to know the island and each other through a treasure hunt, followed by socialising over lunch and of course some Croatian delicacies (including the well known liquor Rakija) are available now.
Croatia is currently working on building and offering more co-working spaces and packages like the "Dubrovnik Digital Discovery 2021 package" offered this summer will lead the way in this direction.
3. Places of Interest for Digital Nomads
This newly launched co-working space in Split offers various options for digital nomads with shared and private office spaces to rent as well as just a desk while having access to communal facilities such as the shared kitchen. The space is located near the very popular beach "Žnjan" and the old town "Diocletian's Palace" to smoothly combine work with leisure.
For digital nomads looking for accommodation with a tranquil co-working space including a sea view The View Split may be ideal. Compact studio rooms surrounded by nature in the mountains 10 minutes outside of Split invite digital nomads to conduct focused work while having access to all amenities they may need, including a swimming pool to take a break. You can also find it on Booking.com.
4. Additional Information
For more information about the digital nomad permit in Croatia you can visit:
If you're also thinking about exploring the Balkans beyond Croatia then read this digital nomad guide about Belgrade.
Disclaimer: all information is based on the date of publication and will be updated at times. To stay up-to-date with all developments it is best to visit Croatia's Ministry of the Interior website and for Coronavirus related and travel information visit Croatia's government website.
Author Profile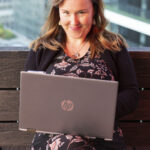 Blogger and Educator by Passion | Senior Online Media & PR Strategist at ClickDo Ltd. | Contributor to many Education, Business & Lifestyle Blogs in the United Kingdom & Germany | Summer Course Student at the London School of Journalism and Course Instructor at the SeekaHost University.