All Junk Removal company website creation and online marketing services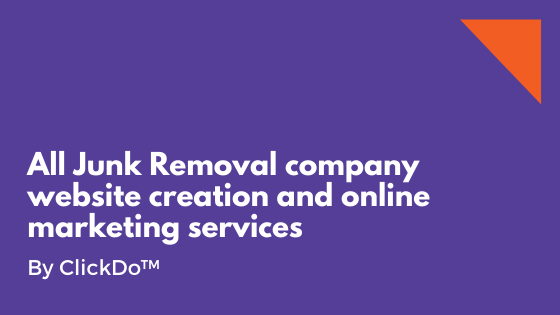 The new website for All Junk Removal was created by the ClickDoers web design London experts. The website was built on WordPress and hosted by SeekaHost.
The owners of the company already had a few sites in the same niche live on the web and we've worked with them for over 3 years now.
Since first getting to know the All Junk Removal management and ranking their first website on the first page of Google, they worked with us by paying our high price SEO consultancy retainer monthly, which is of course in the region of 4 figures per month in GBPs.
The All Junk Removal website was designed by Kasun Sameera and built by Madushan Abeysinghe. The image was designed by Praween Galawatta. Merging our ClickDoers' talents in that manner, enabled the end product to come up so well.
The website launch strategy was explained here, showing how to launch a WordPress website.
Currently, the website is smoothly moving to the first page of Google for keywords like "same day rubbish removal" and "rubbish removal London" and "junk removal london".
We are confident that the website is going to budge for the above terms as well as for more terms that the owners want it to rank for.
What are we doing to rank the All Junk Removal website?
Guest posting on niche relevant websites
Listing on UK business directories (done over 100)
Infographic link building
Social media marketing and remarketing to get traffic back to the website
Niche edits
As the website is already ranking on the second page for all the main keywords, we believe in the next 30 to 60 days it moves to SERP's and starts climbing up.
SEO is very tough, however, done right works well.
How to make SEO work in 2019, in 2020 and beyond?
Build the website perfectly with on-page SEO
Start UK business directory listings
Do some infographics and submit through sites to get naked URL links
Start getting guest posts on niche relevant sites
Do blogging to support the root domain strength
Buy PBN backlinks
Get niche edits
If the above work is done right, any website should be moving to the first page eventually to rank higher up on Google.
Read the case studies so you know how ClickDo SEO consultants rank websites on Google search.
Author Profile

I'm the CEO of ClickDo Ltd. and SeekaHost UK - I help the business grow online with latest SEO services & digital marketing strategies. You can find my guest blogs on the UK business Blog as well as on our my guest blogs on the UK Tech Blog
. More details about me can be found on this page.