ClickDo Ltd. wins Business Excellence Award for best SEO Consultancy Firm UK 2020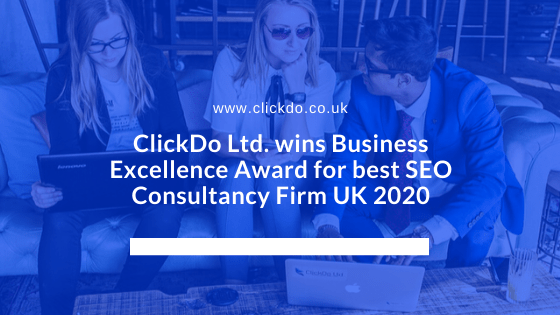 Acquisition International aka AI, an established international digital business magazine since 2010 has awarded ClickDo Ltd. their Business Excellence Award in the category "Best SEO Consultancy Firm UK".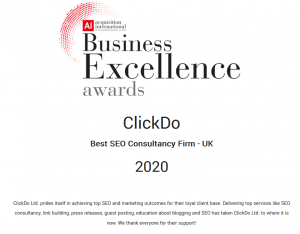 As a magazine that is considered the voice of modern business and that is circulated to around 108,000 professionals in the business world, everyone at ClickDo Ltd. is extremely honoured and proud to have been nominated and named the winner by AI.
ClickDo Ltd. is based in London, Europe's finance and business hub, and has worked its way up in this competitive city to be known as the best SEO consultancy firm beyond London and in all of the UK. Fernando Raymond, the CEO of ClickDo Ltd., is over the moon with the fantastic news:
"I always knew that Search Engine Optimization (SEO) is the future and that's why I decided to build my SEO consultancy firm and digital marketing agency here. It all started with my first blog, fernandobiz, in 2013 where I shared my knowledge about how to help small business owners in London with SEO. The blog attracted my first clients, paying me a small monthly fee for my SEO services. ClickDo Ltd. was born and it was run by me alone in its humble beginnings. And look where we are today!"
What is the secret of ClickDo's success today?
To meet the ever-growing demand of Fernando's SEO services he hired more staff and quickly realised that they all benefited from gaining more digital skills needed to provide top quality services. In the beginning he would train his small team individually where needed, but this became more time-consuming with a growing number of employees. That's when he decided to create SeekaHost University online courses for SEO and digital marketing so that everyone could become an expert, even ClickDo clients.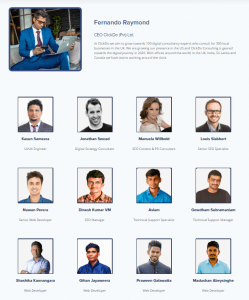 Step by step ClickDo grew and Fernando worked on several projects and digital products simultaneously to establish an SEO and digital agency that now does so much more than just SEO! Fernando's wider vision is to share all the knowledge and skills he has acquired so that others can also lead the digital nomad lifestyle and be their own boss or work remotely. Fernando always encourages others to create their own SEO start-up emphasising:
"Ultimately, the goal is to support as many local businesses in London and the UK as possible in order for them to thrive and create more job opportunities".
He believes that every business' success depends on its rankings on Google, the most popular search engine in the world, and on their online presence and marketing. You can work with ClickDo in many ways to boost your business – we offer:
– Link Building Services
– Google AdWords support
– Guest Posting Services
– Business Coaching and Mentoring
The ClickDo strategy has certainly proven to work for ClickDo Ltd. as this award shows.
Author Profile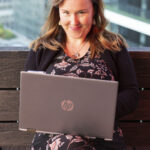 Blogger and Educator by Passion | Senior Online Media & PR Strategist at ClickDo Ltd. | Contributor to many Education, Business & Lifestyle Blogs in the United Kingdom & Germany | Summer Course Student at the London School of Journalism and Course Instructor at the SeekaHost University.