SEO training: recommended books to rank on Google

Ever since writing was invented, humans have used it to document and externalize knowledge. There's countless books written over the course of history on many different subjects – making reading one of the most efficient ways of learning knowledge.
This is the way we have learned here at ClickDo and so these are the books we recommend if you're looking to learn SEO.
The Art of SEO: Mastering Search Engine Optimization 3rd Edition
A classic book with a recent 3rd edition. The Art of SEO has been considered the best SEO book out there and the authors are highly respected in the community.
The book elaborates on the history of SEO and gives you a great idea of where the industry is going – a great read for anyone interested in ranking and SEO training.
Search Engine Optimization All-in-One For Dummies 3rd Edition
When just learning a new subject, can never go wrong with the "For Dummies" franchise – same with SEO training.
This book covers and gives you insights into the tolls used for ranking and the operations of SEO. Perfect for anyone who's just curious about the subject and operations, not good for the people looking at up-to-date tools to incorporate the operations.
SEO Step-by-Step – The Complete Beginner's Guide to Getting Traffic from Google
An absolutely amazing book for beginners. The guides and techniques are up to date and the information is very easy to follow, implement and understand. This book is also at the lower-end price range – good to have in the book-shelve for when you get some digital inspiration.
SEO Expert Strategies: SEO Consultant Spills His Secrets – Discover How To Rank Higher, Outsource To The Right SEO Service Provider And Take Advantage Of Free Search Engine Traffic
A great book to give you an idea on the SEO industry – the problems your website might face, some tools and how to hire an SEO consultant.
The book is the best for people that are looking at hiring an SEO consultant. While it might not give a step by step guidelines on how to do so, it gives a great idea of the SEO consultancy sector, as the book itself is written as a promotion of the authors business and according to a review on Amazon even has the number of the author advertised in the book.
Search Engine Optimization: An Hour a Day
A great book for beginners and even advanced SEO's. The book is perfect as it provides readers with theory followed by practical tasks. This is amazing read an in fact an SEO solution for small businesses.
The practices in the book are amazing for SEO training and readers will learn a lot.
SEO 2016 & Beyond: Search Engine Optimization will never be the same
Maybe the best book on this list. The book gives a great insight into the SEO industry, the Google updates and where the industry is going.
Perfect for all levels and especially beginners and small business owners to undestand the industry, if they can implement some of the operations in house after some SEO training or if they should hire an SEO consultant.
Don't Make Me Think!: A Common Sense Approach to Web Usability
Finally on the list, this book is not an SEO book and is not for SEO beginners. This is for the web-designers that are looking at learning SEO to increase their client websites usability and conversion rates.
The book outlines the best user experience (UX) practices that are also in-line with on-page practices. A good UX is also expected to increase the overall sales of the website. Increasing sales and revenues is the whole point of SEO, therefore the book makes it on our list.
Practice makes perfect or how to practice SEO training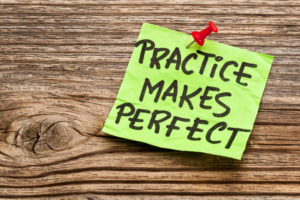 There is no way around practice to learn a new skill and we all know nothing is instant. If you're a small business owner, reading a book might not be the most efficient way of learning – it takes time and you really need the best book that will address everything that a beginner needs to know.
If you get your hands on one of these books, you will need to find a test website for practice. We don't recommend doing this with your businesses website as it might damage your ranking and if you apply black-hat SEO tactics learned in a book or online, it might damage your website in the future and for good.
So the best thing for practicing SEO is starting a blog for a hobby you have or purchasing a cheap website online to play around with. If you're based in London we have a better solution.
Join us on Wednesdays for a free workshop for up to 5 people. It's a 90 minute workshop where we will explain SEO training and show you some of the tips and tactics. We're based in Canary Wharf – give us a call to reserve the free workshop or if you can't make it, we're still happy to talk to you and give some tips over Skype.
Author Profile

The Founder & CEO of ClickDo Ltd. Writes about digital marketing and SEO for local businesses in International corporation. You can read more on OM HQ blog for more of my writings.