How to earn money with ClickFunnels as an affiliate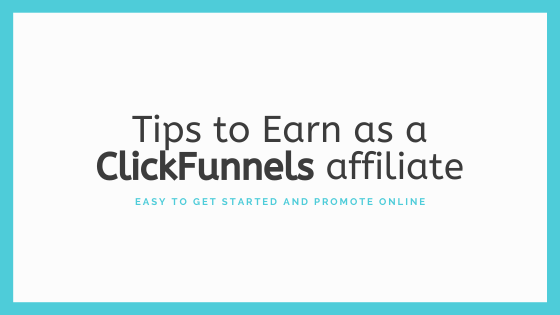 There are hundreds of home business ideas to start an online business from the comfort of your home and being a ClickFunnels affiliate is one of them, if you are looking for the first steps to make a living online.
I've met many people who earn a nice recurring income as a ClickFunnels affiliate.
As a ClickFunnels affiliate, your job is to bring new customers into the ClickFunnels ecosystem of products and get paid for it. Once you get 100 affiliates you can get a nice commission rolling in every month and that's sufficient to live anywhere in the world and scale up your online business.
Why ClickFunnels? It is reputable, pays high commissions and one of the best affiliate programs with lifetime recurring revenue for internet marketers.

Here is the juicy part!!!
When someone signs up under you, you get a commission of 40% on everything they buy forever. Now you may be wondering how ClickFunnels knows which affiliate signed up under you. ClickFunnels make use of the Sticky Cookie, this way they know where every buyer comes from, and they store it in your account. When someone else signs up under your first affiliate, you make 5% commission on everything the person buys for life. So, you can be sure that your referrals are tracked accurately. All your payments would be made 30 days after every payment, and you can monitor it using the reporting feature in your account.
With ClickFunnels you have tons of reliable products to choose from which you can sell. Not just that, they come with great price points as well. The first pricing plan is $97 per month, and you get to earn $39 per sale, and the second pricing plan is $297 per month, and you get to make a cool $119 per sale.
So if you make a sale of 103 accounts of the $97 pricing plan, you get to have a recurring income of $4,000/month. You only have to refer people to ClickFunnels and Russell would do the work (selling) for you.
There is also a top-rated program ClickFunnels offers which many of its users take advantage of, "the dream car challenge". You need to sign up 100 paying customers, and then you would earn $3,880 recurring commission and a bonus of $500/month that is leased into the purchase of any car of your choice. Alternatively, you can sign up 200 paying customers and Russell gives you $1000/month to cover the lease of your dream car. Thousands of affiliates are already on this one and driving their dream cars.
The big question is, HOW DO YOU DO IT?
To earn big as an affiliate on ClickFunnels, you need a strong understanding of the services and opportunities ClickFunnels offers. The best way to make money as a ClickFunnels affiliate marketer is through Share funnels.
It is a ClickFunnels built-in feature that gives you the chance to earn like crazy if you play your cards right.  In every funnel you create in your account, a personalized share funnel URL is assigned to you, which you can share with anyone. Note that you can share this URL with both existing ClickFunnels users and non-users. In a case where you share it with a non-user, he/she receives a prompt to sign up for the 14-days trial to get access to your funnel. But to an already existing user, your funnel automatically gets added to their account. That way, you get an affiliate commission.
Getting your unique share funnel URL is pretty easy,
Sign in to your account
Edit the specified funnel you intend to share
Go to the Settings tab and scroll down to the "Share this funnel URL."
Copy and share your URL!!
That is pretty straightforward.
How do you earn using Share funnel?
To earn using Share funnel, you need to be creative.
Affiliate Business in a Box (BiB)
As a beginner, this is one of the easiest ways to earn as a ClickFunnels affiliate. Using the affiliate business in a box strategy, you get to make use of solo ads to promote the share funnel to others. Here is the catch, people would make use of your BiB and would, in turn, help you collect leads from the ClickFunnels trials. The logic behind this method is that you get to generate as much traffics and leads as possible through the ClickFunnels trials.
One funnel away challenge
The one funnel away challenge is the best offer to promote due to its popularity, and its commission. You get to spend $100 and get back 100% commission, which is pretty great!!! Furthermore, if you want to earn more, you can create a bridge page for the challenge, to enable you to get the emails of prospective buyers, plus a space to offer bonuses to them. Promoting this challenge should be one of your strategies.
Create your own sales funnels and sell your product/service
This is a strategy to try out if you already have a product. Make use of the ClickFunnels to build a sales funnel and start selling your product. You should also create upsells and downsells; that way, you get more value out of every customer. If you have the capability, you can pay to drive more traffic to your funnel and start making crazy sales.
Use your Share funnel as a content upgrade
If you have a sales funnel that is helpful, then you can benefit and earn from it. How? All you have to do is convince people of the benefit and how it has helped you. That way they get excited and signup to your list and your funnel gets added to their accounts. This is an excellent way to get affiliate commissions, make sure the content upgrade you are offering is relevant to the funnel, and you are well on your way to earning big!!!
Asides from using the Share funnels strategy there are other ways to earn as a ClickFunnels affiliate;
Create an eBook on a fascinating niche, but make sure it isn't so saturated. If it is, it may be quite challenging to attract people to your funnel. When creating a course, you would need to add how to promote a business using ClickFunnels, and this would get them to subscribe through your link.
Post product reviews on YouTube, as this is a tested and trusted way most ClickFunnels affiliates generate traffic.
Make use of live webinars to sell ClickFunnels products
Get local businesses to sign up. It can be quite difficult and time-consuming, but once you get them warmed up to the idea, they would be in it for life. And you get your commission.
You can learn more about how to make money online in our guide: https://www.clickdo.co.uk/make-money-online/ and we have also mentioned about ClickFunnels in it.
Conclusion
Earning from ClickFunnels if you know the ins and outs is quite easy. Join the ClickFunnels, familiarize yourself with how to use it and sign up for the affiliate program. Although you can sign up without buying the software.
Explore and start earning.
Author Profile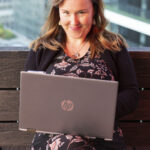 Blogger and Educator by Passion | Senior Online Media & PR Strategist at ClickDo Ltd. | Contributor to many Education, Business & Lifestyle Blogs in the United Kingdom & Germany | Summer Course Student at the London School of Journalism and Course Instructor at the SeekaHost University.