Dental website design: fundamentals to stand out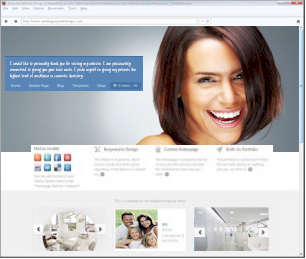 There are so many dentists in the UK, yet most of the internet traffic goes to the top 10% dentist websites.
It used to be that many dentists had no websites or horribly outdated websites, but now this is changing – we're seeing many new dentists designing their websites and keeping up to date.
This brings us to the question of once again beating the competition, to enter or remain in that 10% of dentist websites getting traffic from Google search results.
When designing your website, as your webmaster to be sure to have these fundamentals covered in your orthodontist website:
1. Responsiveness
If you're serious about marketing your dentistry, you should already know about this and have it implemented. Just in case you don't – make sure your site is responsive to all of the devices your visitors will come from.
2. Good navigation
We see this so often, dentists trying to put in too much information or sometimes they want to take charge of their site. Unfortunately you likely don't know much about UX so this won't end too well – the site will be confusing to navigate and people will leave to the next one and give another orthodontist their business.
3. Landing pages
Make sure that your main orthodontic services have their own landing pages, rich in contents: pictures and text. Have a call to action button too.
4. Slides
It's a good idea to have contents on the homepage of your dentist website. Good contents to include can be simple slides – pictures of your team with the services in headlines. This will give a good first impression, give people a brief of your services and if you call to action – make them call you.
5. On-page SEO for dentists
Let us end with another super-obvious one. You wouldn't believe how many people expect to have a functioning and responsive website to rank on top of Google for dentist keywords.
Responsiveness is just one of the many elements your dentist website needs to rank on top of Google. Be sure to implement all of the on-page elements to find your website somewhere for the dentist keywords searched online.
Share to spread the knowledge!