SEO consultancy update- last week of February
The last week of February is here and I have a weekly update for you.
This week has been very strange as Google has been shuffling rankings, but that did not stop me and my colleagues at ClickDo headquarters to deliver the best SEO services possible.
The past week I've been creating a great amount of content marketing for Cavendish Banqueting, and as you can see it works like a magic. The ranks are slowly but surely Climbing to the top wich makes the business owner happy as he's getting more and more traffic for his business.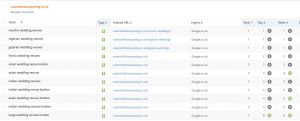 The next project that I have done a great deal of work for is Wembley stadium minicabs, which is an amazing cab company that operates close to the famous Wembley stadium. This week I have focused on a keyword "taxi near Wembley stadium"  and all the effort has paid off again, as the keyword has moved from 3rd  page to 3rd position, which is again a great news for the business owner.
What I really wish is to be able to tell the good news to every single business owner that has decided to work with ClickDo agency. That, however, did not happen this week for Nunzio Prenna's website as Google has tweaked its algorithm a little bit and even though we have done a great deal of work on this project the ranks has stayed exactly the same.
That, of course, will not stop me or the other great SEO consultants who work at the Canary Wharf office which is in the heart of London. We're in the process of figuring out how to move the above-mentioned site to the top and keeping it there so the client gets all the clicks on his website that he deserves.

I will update you next week on the progress and may I'll even share the secrets how we got him to the top of Google.
until next time