Top 6 Blogging Platforms Comparison Review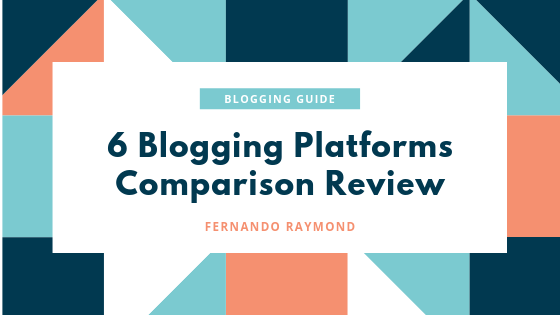 When it comes to blogging, there are several blogging platforms users can use to run and manage their blogs.
There are good blogging platforms free as well as self-hosted good platforms to start a blog.
In this article let's look at the 6 blogging platforms and review them each.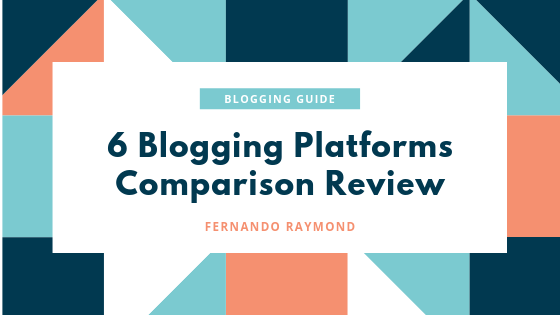 Here are the top 6 most popular blogging platforms to date;
This is the most popular blogging platform and hosts over 30% of all websites on the internet. It is an open-source, free blogging platform that allows users to build their blog or website in just a few minutes. It is a self-hosting solution where you need to sign up with a WordPress hosting provider.
Pros
Has thousands of themes for you to choose from
Gives you full control over your website
You can make use of added features like online stores, forums and gain even more access through their paid membership
You gain access to free plugins (these are like apps) where you can add features like galleries, contact forms and more
Cons
Managing your website needs some time to learn
You must manage your security and backups
The software is free, but there is a cost to getting a domain name
This is a free blogging service offered by Google and if it offers easy ways to create blogs for users who aren't tech-savvy.
Established in 1999, it was one of the earliest blogging platforms, and all that is required is for you to have a Google Account.
Pros
Signing up is free
Easy to use and manage
It has the added advantage of using Googles security platform
Cons
Design options are minimal, and the templates are limited
Has basic blogging tools and you cannot add features as you grow
Has fewer updates and doesn't update the features frequently
Gator was created by HostGator as a website builder and blogging platform. It has a drag and drop tool you can use to build any sort of blog, website, or online store. Gator is an ideal all in one platform that offers a hosting solution.
Pros
Easy to setup
Easy to use drag and drop feature
Easy to add an online store with just a few clicks
Free domain and SSL certificate included in all plans
Security and backups all handled by HostGator
Cons
There is no free plan, but they offer a 45-day money-back guarantee
Has a limited number of extensions and apps
E-commerce features limited to higher plans
After all, it's on Gator and not your own blog
It is a powerful website builder that gives you the chance to create a free blog, business website, and more.
They have a range of templates that allow users to customize their blogs and websites using a drag and drop interface. Other features include a custom logo maker and access to professional stock photo library with thousands of images and more.
Pros
Easy to setup
Easy to use with drag and drop feature
Offers free domain
The free plan allows you to try the service before buying
Cons
Exporting your site from Constant Contact to another platform is difficult
Doesn't have as many plugins like WordPress
WordPress.com was started in 2005 and offers basic blog hosting services at no cost. They provide additional offers at cost; such as additional storage, custom domain names, and more. It is targeting the user who wants an easy to use the software at minimal cost
Pros
Easy to use and manage
It is absolutely free if you're using the WordPress.com domain.
Cons
You cannot run advertisements on your blog
There are limited options to extend the site, and you cannot use custom plugins and themes to customize your blog
You do not own your blog, and if you violate their terms of service, your account can be suspended
Tumblr is a microblogging platform that contains social networking features, such as being able to follow other blogs, reblogging, and more.
Pros
It is easy to set up and use
Has integrated social media components
It is free is you choose a Tumblr.com subdomain. You can get a custom domain name if you select a premium plan
Cons
Has limited features that can't be extended if your blog grows
Doesn't offer additional features other than the basic ones
Importing it to other platforms is difficult
How do you choose the best platform?
When it comes to choosing a platform, it's important to look out for several things.
As a beginner, you need a platform that is easy to set up and that you can use with ease. One that eliminates the use of coding and allows you to focus on content creation above all else.
Consider the type of blog you want to have and factor in that over time, as your blog grows; you might want to change the blogs look so choose a platform that gives you room to change and grow.
Sometimes making the switch from one platform to another may be difficult, so be sure to start with the right platform in the first place.
Keep in mind that even if your intention is not to make money, you might want to do so in the future, so be sure the platform gives you this option.
Summary
With these tips, you can choose the ideal blogging platform that works to your advantage.
What do I recommend?
Start your own self hosted WordPress blog and build your virtual real estate.
Read More:
Author Profile

I'm the CEO of ClickDo Ltd. and SeekaHost UK - I help the business grow online with latest SEO services & digital marketing strategies. You can find my guest blogs on the UK business Blog as well as on our my guest blogs on the UK Tech Blog
. More details about me can be found on this page.