How to build website authority smoothly & boost SEO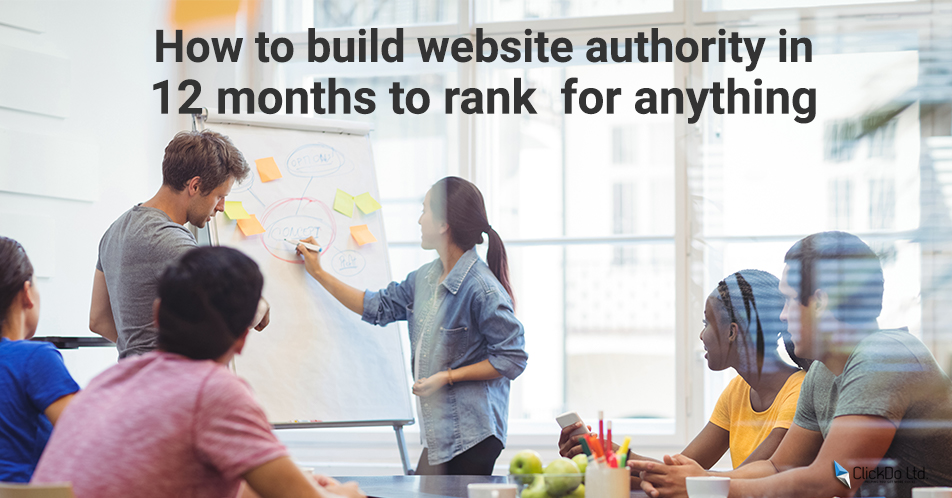 Increasing your websites domain authority is very important. It will not happen overnight or even in 90 days as explained by Ahref blog post. When I read that article I wanted to make some points and that's why I'm writing this post.
I've gone through all the points they've mentioned and they are true, however, it will take more than 90 days to gain website authority. I mean increasing domain's authority to level you can drop a blog post or page and Google bots will places in the first page or at least top 3-5 pages and quickly move it to the first page without any backlinks.
ClickDo website and our SEO blog have achieved such by now after over 3 years of hard work. A couple of days back I dropped an article about how to make money in the UK, and bam it's already on the 3rd page and on the first page for many long tail keywords. Likewise, many of our blogs (we started doing much blogging last two months), are rolling up on SERP's without and links. Because the domain authority is so high that Google has picked us up as a trusted website/blog.
Now you got an idea of what is domain authority.
If I to tell with my SEO experience, it's basically the power and trustworthiness in the eye on Google bots. As soon as Google bots started to like the content on the website and they believe that this website, blog published good stuff that's fine to be read by their search engine user. That's where the good times start to come.
Google starts to send a ton of traffic to the website for many keywords.
You can read 5 Practical Steps To Improving Your Website's Domain Authority get some good ideas.
The article by Forbes explains How To Increase Domain Authority – Forbes
If you do a Google search about how to increase the website authority you will see so many ideas.
But let me tell you how to increase the authority of a website in a manner you will be happy about it for years to come.
How to gain website authority effectively?
Build a brand that everyone knows about in your niche.
At ClickDo I'm building a brand that every business owner in the UK will know by 2020. My content is tailored towards that goal. The content promotions are towards that goal. Social media promotions every day are towards that goal.
The best way to build website authority is by social promotions.
Now let's look 3 things you should do for the next 12 months to build authority in your niche.
Guest posting on other websites that are related to your niche.
Email outreach is the best thing to do when it comes to getting links from other websites. Have a daily, weekly plan to email other website owners in your niche and ask to contribute to their blog with a guest post.
I love it when other SEO agencies, local business owners email and ask for a guest post on our blog. Yesterday one creative agency in London, emailed and got this article > Things Successful Entrepreneurs Do Every Day with a link to their blog post. Saw how they getting authority passed on their website.
That's the authentic way to getting links and building authority with trust.
Run a Facebook group and teach people in your niche with your expert knowledge. And then ask them for a link, ask them to write a blog post or give a link from their blog to your website. You will have to give, give, give and ask and you shall receive.
I did the give, give. give technique at the SEO Consultants facebook group for over a year and I got so much social media shares and links from the people. I emailed them and ask them to share my pages, that I wanted to rank. The thing is my web pages were done so well that when I asked to share, they will happily do that.
One great advice I like form the Ahrefs blog is that they also recommend promoting your content regularly across social media channels. I say, do it daily as you can see how we at ClickDo does it daily. All our teams promote the content daily on Facebook, Twitter and Google plus.
ClickDo Dynamics started to gain website authority much faster, however, I know it will take a good 12 months to crush it.
One of the best things I do is Infographics marketing with links to our sites. It's so easy and very effective.
Read about how infographics help SEO your digital marketing in 2018. It will give you some really good ideas about getting started.
Read about Is your business website ready for GDPR? because you must get your business website GDPR Compiance and surely Google bots will start considering.
And finally, make sure you get more link built towards your website from higher authority news sites. One of our clients, Junk Hunters, did that and their ranks skyrocketed.
Author Profile

The Founder & CEO of ClickDo Ltd. Writes about digital marketing and SEO for local businesses in International corporation. You can read more on OM HQ blog for more of my writings.