The importance of building your brand on the web in 2017!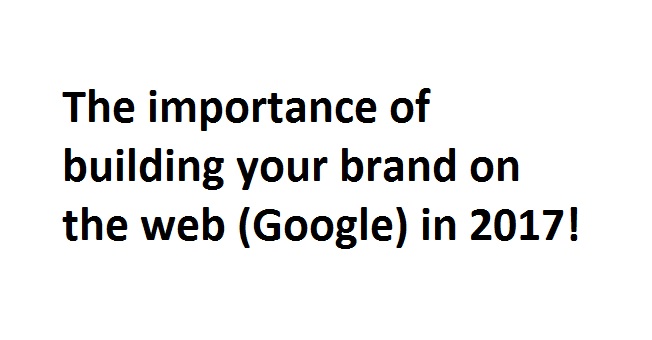 I just had a long call with one of our clients in the rubbish removal niche in London and told him, it's really important that they build their brand online this year. Because right now you can see the competition is getting tougher and tougher and it will only be super competitive by 2018 and beyond. So are you by then also going to cry about why your competition gets more business and live the good life?
So what should you do? 
Build a world class brand that's a household name (That's my goal at ClickDo)!!! that's what we do at ClickDo. I take great responsibility as the CEO of the company. I make sure every day the content marketing is done. Videos are done and populated on the web. It takes time but that's how you create traction on the web and stand out.
In the below video I talk about the importance of building brand:
So how to you build a brand? You heard it all on the above video!!
Right now one more thing is added at ClickDo, when it comes to building a brand on the web > Search engines like Google. PPC Google AdWords is what helps the branding and Logesh Kumar at ClickDo talk about it. See what he published today > Different ways to run a Successful PPC Campaign
Also, read the 3 reasons why PPC can help your business grow in 2017 where I explained how PPC can help your business and brand to get more business leads from the Google.
Last two years we used to focus on organic SEO, but now in 2017, we have started to promote websites using paid advertising because the competition has grown rapidly and it's time to make the money as soon as possible to live the GOOD life.
This article is an answer to what I had to say to an orthodontist client of ours, who already to ranks on top 3 on Google. They told they wanted more leads, so I wrote this >
If you read this article till now and kept a following of what we do you can see what we do, how we build the brand and how we have helped/helping local businesses in the UK to gain the maximum potential to get more leads and build a thriving brand online.
Author Profile

The Founder & CEO of ClickDo Ltd. Writes about digital marketing and SEO for local businesses in International corporation. You can read more on OM HQ blog for more of my writings.