Why SeekaHost is Best for Businesses in UK?
SeekaHost – Domain Name & Web Hosting Provider in the UK at an affordable cost and unlimited features. At SeekaHost, you can find the customized web hosting plans for PBN Domains, Business Sites & Personal Blogs as well.
Why SeekaHost?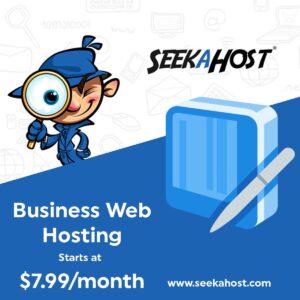 You will have a Question in your mind "Why it is SeekaHost and why can't other's provide such web hosting packages?" Here is the simple answer "Anyone can give such packages, but SeekaHost is completely Unique from other web hosting providers.
When it comes to a WordPress website support services team of any web hosting company, the delay will be based on the work transfer to the particular department. But here in SeekaHost, the time taken to solve an issue is based on its urgency. If it is serious and your business website is not working, then your website gets the top priority and it will be solved in a very short time.
Here SeekaHost people acknowledge that a Business Website should be live 24/7 without any downtime, so they will have continuous monitoring on their servers and every server is maintained with a periodic check. So I think the business is well understood from the core and build in such a way to support from the base.

What's Important for UK Business Website?
Most of the people in the United Kingdom prefer to choose a Business over Online. So it is crucial for Business websites to load in milliseconds and to get optimised based on the Search Algorithms.
As people will prefer to choose only the best, top business websites were considered and remaining websites were least bothered. So people want the site to load fast without showing any errors and must be comfortable to optimise a website based on their needs.
Here SeekaHost is proven as the best with real time example: ClickDo Website, which is hosted in SeekaHost will load in milliseconds.
With the best loading speed, the website ranks for various high competitive keywords like SEO Consultant in London, SEO Consultant and more, which is more relevant to the Business.
So it's time for UK Business Websites to rank in the top to grab the business opportunities online.
Get your hosting with SeekaHost, and it is the best Web Hosting Service in the UK.
For More Visit: SeekaHost – Domain Name & Web Hosting Provider in the UK
Author Profile

Enjoying My Work as a Technical Support Manager at SeekaHost. I can handle any Issues with a website like solving the errors, recovering the sites from attacks & malware. Also, I have practical experience in handling WHM, WHMCS, Servers & Other relates Stuffs.