Top 4 Killer Content Marketing Strategies Ever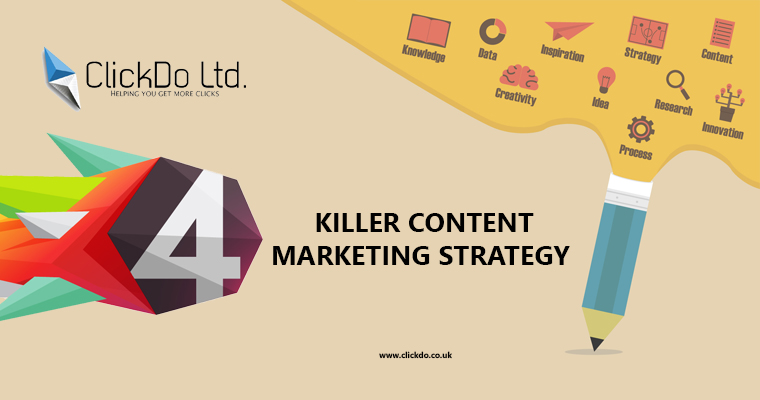 The world of digital marketing can avoid anything but not the quality content. Whatever happens in the market revolves around the benefits of content that makes sense to the audience. The content can be descriptive or elaborative and through text or image or video content, but at end of the day it has to show it's worth and value. Here, we are about to discuss the top 5 content marketing tips that matter the most.
Localising the Content
Identify the Events
Mandatory Keyword Research
Guest Blogging
Localising the Content:

The ability to know what people around you need will help you with writing content. The localising the content is one biggest strategy know to all the marketing geek yet not utilised up to the mark. Though the global market is bigger than anything, one has to understand that combination local audience is the global market.
Identify the Events:

The trick in reaching the local audience is understanding what they need in advance to themselves. This strategy is like predicting the future even before it happens. Get to know what are the events about to happen around you and what people expect from it. Start to write the content and promote it early than anyone. For instance, if January 1 is to be celebrated as the new year, then people will start to search for party halls around them to book in prior and it will be a gain of killer traffic when you rank on top for such keywords.

Mandatory Keyword Research:

It doesn't look good when you write a content for the local audience without knowing the target keyword. Like, I said before, identify the event and search for the keywords to play around it. When you find keywords which are tougher to rank in a short time then find some curious keywords from search users point of view. It doesn't mean that people always want to search for what the keyword you rank or google suggest. For instance, the event people "search for" can have a name or a location or anything relative, which they start to search and trend for a certain period of time.

Guest Blogging:

It is one of the killer strategies till date, which a content marketing team should start to approach. Outreach to people who has blogging platforms, where they allow you to post and brand your service/product. We at ClickDo helping people around the globe to get guest posting done on high authority websites in the Market.
Share to spread the knowledge!