Why Bounce Rate in SEO is NOT Important at all?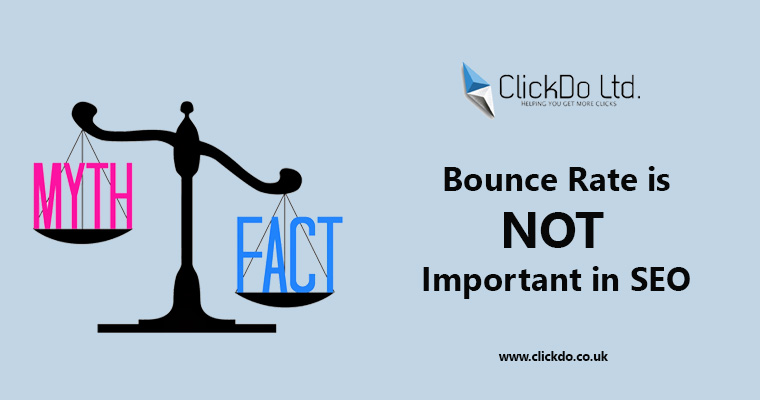 SEO is always filled with the myth that turns out be a bigger topic after some time and added as a factor of it. Beginners and even experts are into this myth environment. One such thing is the bounce rate in SEO. Search engine optimization is a wide area where one has to understand the dynamics of the Google search algorithm and user activities as well. I happen often when the influential SEO people start to believe a myth and even spread around the social environment. Now, let's get into the topic of bounce rates like how it helps and not in SEO or any way other.
What is bounce rate?
The rate at which users hop out of the landing page without much interaction. One can see the bounce rate statistics as one of the metrics in Google Analytics. It gives you the data with the numbers as a percentage out of 100. To be simple, the bounce rate is when a user visits a website after searching for a query and left soon after entering inside.
You have to consider bounce rate as a factor only when you feel the content in the website is not relevant to users search query. In such case, it is a major issue to sort out as quick as possible. Since content to the users is more important than anything else in your website to deliver.

Why you should not consider the bounce rate?
Let's break the myth around bounce rate. First thing is first, bounce rate is not a major ranking factor when your website is not ranking in search results for a query. Bounce rate is just a metric given by Google to understand how users behave in your website similar to other metrics in Analytics.
Let me go with the instance for better understanding, when a user searches for "What is the abbreviation for SEO?", the user will get into a website and reads that SEO stands for Search Engine Optimization. For the users, they got the information they need from a website, so they leave the website soon after entering. What will happen next? Yes! the bounce rate of that landing page will increase. Do you think, at such case, increase in bounce rate matters? Not at all.
Bounce rate completely depends on the user behaviour and purpose of the website at that instance. It doesn't mean that the increase in bounce rate is a bad sign for a website SEO. We can see there are many websites with really good traffic has literally bad bounce rate and vice versa. So, believe in an SEO Factor only after some research around it and start to implement for your own website. Otherwise, it will be a waste of time and effort for anyone who works around it.
Author Profile

Guest blogger and blogger outreach services expert and contributor for UK Tech Blog as a UK Tech Blogger, and one among The Vibrant #1 SEO Team in London. I Also work at SeekaHost as a web hosting services specialist and Guest blogger for SeekaHost UK

My Moto is Keep Pushing - Let The Dam Breaks And Spills Where You Want It To Be!