7 Local SEO Tips for 2017 Digital Marketers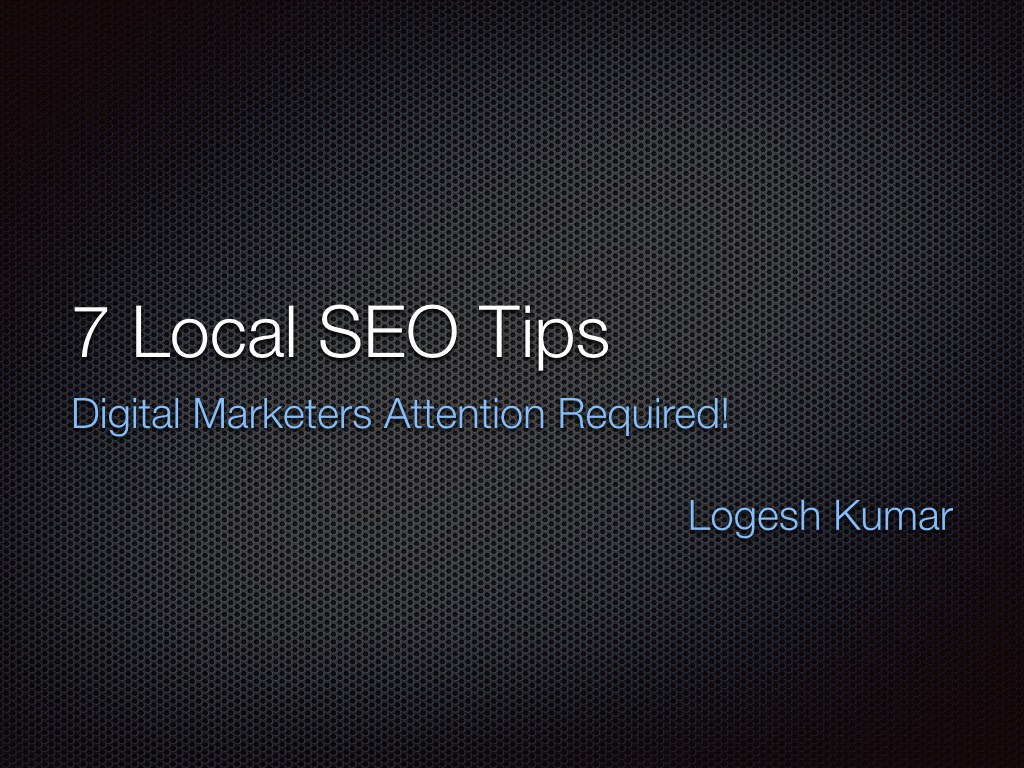 Why we Say content matters?
Content may not be the King!
I said it right, Content may not be the King anymore. But, targeted content for local SEO does work like Gold. Writing about the city or town with content curated to that particular region is what matters in 2017! This not only drives quality traffic from that particular region through digital media, it also drives proper region based conversions.
Video marketing kills your competition..!
If you dare to get on Facebook Live and populate your Brand, you are directly killing your competition and taking your brand to reach Niche level domination in your region! You need some examples? Check out: https://www.facebook.com/FernandoSocialLife
How about YouTube?
This platform has it's foundation laid long back, owned by Google! This platform has an added advantage that doing a Live Google hangouts and publishing it on YouTube would crush video rankings easily. Provided, you add value in the video and it has a high "view duration".
Citations — Get a Lot of them!
What's a Citation? — If you have this question in mind, especially in 2017 — You have to leave this planet! lol !!
Citations are the building blocks for a brand's identity on the web. This should be brought together manually by an expert team. If you try to buy them in bulk, it would definitely backfire in the long run. A dedicated team is required to manage them with finite limits on the citation platforms, that must be well researched for any possible backlink issues.
Why you require a perfect web design?
In 2017, it's not just about driving the traffic. It's about converting the quality traffic that lands on your website. It requires a web design with fine tuned strategies to make sure that the visitor is turned into a lead. This would make sure your website is a lead generation machine.
CTR increasing factors
There are many techniques to improve the CTR, one of the most powerful is to have a demanding title for which the user actually seeks information. This is a thumb rule to improve the Clicks and when there is a increase in CTR, the ranks would definitely improve a lot!
This is helpful if you are getting stuck in 3rd to 5th position for a long time. lol.
Getting backlinks from bunch of local websites
Backlinks are still working in 2017! If done in the right way! Getting a bunch of local website would really help if you are targeting regional ranks (local seo). At ClickDo, we consult for a lot of business owners in London and ranking ClickDo in London is a piece of cake for us! 🙂
Build blog for the City
Building a great blog for the city and publishing on those with reference links and brand mentions of the money site will create a huge impact for the rankings. In our case, the City blogs ended up ranking in Page 1 for most of the potential money terms!
What Next?
With the above being said, we are working on a business directory! Stay tuned.
Share to spread the knowledge!