3 Most Important Things You Must Do Right Now in SEO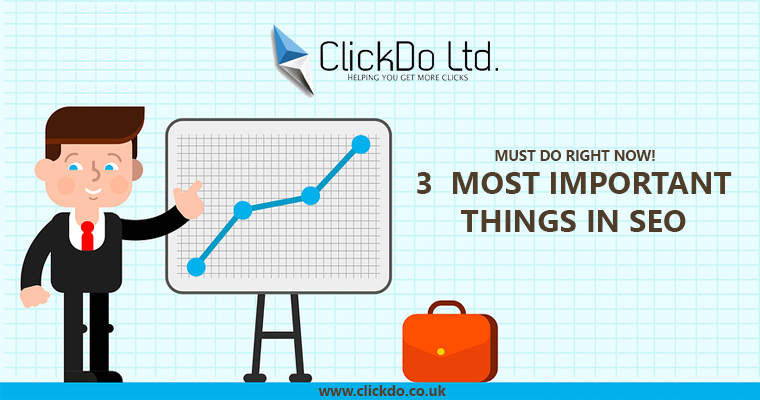 SEO is all about updating yourself and implementing them in your website for daily betterment in SEO results. The matter of concern towards your website to show at every point, since any website in search result can face its downfall at any point because of minor mistakes. Here, we list 3 such things to implement in your website without any delay since these are the most important factors as of now and future as well.
Speed Optimization
Mobile Optimization
Content Optimization

Speed Optimization:

Everyone around SEO starts to stress on the importance of page speed of a website after the release of its related algorithm update and Google confirms it as well.
Start your optimization from the attachments and files in your website. Reduce their resolution, compress the file size with effective tools and avoid using too many plugins such activities. Try to implement such things with external software/tools itself.
The best part to optimize for speed is to implement cache mechanism in your website. Either it can be a plugin like W3 Total cache or through the Content Delivery Network(CDN). Initiate from configuring for browser cache to handling the scripts like JS and CSS as an optimized file.

Mobile Optimization:

There is no difference between mobile and speed optimization with regards to its importance given by Google. If making a mobile website user-friendly is more important like desktop version of a website.
Feel like you are a new user to your website and visit through mobile, then check whether it works for your comfortability. If you don't feel anything fishy then ask someone who hasn't visited your website to review.
Design a website for its look and performance as well. The look determines the easy visibility of your USP(Ultimate Selling Point), whereas performance determines for its easy accessibility.
Content Optimization:

This topic may look bored of reading it often, but proper optimization will stand and deliver results for you. The content optimization majorly includes the subfactors like readability and combination of target keywords.
Write a content in a way that the visitors can easily read and understand what publishers like to deliver to the end user. It matters a lot when you include schematic keywords to your content instead of using repeated keywords.
Author Profile

Guest blogger and blogger outreach services expert and contributor for UK Tech Blog as a UK Tech Blogger, and one among The Vibrant #1 SEO Team in London. I Also work at SeekaHost as a web hosting services specialist and Guest blogger for SeekaHost UK

My Moto is Keep Pushing - Let The Dam Breaks And Spills Where You Want It To Be!
Share to spread the knowledge!