Why UK Dentists should do PPC for Dental Implants?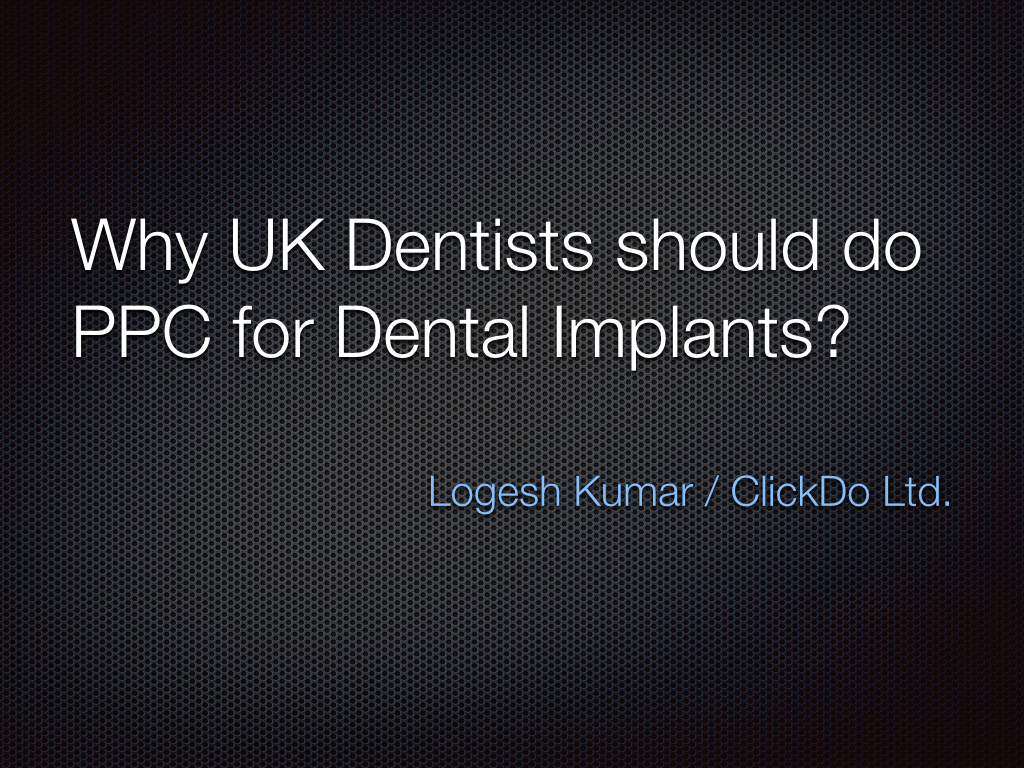 With the New Ads format, the CTR for Ads have improved a lot! This in turn drives maximum business for people who do PPC for Dental Implants in UK.
Dental implants has huge demand
Yeah! lot's of people in United Kingdom search for Dental Implants (as a service) all day long. Let's not dig into the reasons, yet we at ClickDo ensure that every dentist in United Kingdom get a business out of web, IF you are hiring us for PPC (and / or) SEO for your business website in UK.
Costs for Dental Implants! Wow!
With the amount of demand being disclosed, the Costs range from £2400 and upwards. Each tooth implant could profit in £1000 for the dentist. This is a data driven conclusion by Fernando, Expert in Dentist SEO. 
Many of the dentists in U.K. Already does it.
How we say this? We at ClickDo have more than 5 dentist (and/or) orthodontist clients who are nicely ranking on Big G for various money terms. With laser targeted PPC for such terms, a dentist could land up to 50–60 patients in a month which will result in 50k plus profits. Hell yeah! you heard it correct.
How much to Spend for PPC?
It's just matter of making up the mind and spending £5000-£10000 per month on PPC.
Because the returns are huge. To get rich dentists, you should really allocate around £5000-£10000 per month on SEO and PPC, Especially in a city like London.
How we stand out of the Crowd!
At ClickDo, we take calculated risk and plan the PPC investments with pre-planned ROI for your business. This in turn acts as our USP. Need real PPC Returns? Get in touch with us now!
Author Profile

Logesh Kumar, Senior SEO Consultant at ClickDo Ltd. Get connected on Google+.
Share to spread the knowledge!