Why you need Google AdWords for your business?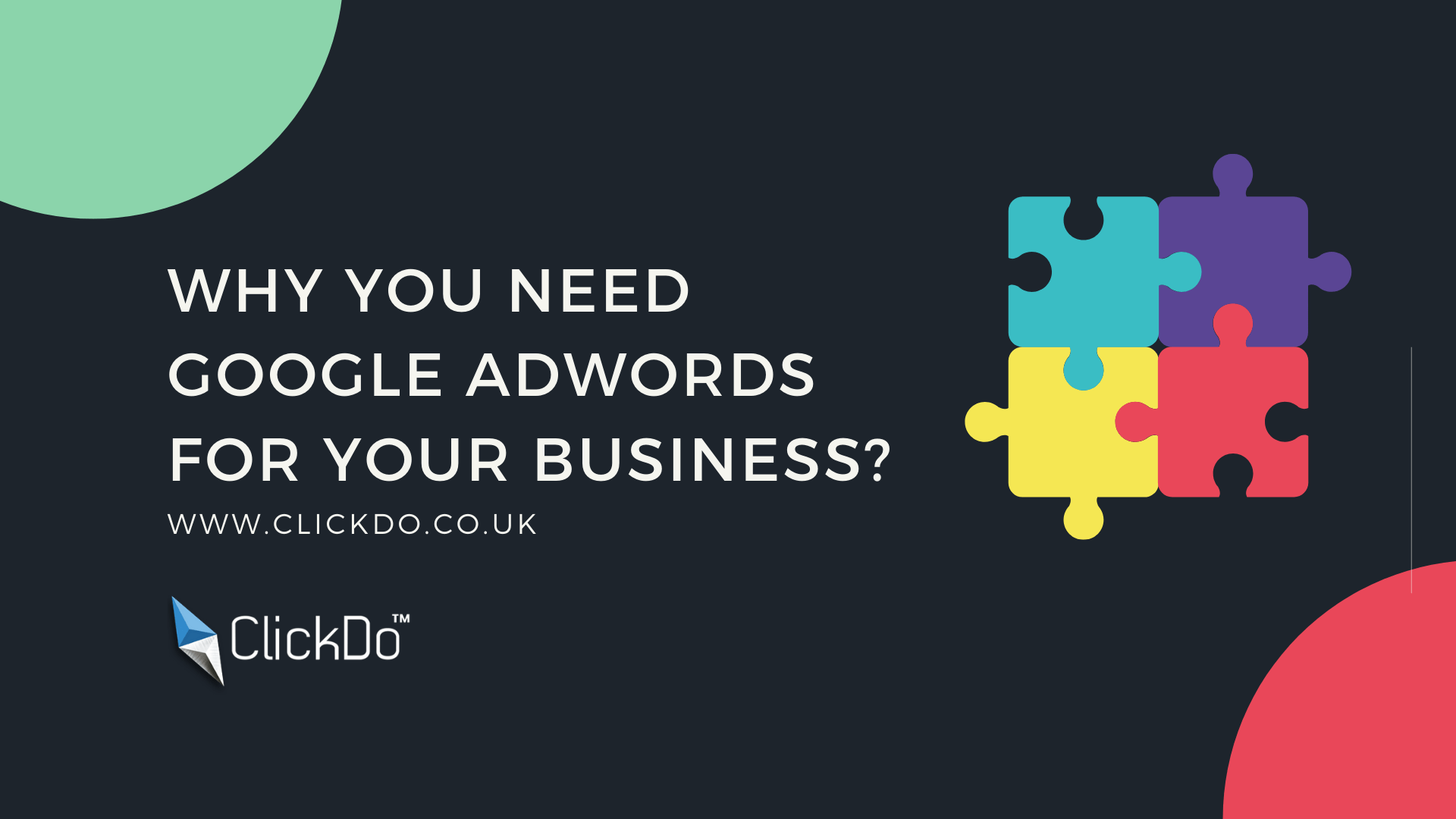 Managing an online business is still a challenging task for many entrepreneurs. To reach the topmost page of a search engine is highly competitive and it takes more months or years to reach the first page even with proper SEO.
Google AdWords is the perfect solution for business people who like to see their brand name on the top of the Google search. Google AdWords is the paid business model that allows Google to easily pick your business name and display ads on Google SERPs.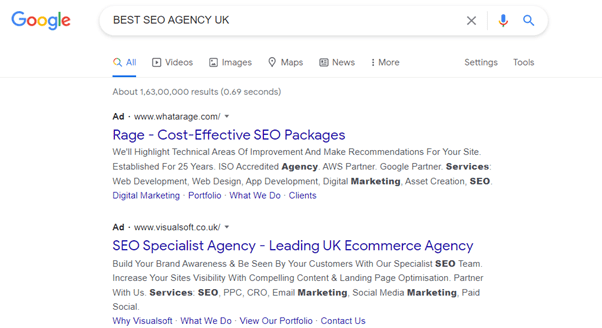 Google AdWords is the effective marketing strategy for the new as well as existing business to get more online customers and to reach their brand among all customers.
Here, in this blog let's see how to use Google AdWords more effectively for your business and how to set up a Google AdWords account for your business profile.
 Advantages of Google AdWords
Before starting with Google AdWords check out what are the benefits of using Google AdWords. Google AdWords is the most powerful tool among other advertising platforms. Below are some advantages of Google AdWords and answer for why all business need Google AdWords as their marketing platform
1. Google AdWords works faster than SEO
The main advantage of Google AdWords is that it works faster and generate more leads when compared to the results of SEO. Both Google AdWords and SEO are online marketing strategies that help to generate more traffic, but Google AdWords works faster.
Here are the reasons why AdWords are more effective than SEO
Google Ads will display on the top of the page immediately once you activate the campaign
You can concentrate on Multiple Keywords
You can pause or resume the campaign whenever you need
At the same time we should not ignore the traffic from organic sources, but we can achieve more leads instantly by using Google AdWords.
2. To Increase Brand Awareness
Google AdWords is an efficient marketing platform to reach more people and create more awareness about your brand. In addition to increasing the click rates and conversion rate, Google Ads increase more awareness of your brand through the increased traffic to your site from SERP.
3. Remarketing Option
Remarketing helps to reconnect with your website visitors and target them to purchase any products from your site through your ads.
For example, if you running an eCommerce website, Google AdWords supports reconnecting with the people who have visited your website and left without a purchase.
When you are running a remarketing campaign on Google AdWords, the ads will display on their social networks as a banner ad and target the users to generate leads.
By adding keywords on the campaign helps to match the customer's search query and to display the relevant ads on their page.
The main aim of remarketing is to target the existing visitors who already visit your website and left without taking any action. While seeing the same ads there are more possibilities to convert those users to leads.
4. Live Performance Tracking
If you are running the advertisements on other platforms like newspapers, brochures, radio, etc. you can't see the live tracking of an exacting source where the leads coming from.
But running a Google AdWords campaign showcase
Who clicked your Ad, from which device, and from where
Number of leads generated for your Ads
Website traffic rate you got from your Adwords
From which keyword you got more traffic and leads
How many visitors currently on your page
Bounce rate
Details of new users and more
How to set up a Google AdWords account for your business profile
Step by step process on How to create a new Google AdWords account and run your first campaign
Step 1: Create New Account
Simply visit the Google AdWords website and sign up with your new google account or already existed one. It will take only a couple of minutes to sign- in
Get started with your account and fill in the necessary details, It will take you to the next page to create your first campaign for your business.
Step 2: Start with New Campaign 
Now your Google AdWords account is ready to use. Here the option is there for you to create your campaign by setting up goals or you can create your account without a campaign

Step 3:  Set up your Goals
Currently, you are the page to set up the goals for your advertisement. The aim of creating Google Ads. Pick any one of the options and then click next it will take you to the next page – Creating New campaign

Step 4:  Select your Network
Create a new campaign by setting any goals. Name your campaign and select the network where you want to display your ads

Step 5: Select your target Locations and Language
Now choose the Target locations and languages for your campaign. Select the location on the list or enter the territories by manual and choose the language.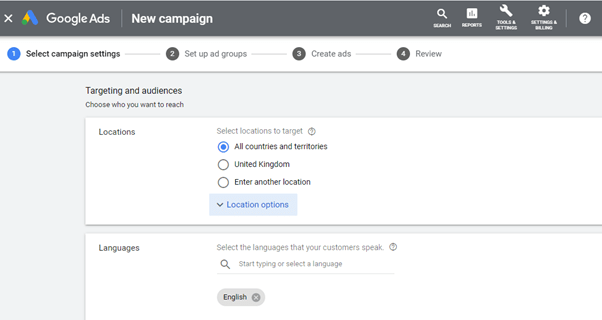 Step 6: Select your Audience
          Select the audience for your campaign. You can select two or more or else you can create a new audience using Audience manager.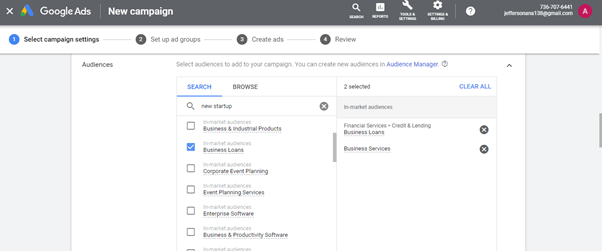 Step 7: Fill in Budget details
Budget and Bidding
Enter your budget details- the average amount you want to spent each day for your ad and set a bidding cost for each click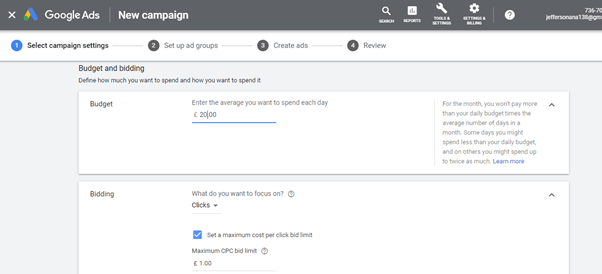 Keep the expenditure limit in your mind while setting a budget, you should not cross your limits. Always fix the average amount based on your website visitors.
Step 8: Add New lead form extension (Optional)
Filling a new lead form extension. This is an optional one that helps to capture the customer's data when they search for your products and service on Google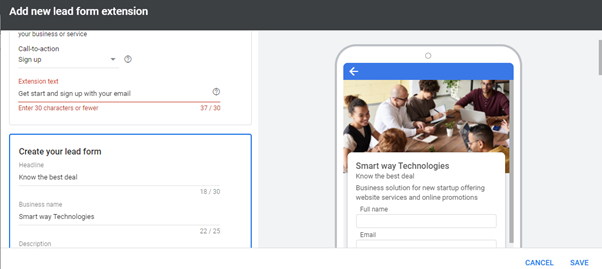 Step 9: Choose a keyword
Keywords play a vital role in the search engine. Adding keywords while creating a campaign helps to appear on their search list and trigger your ads to appear on top of SERP. Here you can set more relevant keywords for your Ads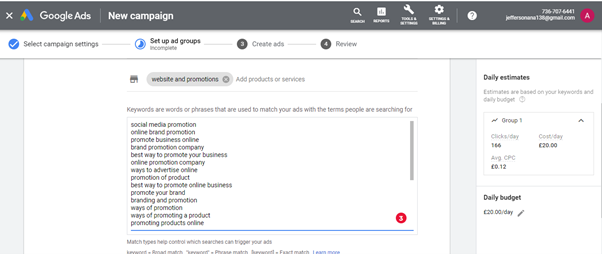 Step 10: Run Your First Campaign 
All Done. Once again check your bidding terms, the amount you spent for each click, and write your ad by filling the headline and description
Keep the headline short
Point out the message you want to deliver to your customer
Set clear call to action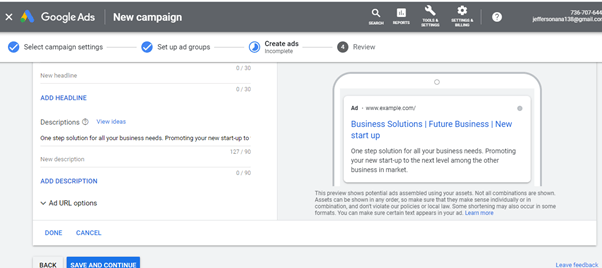 Once you are done with creating your first Google ad, click the save and continue button. Next Google will ask you for the payment details and start running your campaign.
You can easily track your Google ads and check the conversion rates
Final Words
As mentioned earlier Google AdWords is an excellent marketing tool for business profiles. Keep tracking and optimize your ads for better performance. If you need any assistance with Google Ads for your business, you can contact one of our PPC Consultant from ClickDo and we can help you generate more leads from Google.
Author Profile

Jr. SEO Consultant, Blogger, & Content Specialist. Passion for writing in SEO, Digital Marketing & Tech-related Niches.