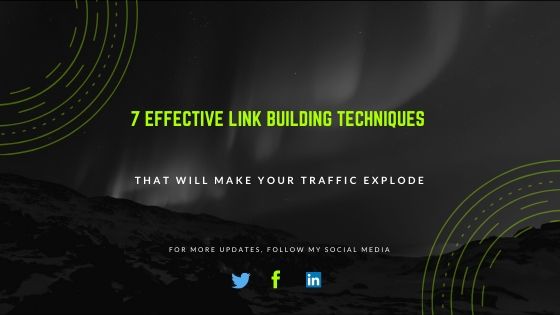 7 Effective Link Building Techniques That Will Make Your Traffic Explode
Even in 2020, you hear from the so-called that links are dead and don't matter much in SEO. However, the data suggests that when it comes to SEO, links are one of the most important factors.
In fact, several studies have proved that the more your domain has links pointing to it, the higher your website will be ranking. The reason for this is that every backlink your website gain works as a vote of credibility for it in search engines.
That's exactly why several high-end companies aim to focus on backlinks as a primary target. But the important question now is how does one actually build backlinks?
Since link building has been around for many years. There are techniques that work and there are techniques that are just out-dated for today. Here we'll be sharing some of the most effective link building tactics which definitely work.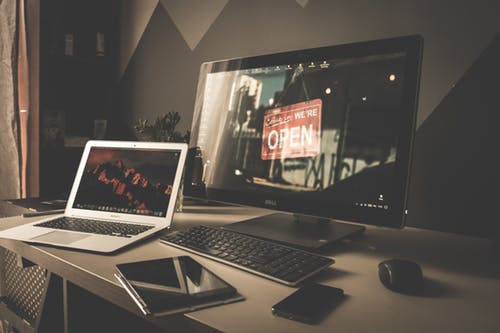 1. Guest Posting
Guest posting is probably one of the most common terms in link building and SEOs have been practicing it for a very long time. Although there has been some resistance to this technique from some big industrial names still we all know that it works quite well. The way you go after guest posting might have changed a little bit, however overall it's a tactic that makes link building easy for both the parties.
One thing to keep in mind when pitching blogs for guest posts is to only ask for links from websites that are relevant to yours and only place links where they make sense. For example, a medicine-related website linking to a plumbing business wouldn't make any sense. Thus you need to be thinking smart in the websites you acquire links from.
2. Outreach to website owners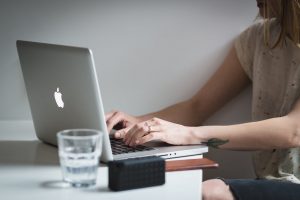 The second level of building links can be initialized by looking at others in your industry and reaching out to them with some sort of value in return. Although this technique can be highly effective in nature and of great use, still many SEOs fail with it too. The reason for this is that reaching out to other bloggers and website owners; you simply ask for a link and offer no value in return.
Let's be honest, the website you're innocently asking a link from will always expect something in return. Let it be money or a piece of content as in guest posts. Thus you need to think about how I can bring him enough value that he'll be happy to link to my website.
For example, let's say that you have a big audience on your social media.  Thus you can offer to share the other website on your social channels and in return, you can ask for a backlink. This way it'd be a win-win situation for both of you.
One way of scaling this process is to use some kind of WordPress booking plugins to schedule and manage the whole outreach process better.
3. Giving Testimonials
An effective yet not so popular method of acquiring backlinks for your website is to simply write testimonials on the brands and business's website you've used the product or service of. Almost every company wants its users to speak for the credibility and quality of their product/service. And by doing so you're bringing more value to them.
At the same time through that testimonial, you can secure a backlink to your website since a testimonial would include your introduction and your website if you have on. This technique allows you to gain links from authoritative brand's websites with just one simple email.
And an additional benefit is that the chances of you acquiring a backlink with this technique are way higher than a normally made backlink request.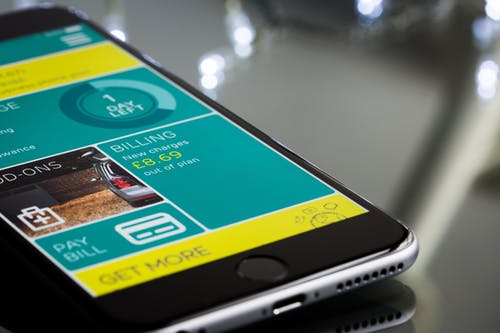 4. Brand mentions
This is yet another tactic not so many SEOs are putting use to.  All it requires for this technique to be useful and effective is a brand under your ownership. On the web, there're several places your brand is mentioned without a link to your website. It could be your clients, a surveying website or anything similar you're brand got mentioned in.
You can use tools such as Ahrefs or screaming frog to find where your website has been mentioned as a brand but not linked to. And afterward, you can reach out to the website's owner and gently ask to put a link to your website under the anchor text of your brand name. Thus, in 2 steps you've attained some quality backlinks.
5. Resource pages
One of the most constructive link building techniques is through resource pages. Resource pages are webpages with collective information of resources on any specific subject. For example, a blog post name; "40 Plumbing businesses in London" would be a resource page.
The purpose of a resource page is to give the audience information about specific businesses/blogs/websites or any other thing in one place. All you need to do is to find resource pages relevant to your industry on Google and simply ask them to add your business into their list of resources.
The reason this technique is so effective is that resource pages are developed just for the purpose of linking out to other websites. And by getting in touch you're completing their purpose.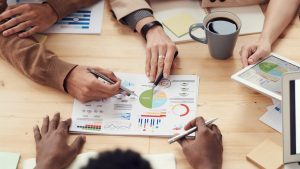 6. Broken Links Strategy
As a rule of thumb, you need to bring some sort of value to the website you're reaching out to for link building upfront. When it comes to broken links strategy, you're just doing that. What you have to do is to find a website, or specifically a webpage on the website, you would like a link from. Onwards you can use extensions such as "Check my links" to find broken links on their page.
When you have identified some broken links; look where your website can work as a replacement.  Send the website owner an email requesting the replacement of the broken link with your website. And you're good to go.
This technique works well because you're not in the position of asking for a link. Instead, you've helped the other website fixing one of their broken links with a live link. Thus it gives you leverage over them.
7. Present Infographics 
This is a newly emerging technique which has been used quite a few times by some experts and the result has been good as well. How this works is that you find some of the most popular blog posts & pieces of content in your industry and make a relevant infographic for it.
Now you just have to reach out to the blog owner and present this infographic for free. When he accepts it, you offer a short textual intro for an infographic additionally. Most likely, the blog owner would be happy to post those introductory words above the infographic as well. This is where you can include a link back to your website.
What's best about this technique is that you can create one infographic and present it to various blogs. Thus it can help you scale your link building efforts.
8. Conclusion
Links would be there as a big ranking factor for a long time. That's one thing SEOs know for sure. However, the techniques and tactics we use to acquire those links would continue to change and evolve.
One has to keep in mind that discovering new link building methods are important because soon the old ones would be outdated. And one rule that applies to each of your link building efforts is to offer value to the website you're asking a link from.
Author Profile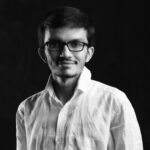 Senior SEO Consultant and Blogger Outreach Expert at ClickDo Ltd. Also, I help Business Owners in the UK by flooding more Leads to their Business through Google Ads, Facebook Ads & Remarketing. Author in many premium UK blogs.