4 things that you should not do in SEO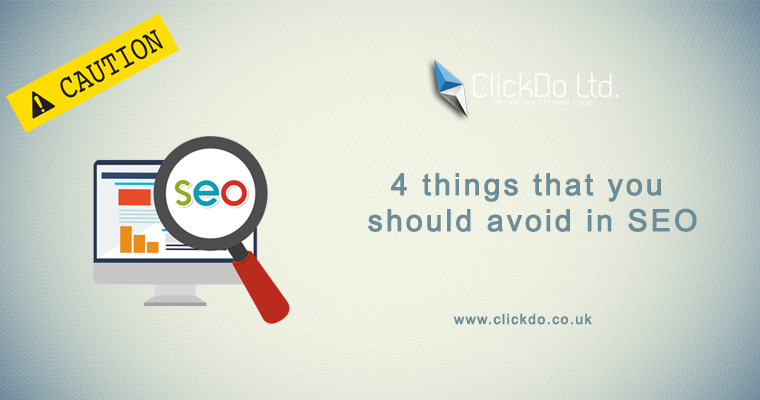 SEO is the technique which should be done in a very strategic way to get the web pages ranked at the top of the Google. Here let's see some techniques which should not be done.
Don't Spoof Users:
Don't update the site with the copied content or irrelevant content. Copied or Plagiarized contents will not help you to move your site to the top of the SERP.
When you copy the contents from the other site, then you are actually trying to use the contents which are already indexed by Google.
Don't Build Irrelevant Links:
Link building is the important Off- Page SEO factor. You should not try to build the links for your website from the irrelevant niche. Also, you should not build the bunch of links from the same site.
Google gives importance to the quality of the links built and not the quantity. Hence try to build links which makes the backlink profile look more natural.
Don't Stuff the Keywords:
Usually, many people try to stuff the keywords in the web page and try to rank for some potential terms. Stuffing Keywords or adding the invisible text in the site will not help you any more to rank.
Despite, this will reduce the authority of the website and will result in rank drops.
Avoid Keyword rich Anchors:
The main part of the backlinking is the usage of proper anchor text. Don't use the direct keyword rich anchors. Too many backlinks with the keyword rich anchors will make the links look more artificial.
Use the brand anchors, naked links or the anchors which are relevant to the target keyword. This will make the links look more natural.
These are some of the negative signs for SEO and hence you should not try these things by any means in SEO.
Author Profile

I'm an SEO Analyst and blogger outreach expert at ClickDo Ltd. & Expert at Building High Authority Local Citations, Also, I help Business Owners in the UK by flooding more Leads to their Business by ranking their website on top of Google for potential Keywords.

I'm an author and enjoys writing UK business blogs to help promote UK businesses online. You can also contact me for guest posting services as I manage over 100 top UK business websites.