3 Simple Hacks to build the natural backlinks to the website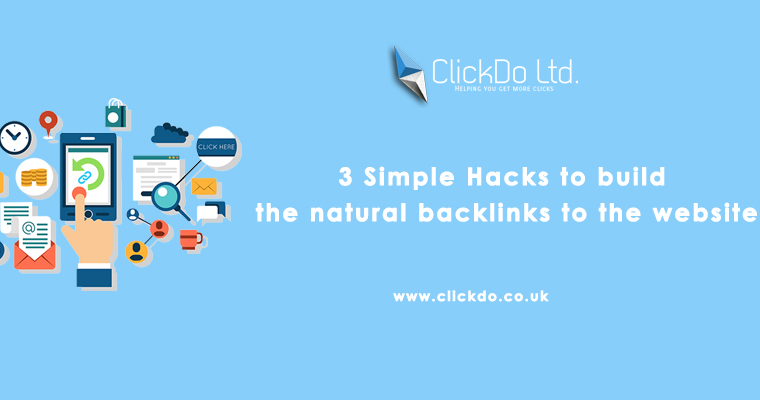 Backlinking is the core factor of Off-Page SEO. Having quality backlinks from the high authority websites will help you to improve the ranks of your website.
Here let's see some simple ways to build the quality and natural backlinks to the website.
Use Forums to build links:
There are many question-answer forums in online like Quora, Fixya, etc. You can use these mediums to build the natural links to the website.
Mostly the links will be No-Follow backlinks from these Forum sites.
Though the links are No-Follow, these links will help you get more traffic and will also look more natural in view of Google.
Use Infographic Submission Sites:
You can create the Infographics related to your business and can submit them on the online mediums.
Submitting the Infographics in mediums like Flickr, Visual.ly, etc will help you get high authority backlinks to your website.
Sharing the quality content in the Infographics will make the users to engage with your posts.
More than the text content, Media files tend to keep the users engaged with your web page.
Publish Guest Posts:
Guest Posting is the way of publishing your own content in other high authority website and getting links from that particular site.
Finding the good websites and outreaching to the site owners directly is one of the ways to publish your guest posts.
Also, you can get in touch with digital marketing companies like ClickDo to find the best sites for you and publish the guest posts.
We at ClickDo own more websites in many verticals and we do accept paid guest posts in them.
If you would like to publish any guest posts in the high authority websites, you can get in touch with ClickDo Ltd or drop a mail to dinesh@clickdo.co.uk
We will help you publish your posts on high authority websites. This is one of the natural way of building links to your website.
Author Profile

I'm an SEO Analyst and blogger outreach expert at ClickDo Ltd. & Expert at Building High Authority Local Citations, Also, I help Business Owners in the UK by flooding more Leads to their Business by ranking their website on top of Google for potential Keywords.

I'm an author and enjoys writing UK business blogs to help promote UK businesses online. You can also contact me for guest posting services as I manage over 100 top UK business websites.