How Infographics Helps to Boost Your SEO & Improve the ranks on SERP?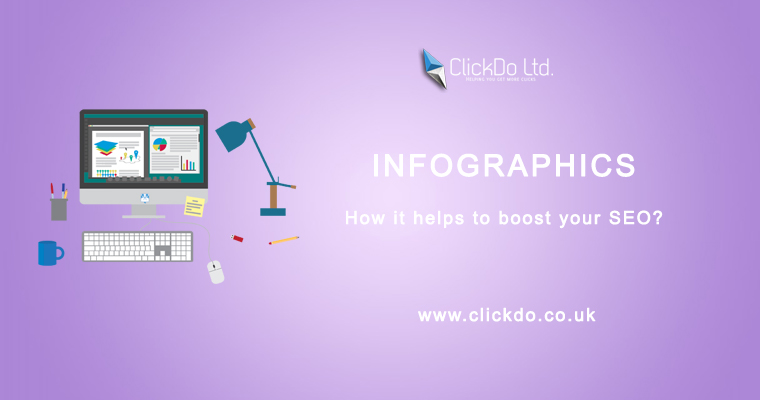 Infographics are the pictorial representation of any process or service that you are offering. This will help the users to understand the concepts better.
As a business owner, you can create Infographics based on your niche and populate them on the web to gain traffic to your website and also to boost your ranks on SERP.
Link Building:
Infographics will help you to build some natural backlinks to your website.
Creating and submitting the Infographics in many online platforms like Flickr, Visual.ly will help your site get authority backlinks.
Backlinks from the Infographic platforms will look more natural. This will help you to budge the ranks to the top of Google.
Link building is one of the important ranking factors which the Infographics helps to solve again.
Source of Traffic:
Even if you can generate traffic to your website by using the Infographics. A nicely designed Infographics will have the good reach among the social media.
Try to share the Infographics in all the social media platforms, Question/Answer forums like Quora and give a link to your website. This will act as a new traffic source and will help you get more visitors.
Embed Infographics on the Website:
When you create Infographics on the certain topic, Embed them on your website as a blog post. Also, enable the social sharing buttons in the Blogs.
Thus when the user lands on your web page, they can share your Infographics if the content is really good and useful. This will increase the authority of your site on the web.
Increased Brand Awareness:
Add the brand logo and the contact details in the Infographics, this will help you to increase the brand authority on the web and get more reach.
Make your content go viral by sharing them on the Facebook groups. You can get more reach for your site if you use the reddit effectively.
These are some cool tips for you to boost the ranks of the web page on Google.
Author Profile

I'm an SEO Analyst and blogger outreach expert at ClickDo Ltd. & Expert at Building High Authority Local Citations, Also, I help Business Owners in the UK by flooding more Leads to their Business by ranking their website on top of Google for potential Keywords.

I'm an author and enjoys writing UK business blogs to help promote UK businesses online. You can also contact me for guest posting services as I manage over 100 top UK business websites.