Review Rich Snippet Implementation – Increased Click Through Rate(CTR)!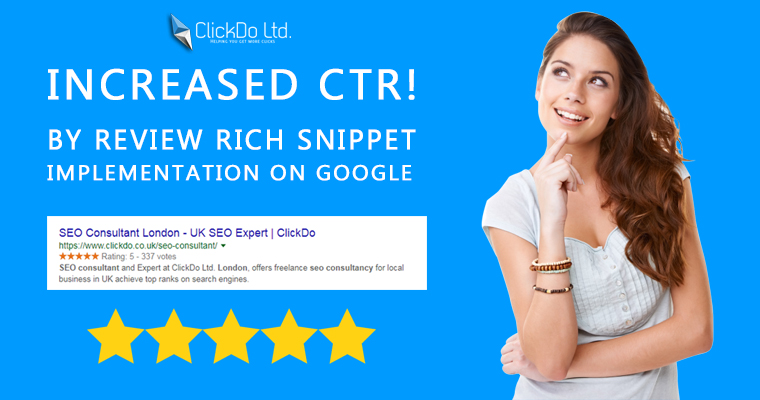 Does your web page ranks on the first page of the Google Search Results for the main business terms and doesn't receive any clicks? Here is the solution for you to increase the click-through rate (CTR) of the website.
It may be tough to rank for some terms on top 3, but even when your web page appears on the first page of the Google, its possible to increase your Click-through rate (CTR) using review schema.
Review Rich Snippet Implementation:
As a business owner, you may wonder by seeing review stars on the Google SERP for some web pages. You may think how to get it done for your website, this is simple.
We at ClickDo help business owners in London to get review stars on Google Search for their business website and also we help them in increasing their CTR.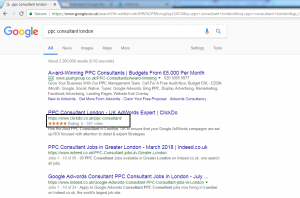 Many business owners are not aware of the structured data implementation to the business website. The sites which are ranking on the first page of the Google without the review stars will receive less percentage of clicks when compared to the websites with the review stars.
How Review Stars Help You Get More Clicks?
Usually, users mindset will make them to click on the link which contains some extra information. By Implementing review schema to the business website. Google will start showing review stars below the website link, whenever it is displayed on SERP.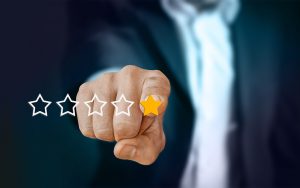 Even though if your sites rank on the range of 4th or 5th position, having review stars on your link will make the users to click on it and visit the website. This will increase the click-through rate of your website by more than 50%.
SEO Experts At ClickDo Will Implement Review Snippet For You!
We at ClickDo Ltd. take the responsibility of the business websites and we do our strategic work to implement the review snippet for the websites. Our rich snippet implementation will help your website to gain review stars on the search results & which in turn increases the CTR.
For Schema Implementation Services By ClickDo – https://clickdo.co.uk/review-rich-snippets-schema/
Author Profile

I'm an SEO Analyst and blogger outreach expert at ClickDo Ltd. & Expert at Building High Authority Local Citations, Also, I help Business Owners in the UK by flooding more Leads to their Business by ranking their website on top of Google for potential Keywords.

I'm an author and enjoys writing UK business blogs to help promote UK businesses online. You can also contact me for guest posting services as I manage over 100 top UK business websites.